Considering Your Scapula
I don't know if it's because I just had surgery on some bones, but lately I've been thinking about bones. That would stand to reason, wouldn't it? I mean, my right femur will never be the same. My right tibia and fibula are forever changed. And my patella, that little round disc of a bone? Thirteen weeks ago it had a piece attached to it that will never come off.
Lord-willing.
Anyway, for some reason the other day I was thinking about the scapula. You know what that is, don't you? It's your shoulder blade, your chicken wing. It's that place on your upper back that feels so good when someone massages up under the inner muscles that surround it. Most of us have two of them.
Be honest with me now. Have you ever in your life carefully considered your two scapulae? I hope after you read this blog post, you'll think about your scapulae in a new, awe-filled way. Because when I started thinking about what an amazing bone a scapula is, how odd and astoundingly complex and supremely functional it is, I was filled with awe. I sat there considering my scapulae and I said, "God, I can't even get over You. You are amazing. You are brilliant. You are so kind! To carefully form such a wonderful bone so we can move our arms and shoulders and paint and hug and wave and stretch and be protected and gesture and swim! Thank you Lord. Thank you! I think the way You made scapulae is so marvelous I can't think of anything else to say! Except thank you. And Lord, I want you to know I noticed today."
If you have never seen exactly how the triangular scapula bone sits in a body, click here first before reading on.
Now take a long look at this illustration of the scapula, from three different angles: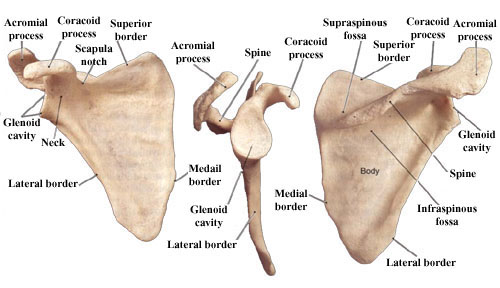 Did you see the Glenoid cavity? How about that Acromial process? And the Supraspinous fossa? Wow! Who could design such a wonderful thing, if not God? Whoever knew that a weird looking triangular bone could inspire worship?
If you're like me, you have a lot of things to think about today, aside from your shoulder blades. Bills, children, Syria, health concerns, troubles aplenty. But I invite you to consider your scapula. Take a moment right now and give thanks to God for thinking up such a bone, and carefully forming it as you grew in your mother all those years ago. Thank Him for the things you're able to do just because you have two scapulae that help support other more notable bones.
That's all. I wanted someone to join me in my thanks and awe today.
Have a wonderful weekend!