Thanksgiving, a tour, and some thoughts…
I hope you all had a nice Thanksgiving. We had a wonderful day. I did the turkey and stuffing and rolls, and my three daughters did the rest, and the food was delish. We had a fresh turkey (which I may have cooked 30 minutes too long), sage and onion stuffing, French, dense rolls and butter, mashed potatoes and gravy, baked yams, roasted asparagus, cranberry sauce, a relish tray with dip, apple pie a la mode, pumpkin pie with fresh whipped cream, French silk pie, wine and coffee.
Right after breakfast I drove up the North Shore to pick up Michael. I pulled into the garage when we got home, helped him up the basement stairs and got him situated in his living room recliner, I let the whining, tap-dancing Schnauzers out of their kennels. They rushed at Daddy, jumping in unison up on his lap and chest with such excited energy they knocked him back in the recliner and his glasses came off. Edith and Millie squealed and licked and showed all their doggy joy at having their daddy home. I will never forget that scene and how hard Michael was laughing.
Michael wanted to lay down for a while after that so I helped him to our bedroom. Another memory I will always cherish happened a few minutes later. Jeremy and Carolyn and their children arrived, and filled the small entry with the Minnesota Family Holiday Look, with multicolored winter jackets, boots and other winter outerwear placed wherever possible. Jeremy came back to our bedroom right away and climbed in bed right beside Michael and cuddled him. I have tears to recall it now. Then Carolyn came in with beautiful baby Miriam, and held her close so Michael could see our newest grandchild. I haven't written in my gratitude journal in a few days but these scenes will be written down when I open it next, and I will sit and ponder how lavish and kind God has been to me, to our family, and how much He has brought us through.
After our huge meal we went around the table as we always do, one by one sharing the things for which we're thankful this year. I think that is the best part of the day, and I can still remember what each person said. And later in the evening two-year old Louisa climbed up into the recliner with Grandpa and just snuggled with him for the longest time. So priceless to me.
That night after everyone went home, Michael wanted to go to bed. He was happily exhausted and slept like a rock for about eleven hours, barely moving. The next morning he wanted a piece of pumpkin pie and some coffee, and then later I helped him dress in a new pullover sweater I bought for him. He is sixty five years old and I still think he's the finest looking man. I tell him that and he smiles sheepishly and acts like it couldn't possibly be true, but it is. Actually, Michael could probably look like Henry Kissinger and I'd think he was hot. His kindness and love and faithfulness has made him the most beautiful man to me.
After watching an episode of one of our favorite shows, "Doc Martin," we started to prepare to leave for the veterans home. It had begun to snow and I knew I wanted to be home before dark, so we left around noon. It was very hard, I don't know how else to say it. I question and second-guess the things I have decided for Michael, and no one truly knows my heartbreak, except maybe God. I have three or four different scenarios I work on in my mind, ways to do things differently with Michael, and there's hardly an hour that goes by that I'm not trying to figure out what to do. It's exhausting.
On the drive up the shore we listened to Robin Mark sing songs that helped us focus on the trustworthiness and goodness of God, and Michael pretty much massaged my right hand for an hour as I drove. Every once in a while he would lift my hand to his lips and kiss the back of it tenderly, and I would silently sob, trying to wipe tears so I could see the snowy road ahead. We stopped at Culver's in Two Harbors and had ButterBurgers, which Michael was happy about.
Once we arrived at the veterans home and I wheeled him to his Birch residence, it was heartwarming to see so many people greet Michael. He is known and loved in this facility, even by employees who work in other parts of the building and don't help care for him. "Hi Michael! How was your Thanksgiving with your family?" so many asked. I don't have pictures yet, but the whole place was decked out in Christmas decorations. There are eight Christmas trees beautifully trimmed in the four different residences and all common areas. There are wreaths, lights, and every kind of Christmas display you can imagine on coffee tables, in bookcases, on table tops. Snow globes, glittering sleds filled with shiny glass ornaments, garlands entwined with lights and ribbons. To say they go all out is putting it mildly.
Here are a few photos of the facility that I took a couple of months ago.
This is the main living room or lobby. The real moose head which hangs over this fireplace now has a Santa hat on it.
Michael and I often sit together on the couches or recliners in front of this fireplace and share a snack or read something.
This view below is the main hall you see when you step into the lobby/living room. It's made to look like a Main Street, and there's a barber shop and bank on the left, a computer/phone booth, several family areas and public bathrooms to the right.
There's a little cafe of sorts near the living room too. Hot coffee and tea is always available, and there are tables nearby set up with cribbage boards and magazines and newspapers. The four neighborhoods (or residences) are listed below. The whiteboard you see listed the results of a fishing contest they held for their residents. They take the men fishing on a local lake, on a pontoon boat, almost weekly during the summer months.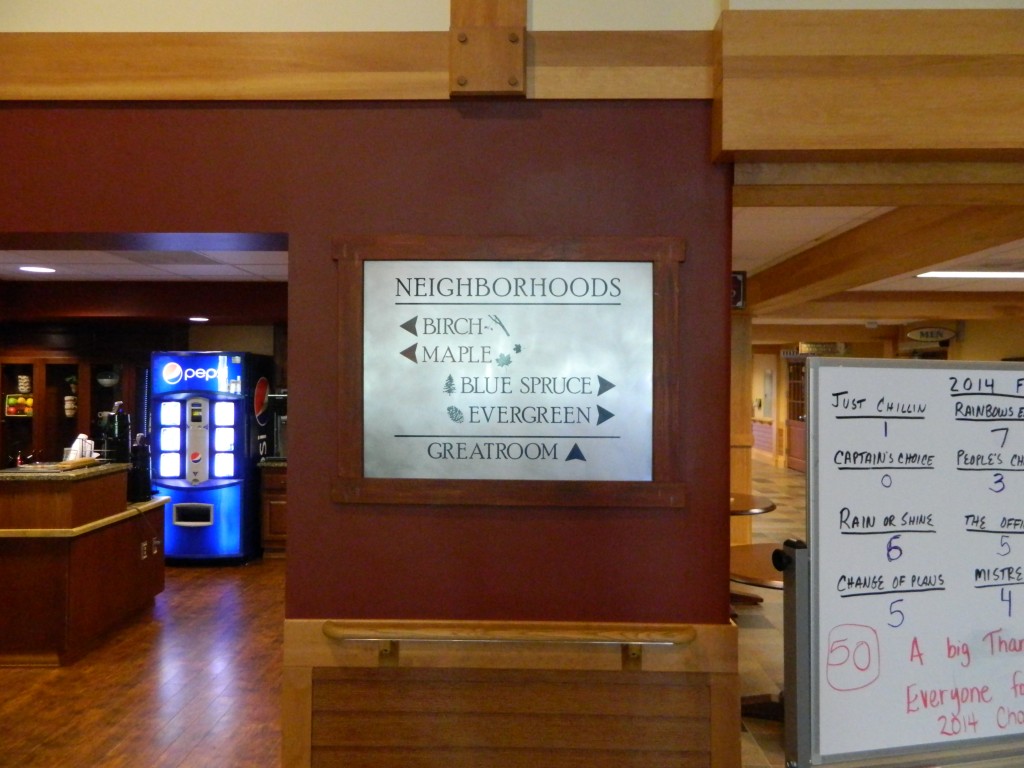 The room below is the sun room, at the back of the facility. Michael and I spend a lot of time here. Just to the right of the door is a very large aviary filled with many finches, a canary, a weaver, and for a while, there were tiny little doves. He and I sit quietly together and get so much enjoyment out of watching these beautiful little birds. Many of them build nests and actually hatch eggs — seeing tiny, almost featherless babies emerge from the nests and open their mouths wide for their patient parents to feed them is pretty thrilling.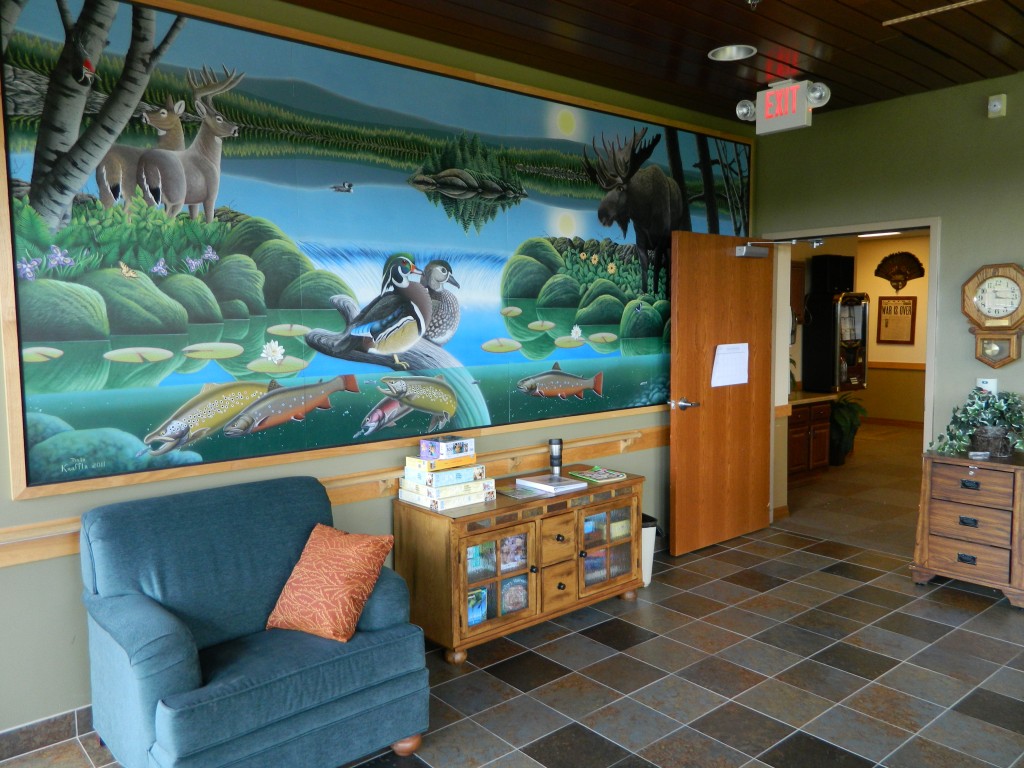 I love these two little turquoise-colored finches, who are so devoted to each other.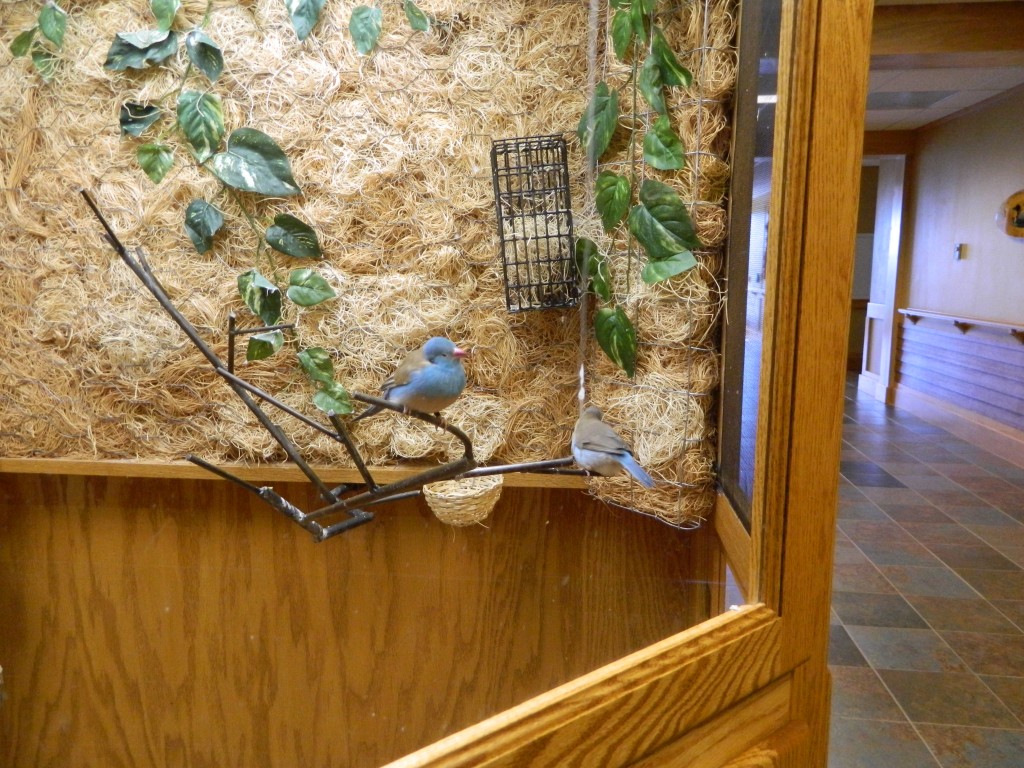 You can click to enlarge these photos. The orange and black bird is called a weaver, and the one clinging to the nest at the upper right is called an owl-faced finch.
You can see the doves below, some of the nests up high, and the materials provided in that long wire column, so the birds can fluff and build their nests. Michael and I love it when it's bath time and one of the employees puts in a large flat pan of water. The birds bathe immediately, fluttering and putting their little heads down in the water, splashing everywhere. Then they return to the many branches above and preen for the longest time. Then they all go to sleep, tucking their heads under a wing, and we can see their little chests rise and fall as they do their little birdy breathing.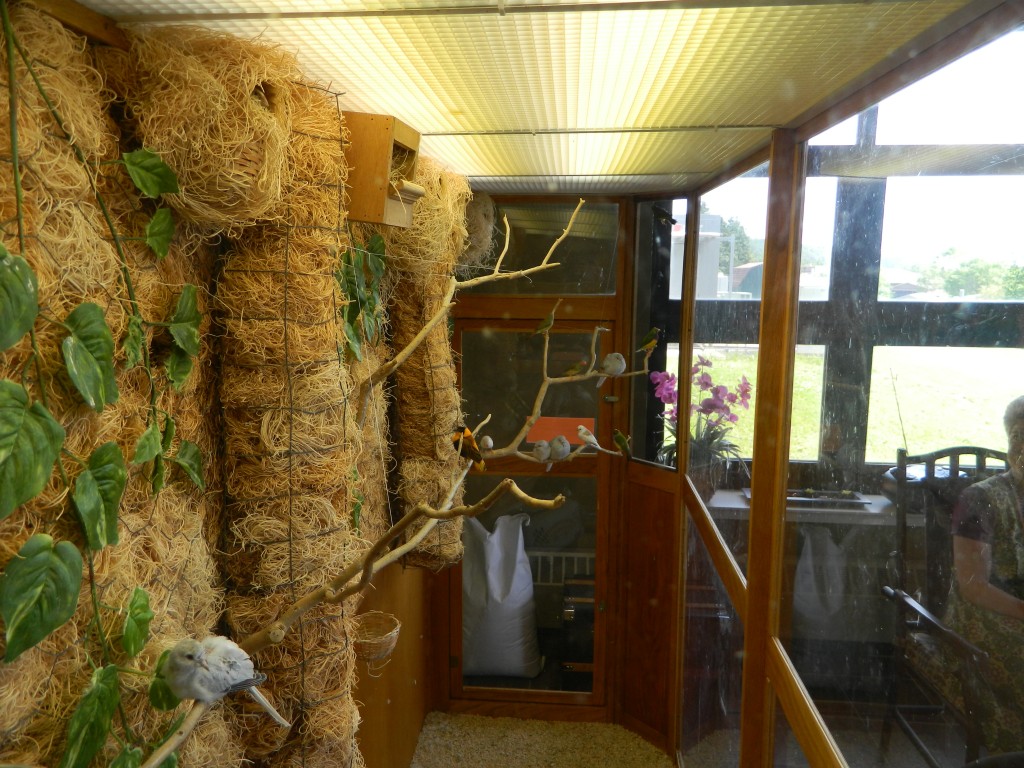 Below, this is a not very good photo of the game room. There's a pool table, some computers, several computer games, a shuffleboard/bowling table, children's games and toys, a television which is always playing some sort of sports, and a jukebox. Michael likes the TV show "Duck Dynasty" (that hunting mentality is a huge part of Minnesota culture), so I play the theme song ("Sharp-Dressed Man" by ZZ Top) each time we pass the juke box, and he and I actually do a silly little jive dance to it, him sitting, me standing, holding hands and smiling. Our grandchildren like this room when they visit.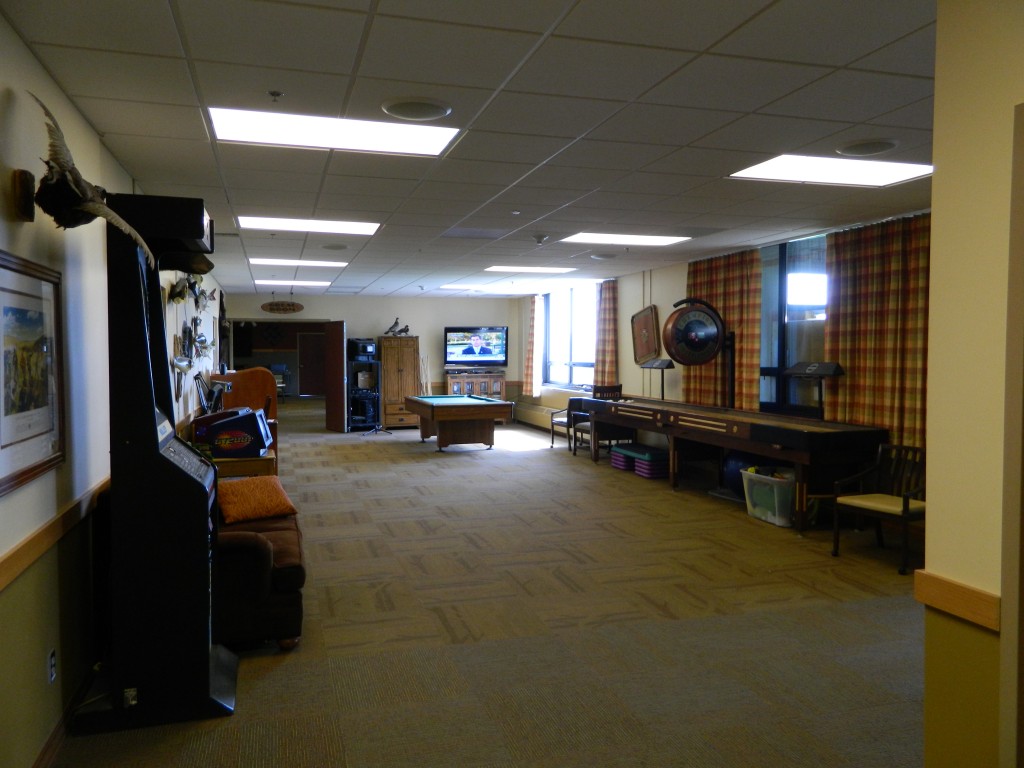 This is one of the living areas in the Birch residence. That is not Michael's foot on the left, but believe it or not, that older man (very kind, very quiet, very impaired) used to be a most accomplished ballet dancer in the Minnesota Ballet. Usually this room has several residents and employees in it. There's a huge dining room and kitchen to the left, with a high wall of windows and a small porch with tables and chairs where people can eat outside in the summer, and have bonfires for s'mores.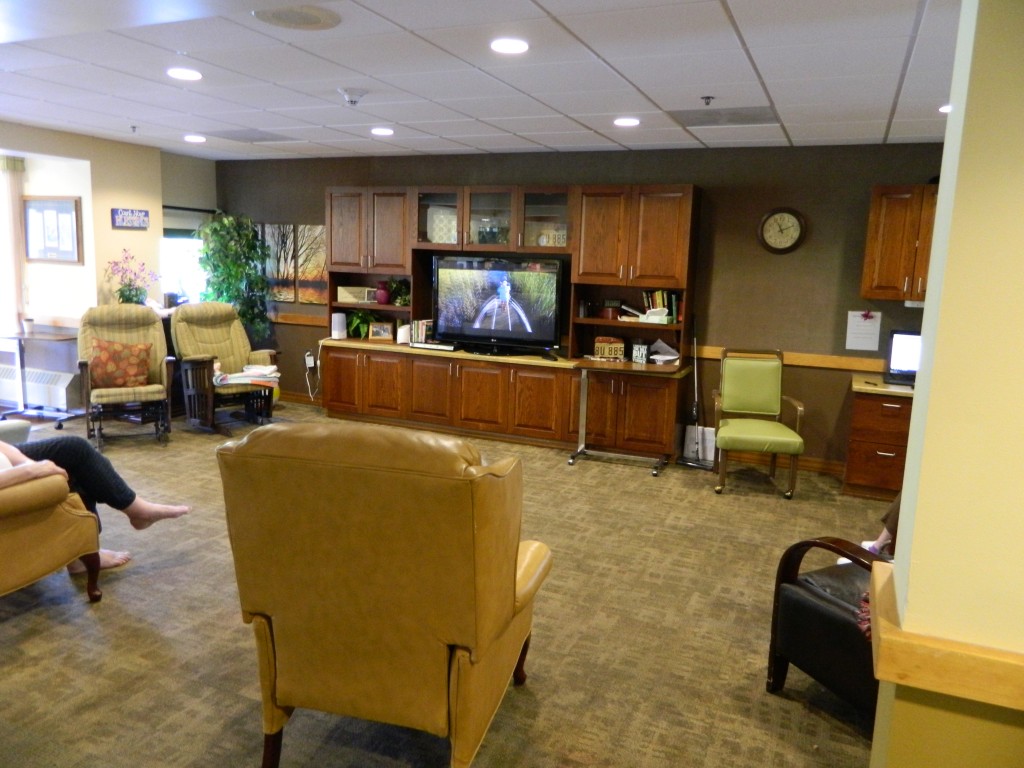 This photo of Michael was taken in August. He has had some kind of a beard for most of our married life, but they began to shave him every morning and he prefers it that way now.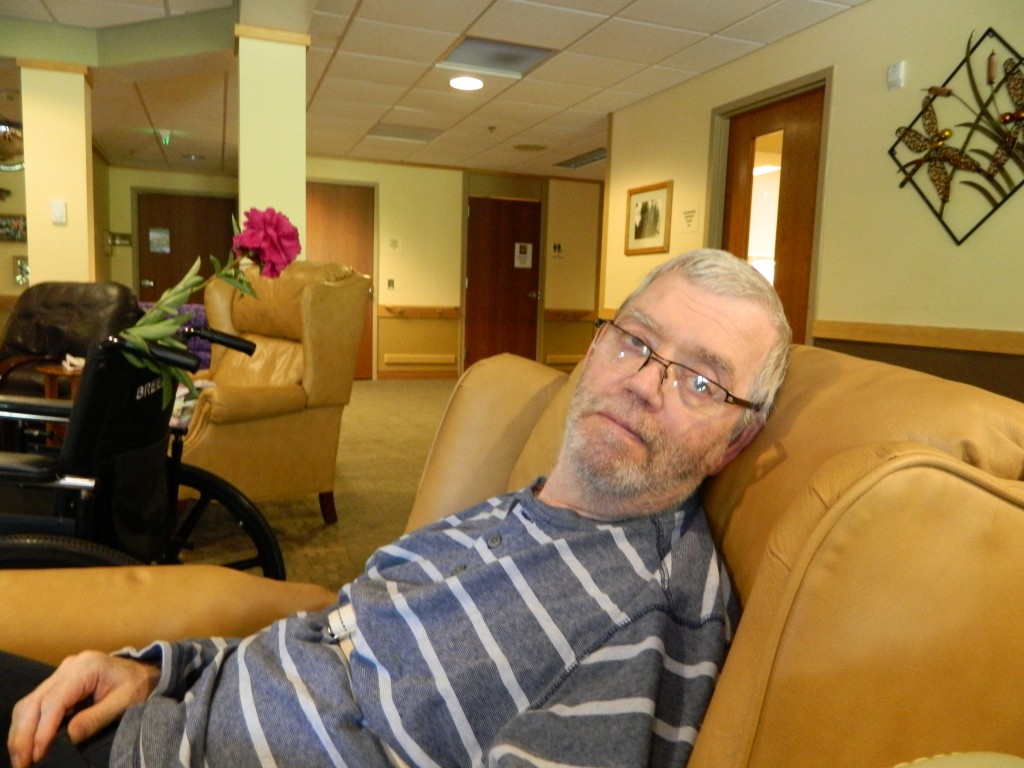 Part of the front entry:
Michael's visit home was such a blessing, but unfortunately the three days and nights following did not go well with him at all. I won't even go into the details because they're just too sad.
If any of you know of a Mary Poppins/Julia Child/Maria von Trapp/Mother Teresa kind of person or two who is available for full time employment, please let me know. If a couple of unattached, competent, kind, strong, compassionate, culinary, selfless, patient, cheerful, singing, gentle, godly people were to come along, I might have my answer.
And I know that sounds a bit lighthearted and flippant, but my intention is not that at all.
It has been 149 days since Michael and I have lived apart, and neither one of us wants it this way.
I will drive up to spend the day with him tomorrow, and my heart has already flown ahead…