Starry-eyed Bride
Thirty-five years ago this week I got married. I was barely eighteen years old. Aside from the minister, there were eight people at our small ceremony at the Wayside Chapel in Rough and Ready, California, in the Gold Country of the Sierra Nevadas. I made my dress for $35.00 and my veil for $10.00. I put a navy blue ribbon around the dress to complement the color of my husband's Air Force dress blues.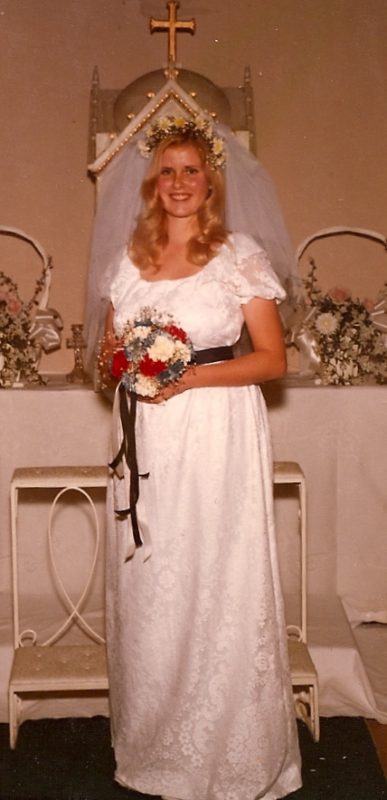 I don't know for certain if back then I really thought we would make it, or if I just hoped we would and didn't think about it much.
We made it three and a half years.
While we were living in Germany during a military assignment near Birkenfeld, my husband decided our marriage wasn't what he wanted, and he left. It all happened rather suddenly. My daughter Sharon was 2 1/2 years old and Carolyn was 8 months old. I thought my life was over, but what helped me hang on were my two precious daughters. Their smiles and the way they reached for me every morning helped me put one foot in front of the other.
I flew home to California, lived with my mom for six months, and then got a good job and a place of my own. Gradually and eventually, healing came. I asked God to help me forgive, because I knew even at that young age that holding on to unforgiveness only enslaves the bitter one.
I look back now and clearly see the enormous red flags that were waving in front of my face as we were setting our wedding date. There were things I wasn't paying attention to that I should have looked at very carefully. I was starry-eyed and thought I was in love. He was tall, handsome and a bit remote, and I did not know who I was back then. It was a recipe for disaster.
But I have learned that God can take the most disastrous things in our lives and bring good from them. He even repairs things that we ourselves have willfully broken. He has been so patient and generous with me. The life He has given to me stuns me most of the time.
In 1975 my young husband and I began our marriage thinking we really loved each other. Looking back from this vantage point I can see we didn't know the first thing about love.
1 Corinthians chapter 13 holds high that lofty standard that helps me remember what true love is, and reminds me of how impossible true loving is without God:
Love is patient, love is kind. It does not envy, it does not boast, it is not proud. It does not dishonor others, it is not self-seeking, it is not easily angered, it keeps no record of wrongs. Love does not delight in evil but rejoices with the truth. It always protects, always trusts, always hopes, always perseveres. Love never fails.
These are the attributes that should be in operation for a relationship to be happy and growing. How do I know this? Because I have been the opposite of all these ideals: impatient, unkind, prideful, dishonoring, self-seeking, angry, distrusting, hopeless and ready to give up. I've tried the other way. It doesn't work. At all.
My life still isn't notably characterized by the real flavor of love the Bible speaks of. But now I know what the real thing is, and I can more quickly recognize the taste of the cardboard counterfeit and spit it out of my mouth at first bite.
With the exception of the pain the end of my first marriage brought to my sweet daughters, I do not regret those years and experiences. They were excruciating, but they were also very instructive.
Thirty-five years ago I thought I was deeply in love. I was a starry-eyed bride. These days I am learning instead how to love deeply.
And there are still stars in my eyes….but now I keep searching to see if I can get a glimpse of the One just beyond them.