Spring Comes Lately
Living as far north as we do, our green-up and blooming days always seem a little slow in coming. Last weekend I was in the Minneapolis area for this, and the farther south we drove, the greener it got. Driving back home was like driving into winter without the snow; mostly bare trees and not much grass yet.
That's why I had to go outside to take some pictures today of our full-blown spring. The grass has been mown already, the flowers are blooming, and there are dozens of birds everywhere, making our yard sound like the soundtrack from Bambi.
Speaking of Bambi, this little newborn fawn was photographed in our town last week, resting peacefully in someone's front yard.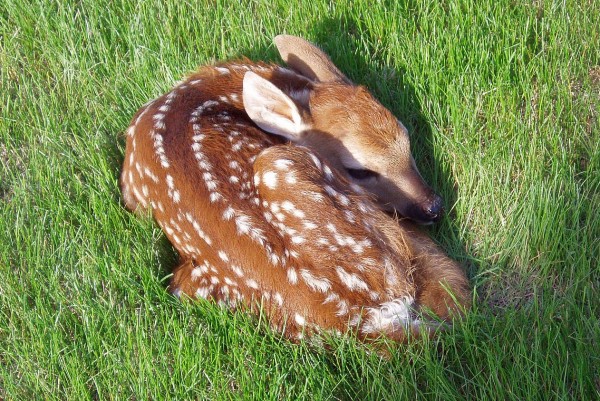 Isn't that the most adorable photo? It's enough to to make me never want to eat venison again!  OH WAIT! — I already never want to eat venison again. I almost forgot.
I love Bleeding Hearts — these are in our garden that surrounds the big maple tree in our front yard: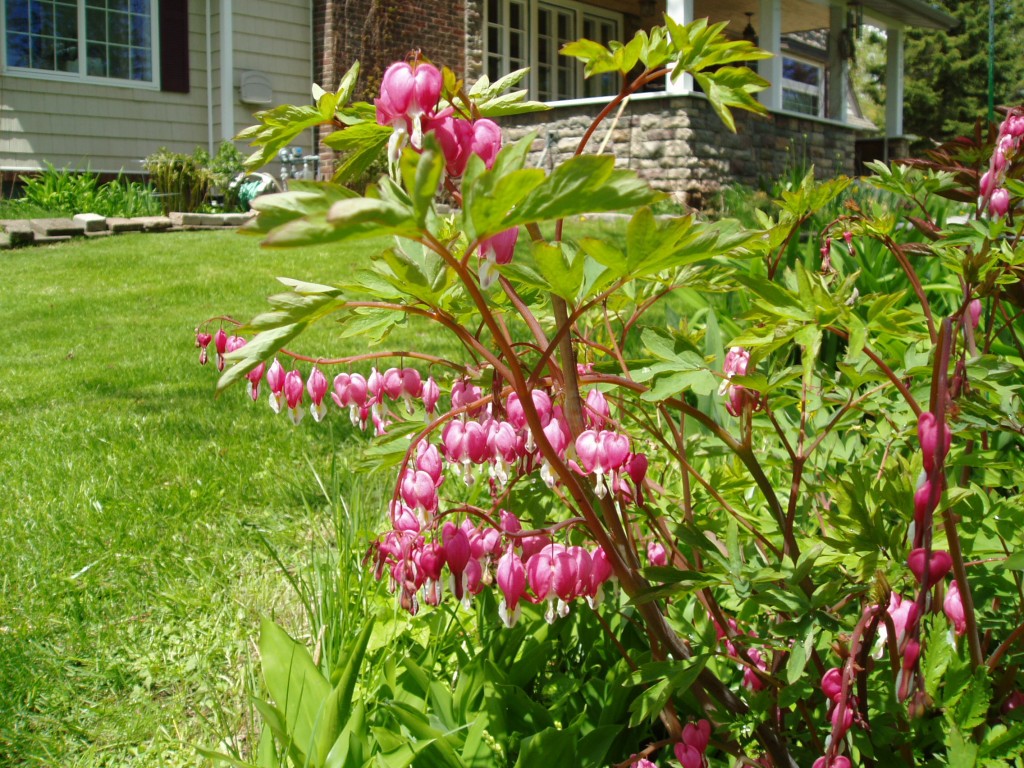 I noticed how huge the rhubarb leaves have gotten in just one week — the largest of these leaves are about the size of a large pizza pan. I think if you put a chair right next to this plant and kept really still, you could probably see them grow before your very eyes. Time for some rhubarb crisp!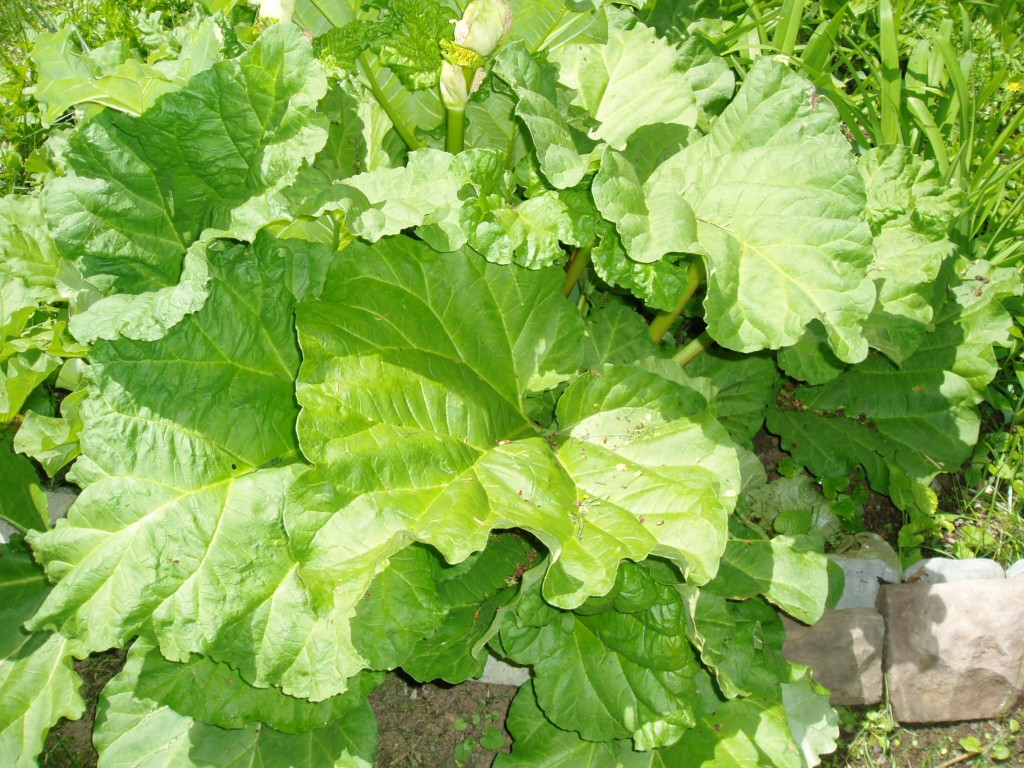 I noticed some small, feeble-looking leaves on the ivy vines that grow up our chimney, too. It's hard to believe that in just a few months this chimney will look like the photos I posted here.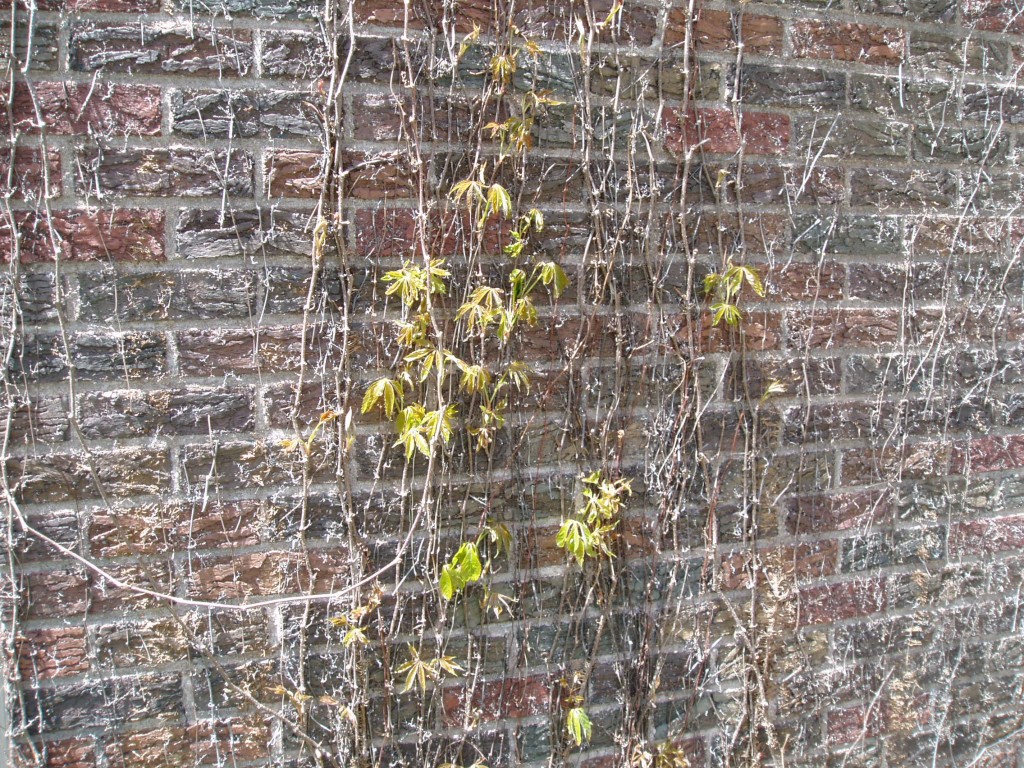 You might never suspect from the picture above that this is the vine that wants to eat Michael and Julie's house every year, would you?
I've been watching our backyard maple tree through the kitchen window for several days now. A few days ago there were just little red buds. You can click on these pictures to enlarge them if you like….then there were new, shiny leaves unfurling: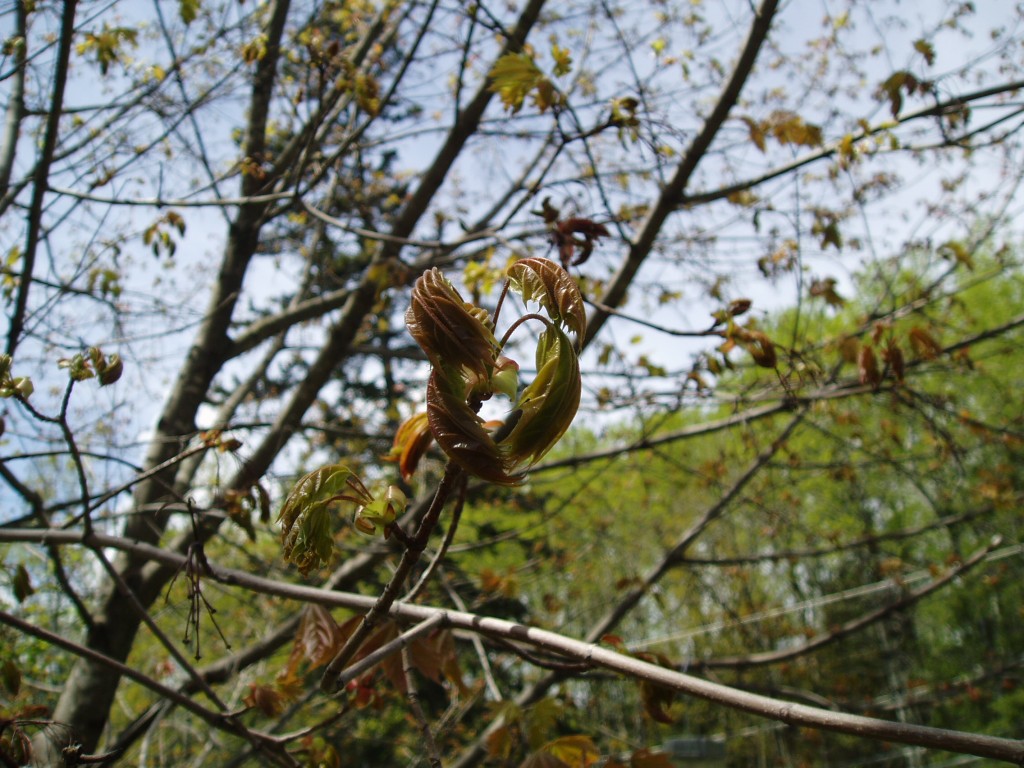 And closer to the south side of the tree, there were larger maple leaves beginning to spread out and take their shape:
This tree will put on the most gorgeous autumn performance in about three and a half months. And then all the leaves will turn brown and fall to the ground. And then it will be winter. And then the temperatures will plummet to thirty degrees below zero. Waah.
And what is spring without a hammock?
And what's a hammock without a Schnauzer?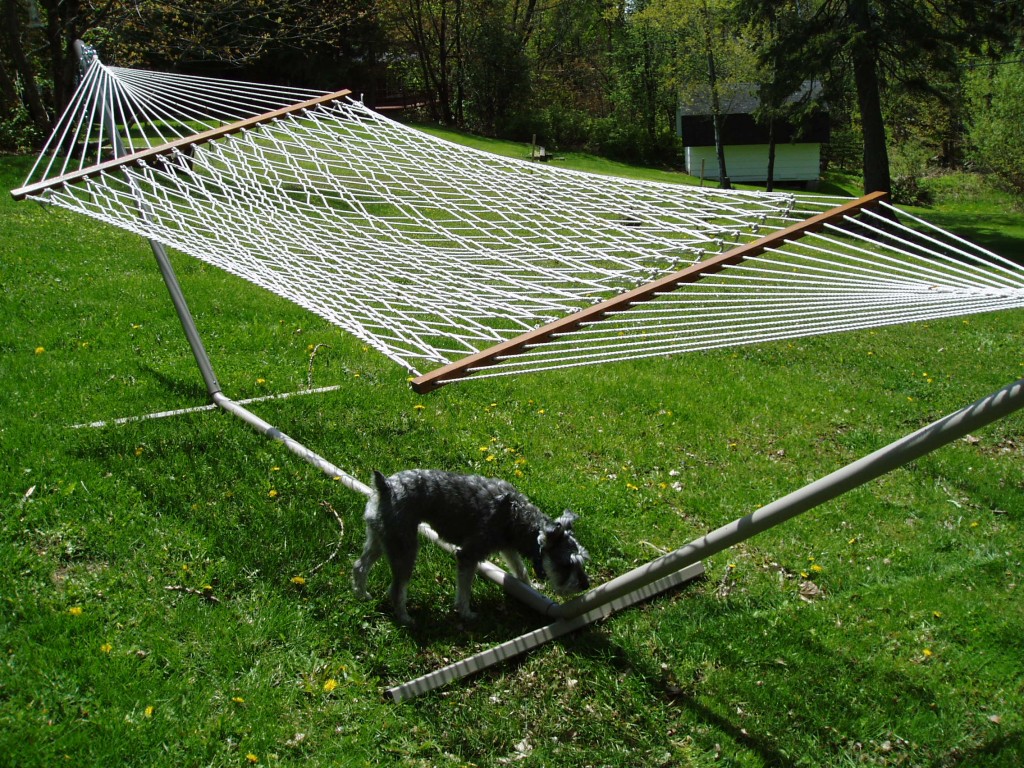 I can hear a small plane drone overhead as I type this. I can see my husband and daughter in the front yard planting the truck full of flowers they bought at the nursery today. I see chickadees flutter fast to the feeders on our back deck. I can not hear the quiet hum of the furnace.
I guess this means I can stop wearing SmartWools with my Birkenstocks now.
What does spring mean to you?