Speaking of Splurging
Last Christmas, one of the presents I received from Sara was a gift certificate to the nail salon where she occasionally has her nails done. My fingernails grow quickly and I'm always cutting them, but I decided a couple of weeks ago that eight months was long enough to wait before using my certificate. (The last time I had my nails professionally done was in late 2007.)
Sara told me which nail techs she felt were the best, and I set off one morning for My One Appointment Of The Day. Since my knee replacement surgery, I've tried to schedule only one thing each day so I can make resting, icing, elevating and healing a priority. There are actually several days on my calendar that are blank, and those are the days I look toward heaven and say, "Thank you, Lord!" Part hermit, part agoraphobic, I guess.
Anyway, when I arrived at the small nail salon it was packed. There were at least seven people doing nails, and there were five customers before me. Since I had an appointment I only had to wait about 15 minutes, though.
Juan asked me what I wanted done and I told him "a French manicure with gel," just like Sara recommended. Apparently the gel protects your nail polish from chipping and a manicure can last up to three weeks. Here's what my nails look like today: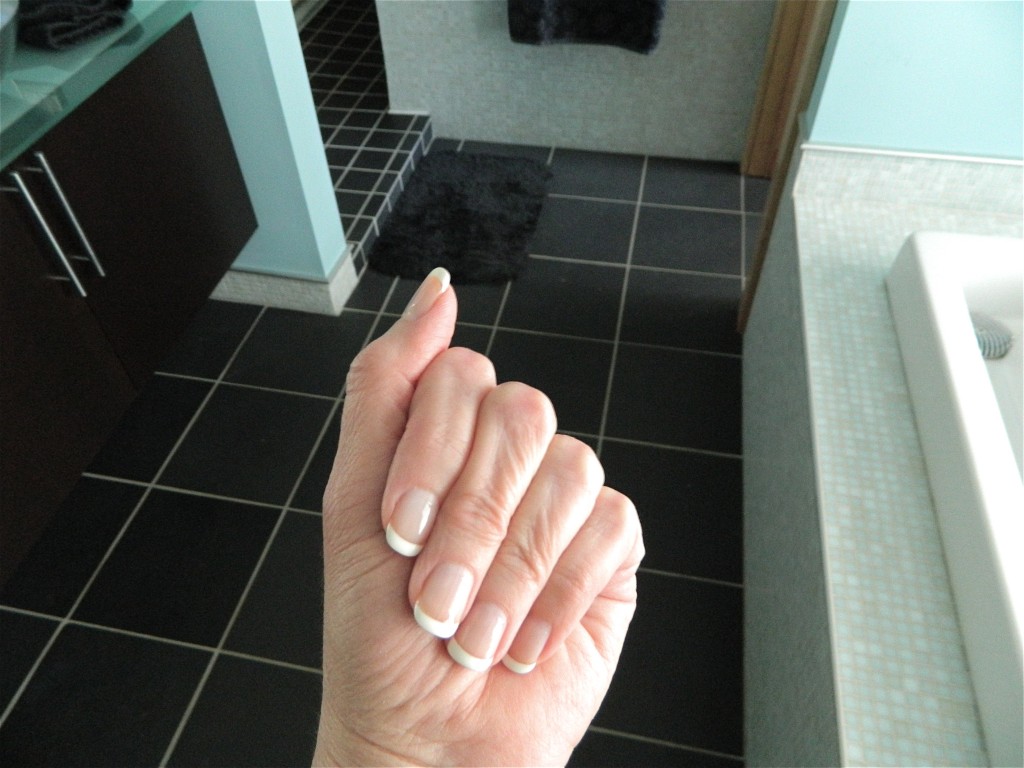 Juan painted the white tips on my fingernails and covered everything with a thick gel, and I like the look! Not too long, not too short, nothing really gaudy. Although I see so many women wear colors on their nails no one wore when I was young! Check out this, and this! I might go have my nails done once again before I fly to Seattle in 22 days for The Second Annual Lupi-Soo Convention, but a manicure isn't something I would normally fit into my regular schedule or budget, so another six years may pass before I have another one.
If I were to splurge on one thing for myself, I think it would be to have regular massages. I love getting a massage. And I know it's not just for the pleasure of it anymore — studies show the many benefits of massage and I'm a firm believer in them for mental and physical health reasons. Even just one fifteen minute massage on my knee makes a world of difference. Alas, I don't splurge on myself much (unless I count the books I buy!), so a professional massage might be on my schedule only once a quarter, if that.
If you could regularly splurge without guilt or concern on one thing for yourself, what would it be? Regular manicures? Weekend getaways? Dining out three times a week? A swimming pool?
I look forward to reading your comments…  🙂