Schnauzers Sleek and Severe
As I shared recently, we took our two Miniature German Schnauzers to The Bad Lady last week. They were getting furry and smelly, and over three months had passed since they had been groomed. We drive 3.5 miles east to drop off the first dog, then drive home and twiddle our thumbs for a while before it's time to drive 3.5 miles east again and pick up the newly naked looking dog and drop off the second one. Then in less than an hour we drive 3.5 miles once more to pick up the second shorn Schnauzer and pay Joyce her extremely reasonable fee. It feels like a full day, like we've driven to North Dakota or something.
Edith and Mildred act slightly embarrassed each time they've been groomed. They know they look different and I'm sure they feel colder when we let them outside too, because they don't dally. They're right back at the French doors looking desolate in a minute or two.
When I took out the camera today to snap a couple of pictures of them, they wouldn't cooperate! They always come when I call them, but not today. I'm not sure if it was the camera in my hand or what, but I had to carry them each into our master bathroom and shut the door behind me in order to corner them for a photo. These poor doggies probably feel upset that they visit The Bad Lady and live with The Mean Lady.
Here's a photo below of almost 12 year-old Edith showing off her new cut. Click to enlarge if you like. We no longer have them groomed in the typical Schnauzer fashion because we have so much snow in the winter and mud in the spring, so we keep their spindly little legs clipped close. Here's a picture of a classical Schnauzer cut if you'd like to see how puffy their legs are usually kept, although that dog has a longer tail than most Schnauzers.
In trying to think of an alliterative analysis of how Edith and Millie look right after they're groomed, the words sleek and severe came to mind. Edith looks especially severe to me with those ears that won't fold over like normal Schnauzers, and with her eyebrows and long beard and mustache. She looks like she might say something gruff and severe, like "Achtung!" You know, since they're German Schnauzers?
Actually, I don't think Edith is the type to ever say the word achtung.
And here's almost eight year-old Millie, looking simultaneously obsequious and worried, as usual.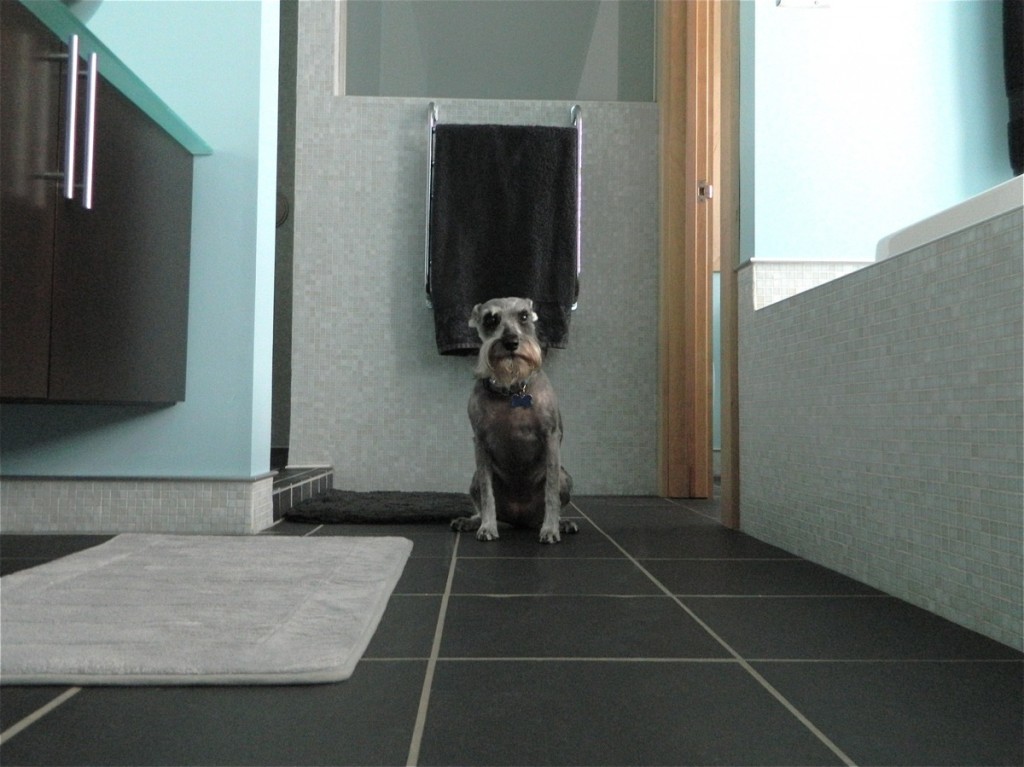 I can tell they miss all their curly, insulating hair because during the night they take turns burrowing down underneath the covers of our bed when the room gets chilly. Then after about an hour they apparently get too hot and come out panting loudly, and plop down dramatically on top of the covers until they start to cool off again and nose down underneath.
Yes, we're all sleeping so well around here.
Tonight my three daughters and I will be going out for dinner to celebrate Carolyn's birthday, which was yesterday. We had an ice storm yesterday and had to change our plans since driving was treacherous; there were so many accidents our police department told people to stay off the streets.
This week will be a week of report writing, paper work, training, and cooking. And I'm going to get my hair cut this week too. My groomer is named Bobbie, and I don't call her The Bad Lady. She gives me the Judi Dench look every couple of months and I'm way overdue.
Okay this is getting boring. I hope you have a good week!