Odd and End
I woke up this morning around 3:25 to help Michael go potty, and I could feel the difference. It had warmed up outside. We have all been expecting it and waiting for it, but it's interesting that you can feel it inside that it's better outside. I think when the outside temperatures are 30 degrees below zero, every possible drafty place in the house is felt. That kind of relentless, angry cold finds its way through walls and joist gaps and around windows and gets into the house no matter what the furnace thermostat says. It might be 70 degrees in the air of the house, but stand close to an outside wall and you can feel the cold radiating from the walls. I don't know if that's an oxymoron or not — I thought only heat radiated. But you get my drift.
When I got out of bed at 6:20 I looked at the outside thermometer on our front deck and it said 2 degrees below zero. And I am not making this up, it felt warmer. When I let the dogs out and went out on the deck in the dark waiting for them to finish their business, I stood there in my nightgown and slippers in 2 below weather and it felt more tolerable. Today it's supposed to reach 10 above and tomorrow the 20s above, and we're all so happy and relieved about that. Polar Vortex, good riddance! is what I say. I read online that a few nights ago Minnesota was actually colder than Mars. There isn't a word accurate enough to express how that feels, but here are a few tries: harrumph…gahhhh…sheesh…yikes….blech. And the best word of all for that kind of inhuman cold?
No.
Today our two Schnauzers will make their quarterly trip to The Bad Lady. Her name is really Joyce but our dogs have called her The Bad Lady for years; they hate the loud buzzing of the clippers over every part of their sensitive little bodies and the way she plucks hair from their ears and the humiliating squeezing she does in nether schnauzer regions. They look so forlorn when I drop them off at Joyce's house.
Here's a picture of 12 year-old Edith taken a couple of days ago, so you can see how desperately she needs to be groomed: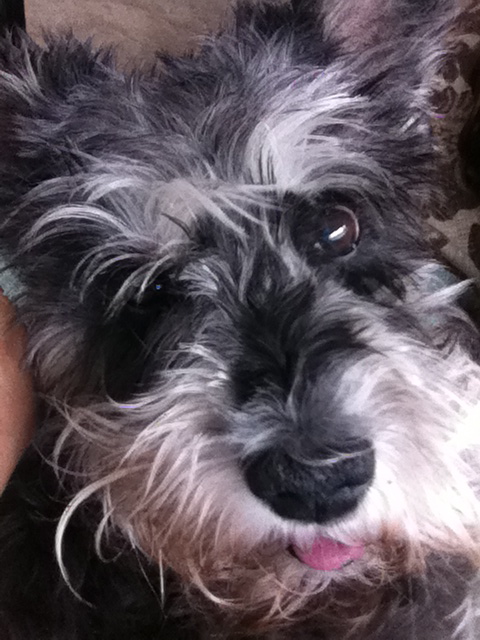 When she gets this unkempt we call her Sesame Street Wolf.
This blog post is entitled Odd and End, and the photo above would be the "odd" part. Edith looks shaggy, daft, desperate and a bit odd, don't you think? When she returns from The Bad Lady today she'll look sleek and naked and clean and shiny — I'll post a picture later.
And for the "end" part of the post, here are a few shots I took with my iPhone at the end of 2013. This was the Panzanella salad I made as part of our Christmas Eve dinner, minus the bread. Panzanella has big chunks of sauteed-in-butter-until-crisp French bread tossed in it right before serving, and it's my favorite salad.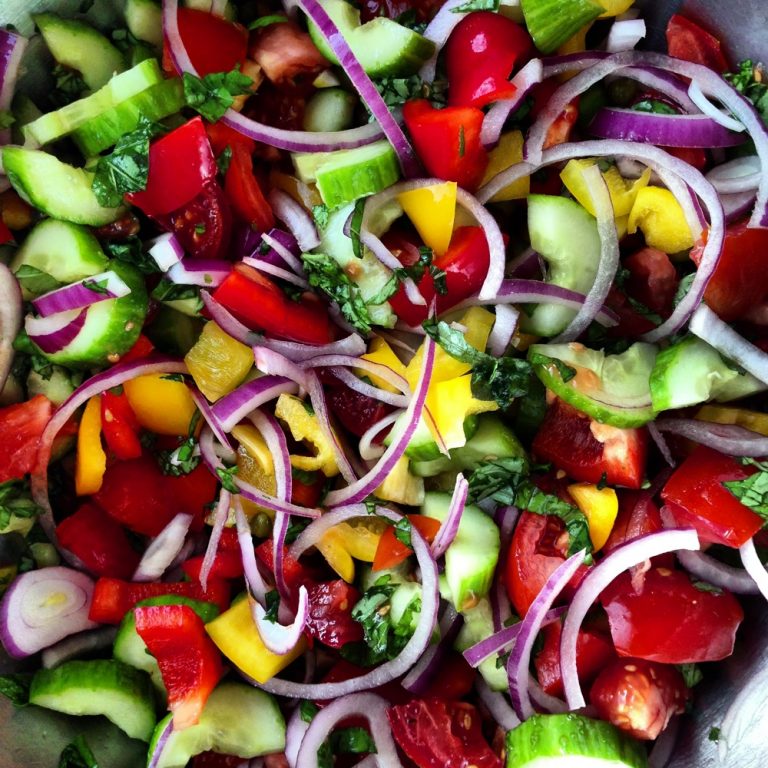 See the little julienned ribbons of fresh basil in there too? Yum.
And we also had some stuffed baked potatoes, as I mentioned in a previous post. I kept them in the oven just a little too long so they sort of melted out of their skins, but I didn't hear one complaint all evening…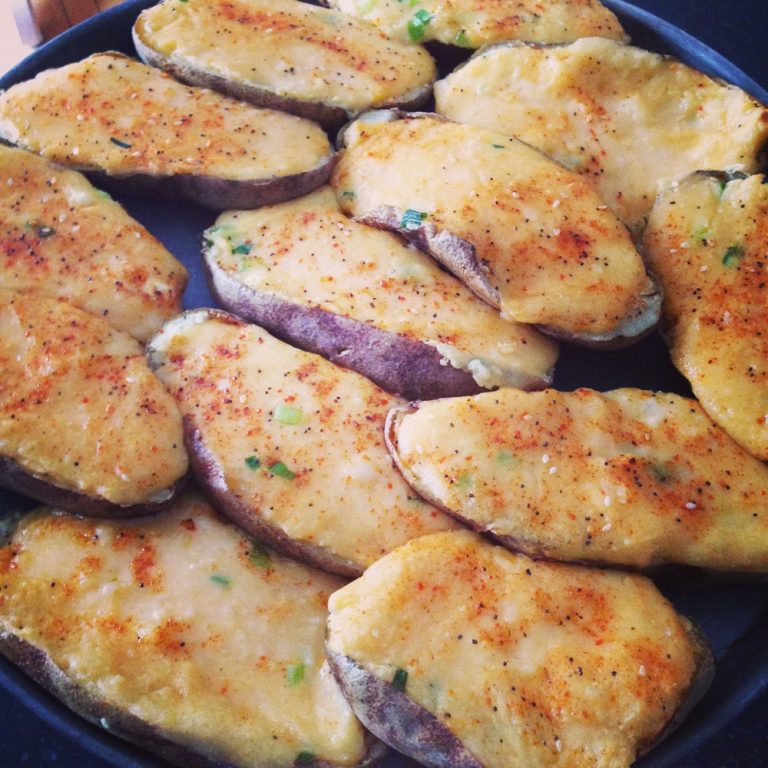 And on Christmas Eve, three of my grandchildren sang in their church's children's choir, and of course I had to go sit and listen and take it all in, and wipe tears and send up silent but truly spilling over thank-yous to the Lord, again and again. Mr. McBoy had a solo and his voice is beautiful and pitch perfect. If you click on the picture to enlarge it, you might be able to see him in the white shirt (with the blond hair) in the group of children at the left of the altar.
And at the end of the year, Lake Superior (of course) had begun to freeze (or "make ice" as Michael always says), and our tremendous winds caused a lot of the new ice to break apart into 2-inch thick shards and pile up on on the shore. Our son-in-law Jeremy retrieved one of these tiles and brought it over so we could see it. It was about 18 inches wide and 2-3 feet long. We studied it for a while and even took a lick, because Lake Superior provides our drinking water and is some of the best tasting in the world. Not that I've tasted lots of the world's water, but compared to Germany, England, Scotland, Ireland, Canada, Mexico, Jamaica, Grand Cayman, and at least twenty-five of our American states, Lake Superior water is, well, superior. Jeremy quickly carved a tree on the ice slab and put it in a flower box on our deck.
Later this afternoon Michael goes in for an MRI of his brain. His neurologist wants to rule something out, so this is part of the journey, I guess.
Here are some things I'm thankful for today… the neon magenta sunrise we had this morning, a good night's sleep last night, the promise of a warm-up to almost 30 degrees this weekend, a date at the symphony this Saturday night with my grandson, a hot cup of tea, a new book to read (and it's set in Scotland!), a recent letter from a beloved friend faraway, Edith's health and digestion getting better, the new home health aide assigned once a week to come in and help Michael, and the reassurance of God's love and power.
I'll leave with you something that made me smile yesterday. As you might know, Michael's speech is often unintelligible and/or very muffled, but once in a while he speaks out a word or a phrase that's as loud and clear as a bell. While I was clearing away his breakfast dishes he said to me, "You're shapely!" Which I thought was a very kind assessment of my physical being. I laughed and responded, "Well thank you! And how's my hair look?" (because it was wild and frizzy morning hair) and Michael said in total seriousness, "Improved."
Aha.
From your shapely and improved friend,