SAGs at Stonegate – Part 3
Imagine sitting in a warm and cozy cabin by a fire, while moody and majestic Lake Superior alternately pounds or gently laps the shoreline just yards away. Imagine the rhythmic creak of a rocking chair while a wonderful book is being read aloud by a pleasant and melodic voice. Think of piles of Bibles and books and Bible study workbooks on the coffee table, silent testimony to which well the visitors to this cabin are drawing from, which path in life they're walking, Whose wisdom and face they seek. These are some of the snapshots I have in my memory from our SAGs weekend away.
We all have taken some sweet memories home with us from our recent SAGs retreat at Stonegate on Superior. Here are a few highlights from our last day there.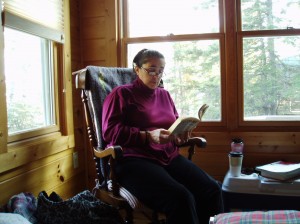 All four of us love to read, so it seemed entirely appropriate that Lorna brought The Four Loves by C.S. Lewis, and read to us about his thoughts on friendship. So many quotes inspired thoughtful discussion and one of our favorite quotes will be shared below.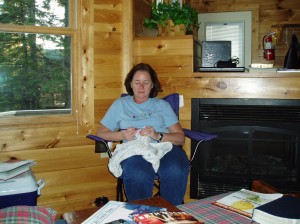 Picture a soft and pastel-colored baby afghan taking shape as a loving new grandma's silent prayers entwine with each crocheted stitch, making an heirloom that will cover that baby girl in warmth and prayer.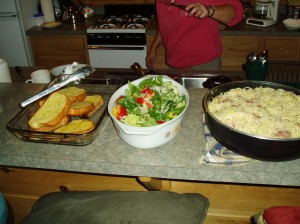 On our final night at Stonegate, Pat made the most delicious dinner – Spaghetti Carbonara, with a salad and garlic bread.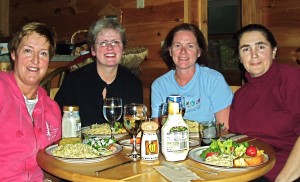 Pat, Julie, Gail and Lorna, the four SAving Graces, or SAGs. Enjoying the quiet, the beauty of our surroundings, the conversation, the food, and the friendship that God has given us.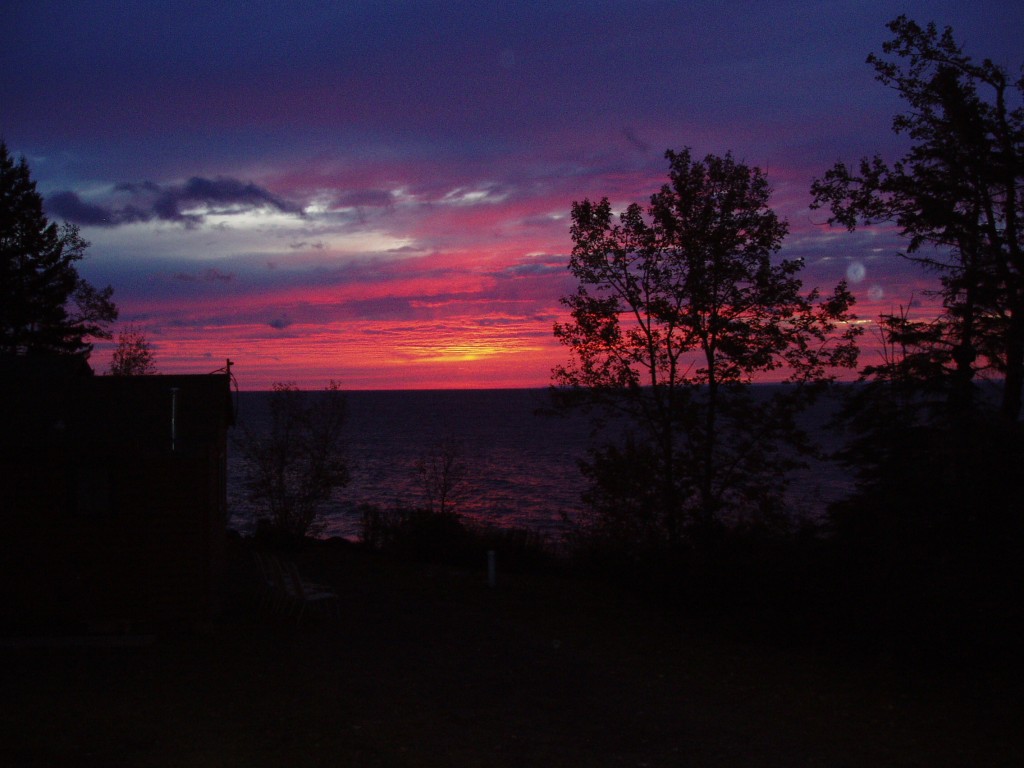 I got up early on Sunday morning, wrapped up in a blanket and went out onto the deck. The sunrise was so much more spectacular than this photo depicts. As I sat there and watched I thought simply and profoundly (at least to me), "The sun is coming up again. That must mean that God thinks there is still hope."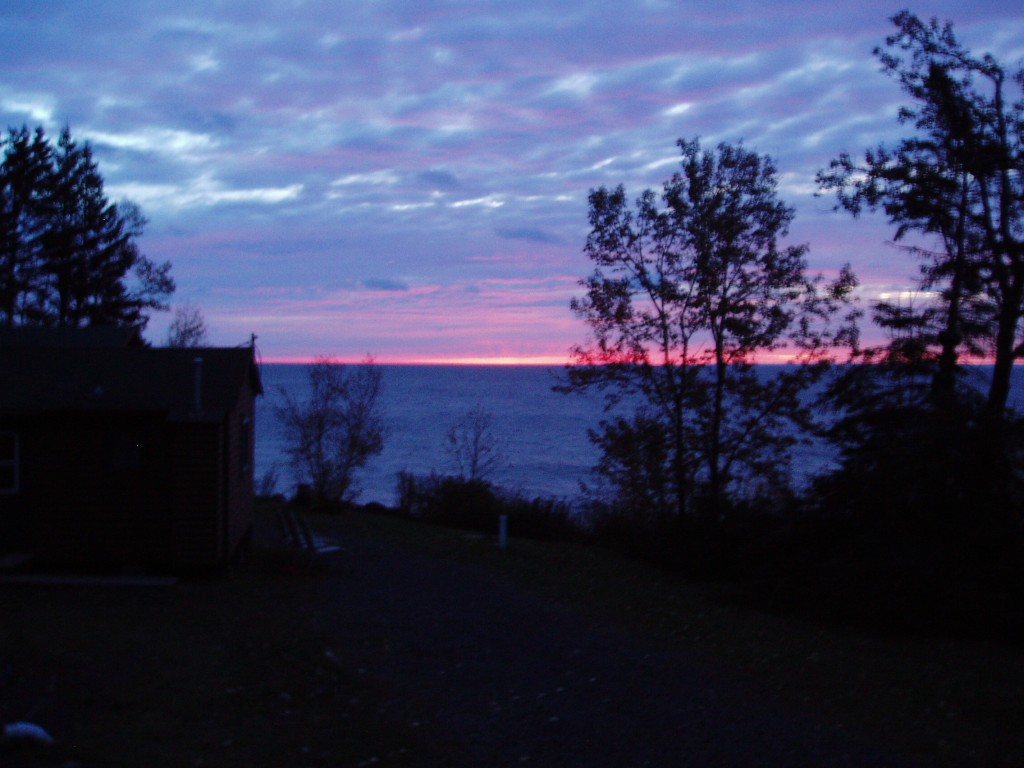 Five minutes later: the cantaloupe colors were replaced by pink and peach and periwinkle.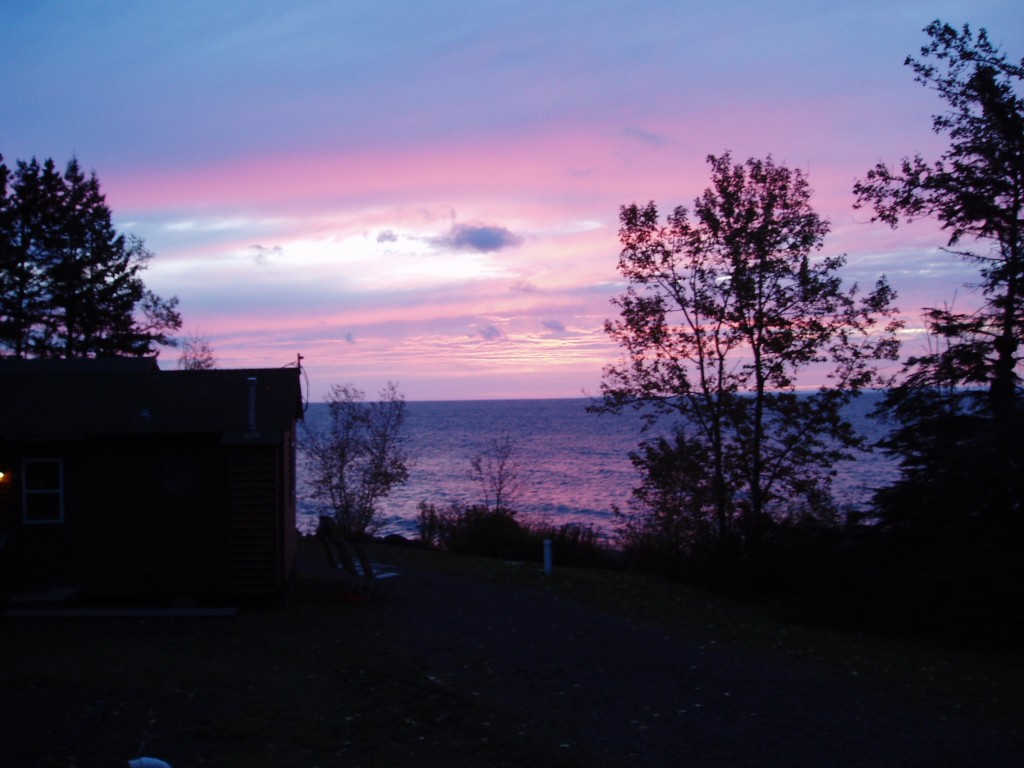 And here Lake Superior took on the colors of the sky. Soon after I took this picture we all started packing our things and preparing to head back to our homes and respective blessings and challenges.
I thought I'd share one of the passages on friendship we all liked in Lewis's The Four Loves:
"Lovers are always talking about their love; friends hardly ever about their friendship. Lovers are normally face to face, absorbed in each other; friends, side by side, absorbed in some common interest. Above all, Eros (while it lasts) is necessarily between two only. But two, far from being the necessary number for Friendship, is not even the best. And the reason for this is important.
"Lamb says somewhere that if, of three friends (A, B, and C), A should die, then B loses not only A but "A's part in C," while C loses not only A but "A's part in B."  In each of my friends there is something that only some other friend can fully bring out…hence true friendship is the least jealous of loves. Two friends delight to be joined by a third, and three by a fourth…hence we picture lovers face to face but friends side by side; their eyes look ahead."
This rang so true to the four SAGs. We all are blessed with other close friends and there's no jealousy about this. We're always so happy when we know someone else loves another SAG as much as the other three SAGs love her. But we do believe God brought the four of us together for His good purposes, some of which we may not even know about yet. We know that He has given us comfort, encouragement, laughter, hope, prayer, correction, challenge, loyalty and companionship through our little group. How thankful we are for this!
When the four of us talk about aging together, I'm usually the one to bring up that most likely, three SAGs will someday attend the first funeral of our group, and I tell them that I know it will be mine. Don't ask me how I know – I just have a maudlin side to me that spills sloshes over now and then. 🙂  I have asked Gail, Lorna and Pat to share at my funeral someday and they have agreed.
For now, we are helping each other with the wonderful, terrible business of living.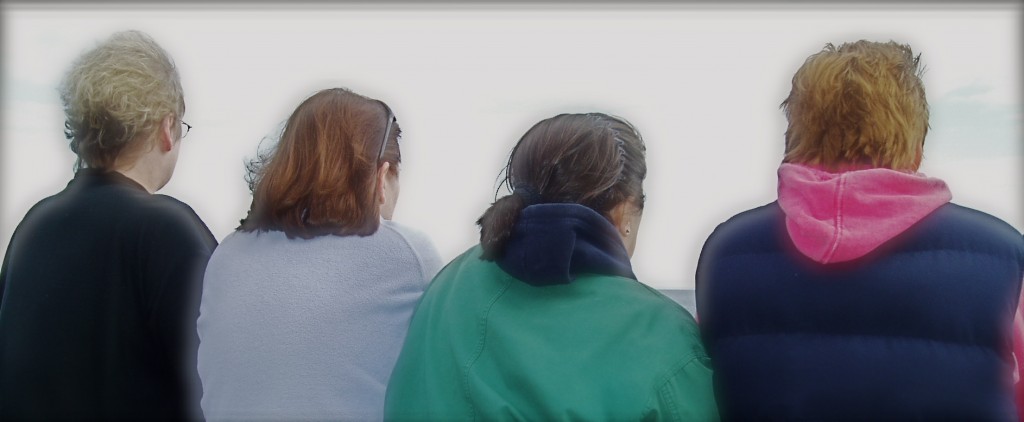 We are "friends, side by side, our eyes looking ahead…"