Random words about food and people
Happy Friday to you! It's a cloudy, drizzly day in Northeastern Minnesota, just perfect for puttering around in the house, playing some music in the background, and for a pot of soup. Fortunately, the soup is already done, because yesterday I made a huge pot of Chicken Tortilla Soup with all the fixings (grated Monterey Jack cheese, chopped fresh avocados, sour cream, strips of corn tortillas crisped up in a skillet with some coconut oil, chopped cilantro, and wedges of fresh lime).
I had four lovely women over for lunch, and our meal was simple: the aforementioned soup, and oatmeal cookies with fudge stripes on them for dessert. And coffee and ice water. The day was gorgeous with plenty of sun, and we enjoyed each others' company and conversation for about two hours that literally flew by.
The week before, six friends from my senior grief support group came for lunch, and that was a grand time as well. Michael and I used to have people over for dinner on a regular basis before he got sick, and I have been out of the habit for years. Recently I wondered to myself what I have to offer in this part of my life, and the first thing that came to me was my house…my table…a few humble meals. To look across or around a table and see the lovely faces of people I care about — well, that is a rich gift. I don't even try to make things perfect anymore. Not that they ever were — ha. Yesterday when one of the Sues here (there were three!) needed to use the bathroom, I directed her to the one off my bedroom and told her the main one hadn't been cleaned. And I felt pretty darn okay about that. It must be that I'm getting old.
My oldest daughter Sharon recently had a milestone birthday, and my three girls and I went out to breakfast at one of our favorite places, The Duluth Grill. My new choice for breakfast is their Huevos Rancheros, and here's a picture of it: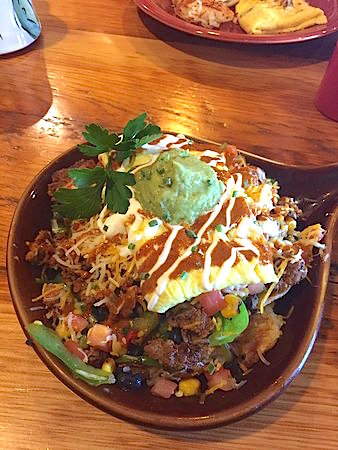 It's a pile of textures and flavors and colorful deliciousness I think I'm going to try to recreate at home soon. Huevos are pretty basic, but The Grill drizzles something they call Mojo Sauce over it that takes eggs and potatoes and guac to the next level. I wish I knew how to make Mojo Sauce. Maybe it would help me get my mojo back. (That was a terrible joke.) I don't know if I ever lost my mojo. Maybe I could tell you if I actually knew what mojo was.
Nothing makes me happier than all my daughters in my presence, and some laughter and ease between us all. I felt very grateful for the morning as we all said goodbye and went off to our own appointments and responsibilities. And I marveled that I am the mom of grown women, one of whom is in her forties now, and the other two not far behind. Whoa.
As usual, I've been walking in the cemetery a couple of times a week, and the Canada geese married couples have hatched their babies. There are downy yellow goslings in the ponds and on the hills, and it fills my heart with wonder and joy to watch them. The other day two vigilant parents bobbed their heads menacingly as I approached, warning me to not get too close. I stopped and watched the five babies about 15 feet from me, all eating grass like it was going to vanish in one hour if they didn't devour it right then and there. The little peeps they make are like the sounds of heaven to me. Have you ever heard a Canada gosling peep? I think most of us recognize the deep honk of the parents, but the little peeps of the babies melt the heart.
It has been 837 days since Michael moved to heaven. He is doing just fine, I know. I wonder if there are geese in heaven? Or Huevos Rancheros? I know there is a big table in heaven, with a feast prepared for those who belong to Him. Sara and I talked about Michael this morning, speculating on what he might be doing. We know he's worshiping the Lord, because he loved to do that on earth. Is there work to be done in heaven? If there is, we guessed that maybe Michael has been caring for birds and animals. He was sort of like a modern day Francis of Assisi who attracted birds and animals in an uncanny way. Sara also wondered (since Michael was a builder) if he would be allowed to work on my mansion (see John 14:2). I realize we really don't know exactly how things are in heaven, but having my husband there makes it a place I want to ponder more than ever before.
My oldest grandson will be 15 years old tomorrow. This is where I stop typing, take off my glasses, hold my head in my hands and cry out, "Gaahhhh!" I can't believe Mr. McBoy is almost 6′ 4″ tall and only has 3 more years before going off to college. I want him to be careful. I want him to study diligently. I want him to learn to joyfully serve others. I want him to experience how much God really loves Him. I want him to drive slowly, work hard, embrace humility, choose his relationships well, learn to pray, give thanks, have more foresight than teen boys are known for, respect his parents, be kind to his siblings, honor God, and always remember Who it is that gives him his very breath.
Mr. McBoy doesn't know that we have a goofy birthday planned for him. I'm smiling this moment thinking about the look on his face as he opens the gifts we have for him. He has chosen The Duluth Grill for the family gathering, and I probably won't have Huevos Rancheros. The Cobb Salad is my lunch or dinner choice there.
Well, I think this post has had an awful lot about food in it. I'll try to write about inedible things next time.
Have a wonderful Memorial Day weekend,