Outdoor Christmas Decor
When I was growing up, one year my father hung a string of multi-colored Christmas lights on our house in West Covina, California. I loved them. But then for two years afterward, no one took them down. We didn't light them after the holiday season had passed, but in my memory I can still see those lights hanging there just under the eaves, even during the summer months. I guess my parents became House Blind, you know, when you live with something in your surroundings for so long that you stop seeing it?
Anyway, I've never been one to have outdoor Christmas decorations in my yard. We like to drive around each December to see what other people have done and we love to oooh and aaah; they even have a contest in our city and some folks literally fill their yards with every conceivable light, cartoon figure, Santa on the roof, reindeer with slowly bobbing heads, nativity scene, and giant candy cane.
Yesterday I went to my mailbox and found nine catalogs there. It's that time of year, and I recycle all of them and don't buy a thing. But in one of the catalogs, there was an outdoor Christmas display that caught my eye. I actually considered it for about a minute, thinking of where in the corner of our yard we could situate it. But then I thought better of it, because I'm not really an Outdoor Christmas Decoration Type Person.
But if I were, here's what might sit in our yard: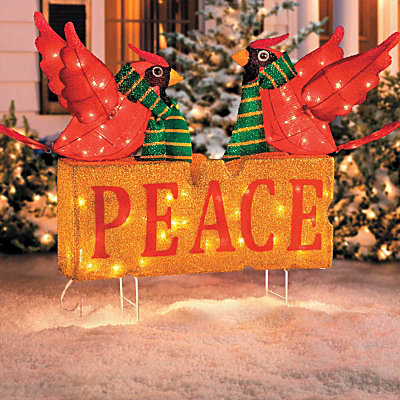 Do you have any Christmas decor in your yard or on the outside of your house? If you're in my area, I'd love to come see it! If not, I'd love to hear about it. If you send me a picture, I'll post it here on the blog.
God bless your day. And indeed, peace be unto you….