Old Pickleson
I'm just getting ready to take a bath, put on my warm plaid nightgown, and settle into a book or a massage or a facial for the night. But seeing how there is no masseuse or skincare specialist that I know of in my vicinity, I think the likelihood of the latter two choices is close to zero. So that leaves a bath and a book. And haven't there been worse things in our lives than a bath and a book? Oh yes.
Some of you might remember that I'm delving into all the books written by or about Corrie ten Boom. I wish I could convey what is happening, but I think in a sense I'm being mentored (at age 58) by Corrie, even though she's gone on to glory and we've never met. So, for Mother's Day Sara gave me a canvas she painted, of a well-known quote of Corrie's. I think Corrie's sister Betsie said it too. Isn't it beautiful? She found an example online and then just painted from the photo. I have it hung in my office and love it.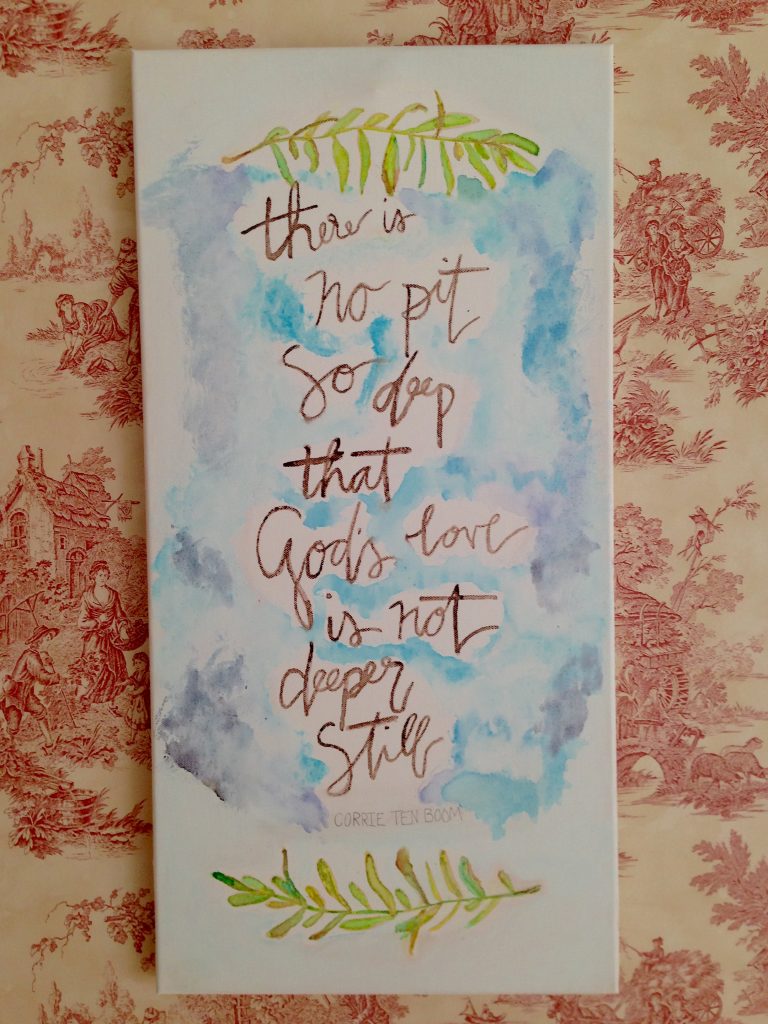 My daughter Carolyn gave me a beautiful card with some very loving words she wrote inside, and that made me cry. And my daughter Sharon came over in the afternoon to give me a long hand and arm massage, and that made me moan. She found all kinds of knots and bad things which would explain my wrist pain and the way my arm muscles feel like oatmeal underneath my skin.
This morning I took my Subaru Outback for an oil change and tire rotation. I've had the car for almost a year and a half now, and the odometer just turned over 8000 miles. I'm a real ramblin' gal these days. You've heard of the used cars driven slowly and carefully and infrequently by grandmas? That's my scenario, and whoever buys my car when I'm done with it will get a deal.
After I came home I fixed myself the most delicious lunch. I tore up an entire romaine heart on a plate, topped it with a small handful of peanuts and a couple tablespoons of dried cranberries, then drizzled ("plopped" might be more accurate) some homemade blue cheese dressing on it. After I finished my salad I had some watermelon for dessert and felt so blessed to enjoy a peaceful meal at my table, looking out on the deep blue of Lake Superior as I ate.
Carolyn and baby Miriam stopped over a little before 2:00, and Miriam and I had a great time together, playing with all the little stuffed Audubon birds I have. I've collected these for over a decade and my grandchildren have had hours of enjoyment from them. Here's a link if you'd like to see what I'm talking about. When you squeeze the birds, actual recordings of that bird's vocalizations play, and Miriam was delighted when I helped her cup her chubby hands around each one and squeeze so she could hear the honks and twitters and peeps. We have a male and female cardinal (of course), a turkey, a loon, an eastern bluebird, an oriole, a chickadee, a Canada goose and a goldfinch.
A little while ago Sharon called to tell me something funny.
She said that while she and 3 1/2 year old Louisa were driving today, Louisa asked from her car seat behind Sharon, "What's your mom's name?"
"Julie," Sharon answered.
"Oh, Balmer Julie!" Louisa said.
"Yes, Julie Balmer."
"Does she have a nickname?" Louisa wanted to know.
"Not really. People call her either Julie, or Mom, or Grandma."
Louisa thought about this and then asked, "Not Old Pickleson?"
Nope. Not Old Pickleson.
But I'm sort of a pushover where my grands are concerned, so if Louisa decides she wants to call me Old Pickleson instead of Grandma, I think that's an acceptable choice.
What did you call your grandpa and grandma? I called mine Grandpa and Grandma (Sooter or McInteer), but I know people who call theirs Pop and Nannie, and Papa and Nana.
If you're a grandparent, what do your grands call you?
Not Old Pickleson, I hope.