Oh, Opel!
In early September of 1973, two things happened. I turned sixteen, and I became a car owner for the first time. My first car was a 1973 Opel station wagon. Back then Opels were sold at Buick dealerships, but made in Germany. You don't see them anymore, unless you go to foreign countries.
When I turned fourteen, I started working at our local school district office after school and full-time during the summers, and saved my $1.65 per hour paychecks with the intent of buying my first car in two years. I had saved enough for the down payment by my sixteenth birthday, and my dad went and picked it up, driving the brand new car to my house with a huge red ribbon tied around it. I still remember him coming down the street with the basketball-sized bow affixed to the roof of the car, and the ribbons blowing. To say I was excited is rather an understatement.
The cost of my brand new, first car? A whopping $2800. After the down payment, I made monthly car payments of $75 per month for almost three years.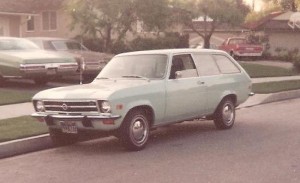 Here's a photo of my little blue Opel. It had a 4-speed stick shift and an eight-track tape player with nice speakers. I used to listen to Bread, Chicago, Linda Ronstadt and The Guess Who. I drove it to and from school and work during my junior and senior years in high school. My friends and I drove to the beach a hundred times in my little Opel, and later I even had a California vanity plate for my car that said JULIET. Oh brother. That's one of many parts of my youth that has caused me to mutter in my middle age, "What was I thinking?"
When I was almost twenty years old, married, with a baby girl and living on Beale AFB in Northern California, I traded in my little blue Opel wagon at a Volkswagen dealership in Sacramento. My husband and I were headed for three years in Germany and we bought another German car — a 1978 VW Rabbit.
Years later when I was back in SoCal, I was driving my green Rabbit one Saturday on the San Diego freeway. One lane over was a light blue Opel wagon that looked identical to the one I had owned. It even had the same dealer's name on the back license plate holder. It had a dent in the tailgate and looked a little shabby. I knew there was one way I could tell — I pulled closer and glanced over at the passenger dash board to see if a small blemish (from some goofball who touched the lighter against the vinyl years before and slightly melted it) could be seen. It was there. This was my first car, years later, being driven by a strange woman. Many memories, good and bad, came flooding back, and I watched a little wistfully as the car drove on past. I'm pretty sure I actually said aloud, "Ohhhh, Opel…"
So this brings us to the February blog giveaway! What was your first car? Tell us the make, the model, the color and the year. How old were you when you got it? How much did it cost? What did you like and dislike about it? What are some interesting things you could share about your first set of wheels? Inquiring minds want to know.
The seventh person to share a comment on this post will win this month's bloggy giveaway. I am still deciding what the gift will be, but I promise it will be nice. 
Vrrrooom,