Midweek Musings
As I sit here in the early morning dark, I can hear the lovely sound of the wind chimes playing outside my office window, as the mean December wind tosses them about. We had some snow last week but most of it melted the next day. Yesterday we had horizontal snow and the temperatures dropped, and I see that our distant forecast has below-zero numbers predicted. Two apt words come to mind when I see that: gaaahhh and waaahhh. I say let it snow, let it snow, let it snow, but keep the arctic temperatures at bay until at least the end of January.
I decided to put up a small tree this year instead of our big one, and Sara carried it up from the basement and set it up for me. She and I decorated it while watching A Christmas Carol starring Jim Carrey. If you haven't seen that movie and you like the Dickens tale as I do, I recommend it. At first glance it might seem too comedic since Jim Carrey's own cartoonish likeness is Scrooge, but the movie was so brilliant and touching I think I'll watch it again. The special effects or special animation or whatever it's called, were stunning. Here's a short trailer if you would like to see.
Here's a poor picture of our little tree:
And here are a couple of close-ups…I made the lettered banner a few years back and still like it because of the plaid paper behind the letters.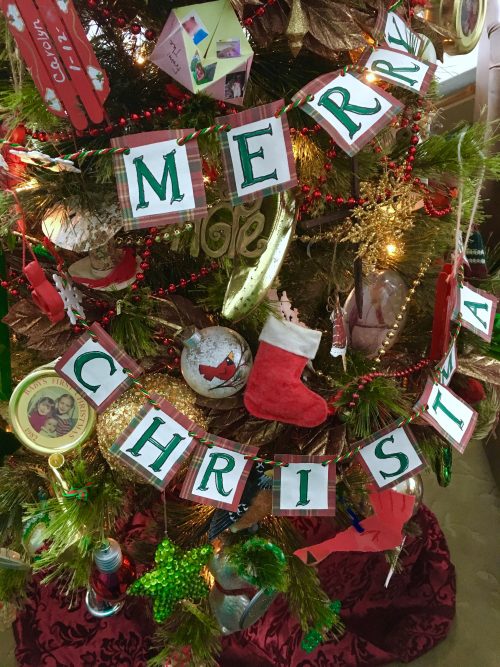 Michael and I bought this copper maple leaf in Alaska when we were on a cruise.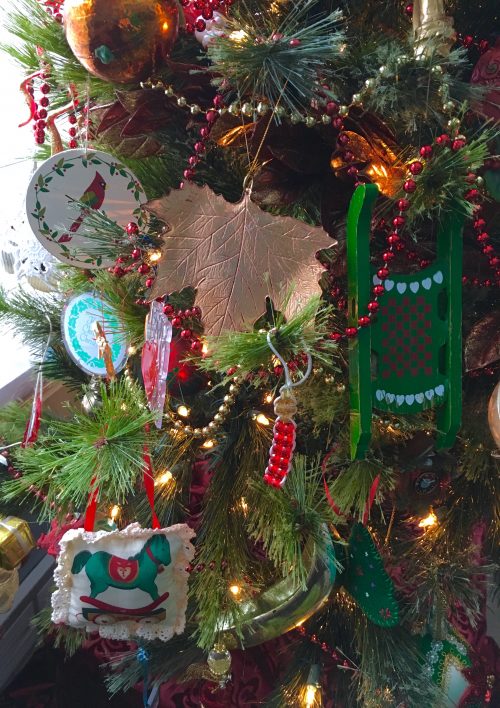 And every year Sara fills the three flower boxes which hang on the railing of our front deck with various fresh greens, and puts oversized ornaments in amongst all the lushness.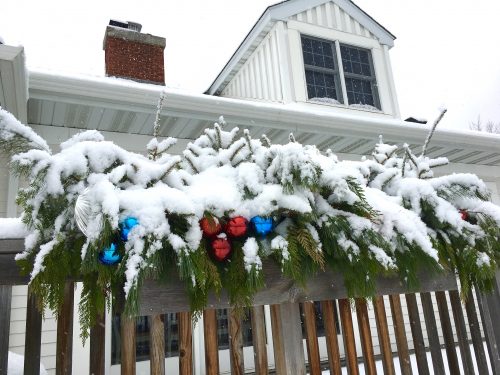 And Sara tied a little ribbon around the console table lamps in the living room. Probably no one else would notice but we were quite pleased with them.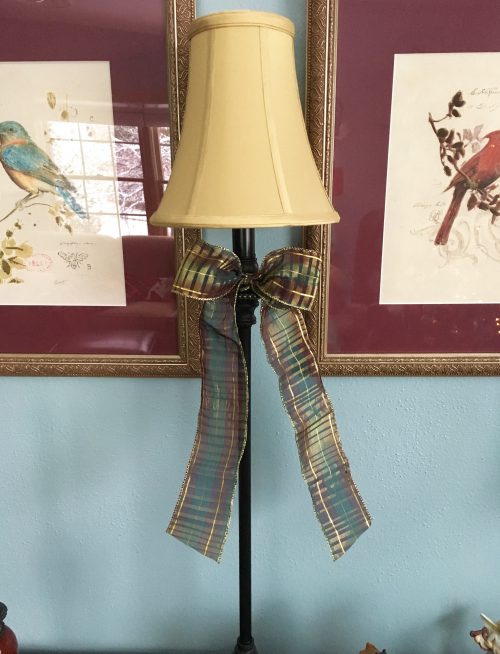 This little vignette sits in a corner of our living room. Our (almost obsolete) CDs are stored in this cabinet.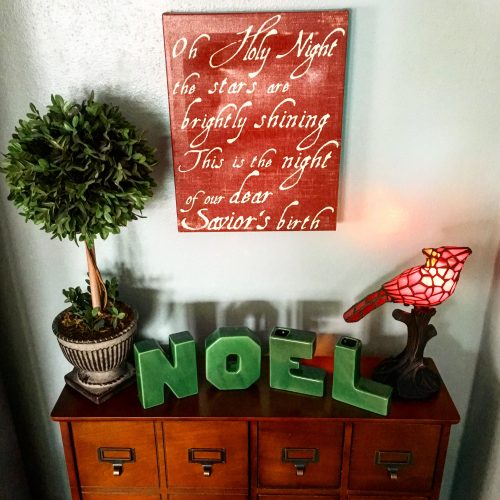 Sara also tied some bells up on the three hanging lights we have over our counter that divides the kitchen from the dining room. I love how festive they look.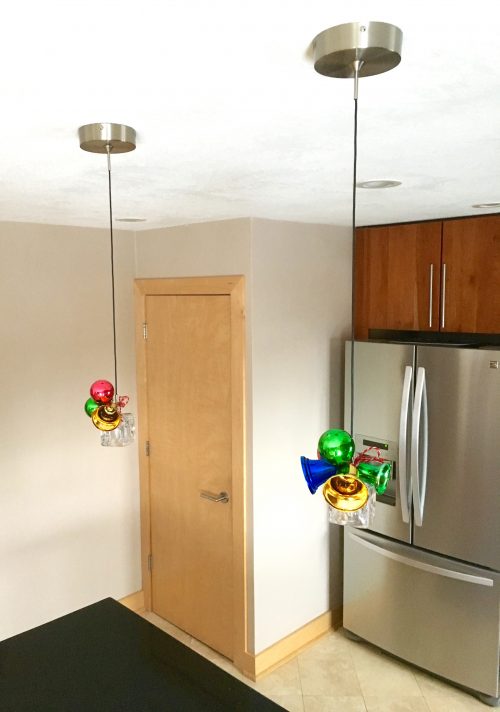 Last week I had four of my nine grandchildren here for one week. Seven days. In a row. Round the clock. Things went well, but I learned something about myself during that time, which is that I am old. I had a sneaking suspicion about this before, but having Sharon and Chris's kids here and having to make sure they all arrived at their respective activities confirmed it…I am officially elderly. Or at least that's what my body is telling me.
Chris and Sharon both have full-time jobs and they had planned a long time for this much needed vacation for just the two of them. They flew off to warmer climes, enjoyed uninterrupted meals together with quiet conversation, slept past 5:00 a.m. each day, and also did this: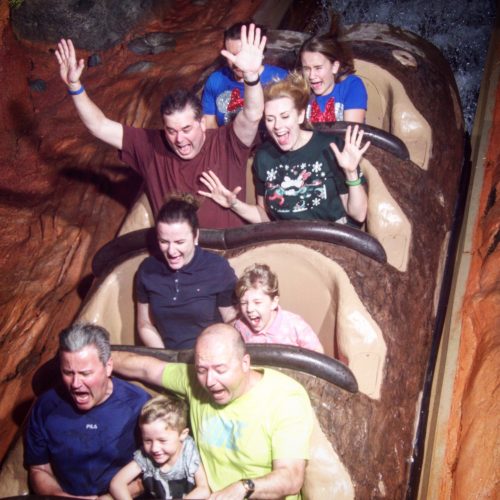 I'm so glad they had such a peaceful and relaxing time.
I had to make a chart to keep each day straight. Mr. McBoy had to be up at a certain time and off in the dark on his bike to freshman basketball practice at his high school. The girls had to be up at a different time and taken to school, one to one school and two to another. Lunches had to be packed the night before, which they all did. Uniforms had to be washed and ready. Homework done and gathered. Snow pants and boots dried out and mittens found. I made a different breakfast each morning — oatmeal and fruit, cheese omelettes and toast, sausage and waffles, etc. Li'l Gleegirl  had to be taken to choir practice and picked up. Mrs. Nisky had a Friday night 7th grade girls' fun night from 7:00 to 10:00, which meant I had to keep regular clothes on past 5:30 p.m. for a change. Li'l Gleegirl needed a BD party present and had to remember to pack clothes for an overnight at a friend's house. Mrs. Nisky had to be picked up from school at 2:30 because she had her cello with her, Li'l Gleegirl at 5:00 due to keyboard lessons at school. Little Louiser stayed home one day since she had a bad cold, and there's more. I don't know how their parents do it. By the time the seventh day rolled around, they were all so ready to see their mama and daddy again, and even though things went well these seven days, I was in my nightgown and sitting in my recliner with a glazed expression on my elderly face by dark (which is early this far north) within minutes after they were picked up.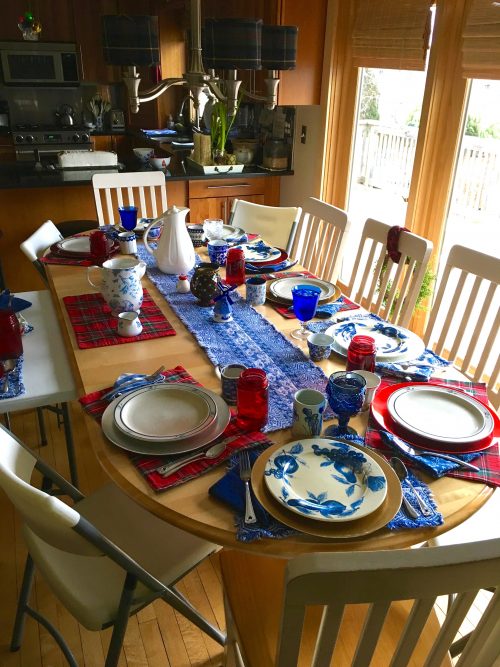 Yesterday after Community Bible Study, the women of my core group came to my house for our Christmas luncheon. We had sandwich loaf which looks something like the photo below,
chips, fruit, veggies and hummus, and Christmas cookies with our coffee and tea.
The women in the core group I lead range in age from late twenties to ninety years old. The mix of wisdom and calm, and freshness and energy, are such a gift to all of us. Some have little children, some are great-grandmothers. Some have never had children. Some are widows, some divorced. But we all gather around God's Word and ask Him to change us, and to help us know and love Him more.
We went around the table and shared either a Christmas memory or tradition, and after everyone left I cleaned up while pondering how rich it was to listen to such beautiful women openly share. We laughed, marveled, and cried a little at what was said, and it felt like we were on fun and holy ground. I love knowing that fun and holy can go together.
Well, this was a bit fragmented, but I hear some footsteps down the hall, so off I go to make breakfast and get meds ready for one of my fosters. I will make sure she is well bundled before she leaves for the bus, because I can still hear the wind knocking the wind chimes around. The sun is just now coming up.
I pray your day isn't too busy and that you find some moments of peace and gratitude.
May Jesus bless you today,