Meet the Granddog
Our daughter Carolyn, her husband Jeremy and their four children have welcomed a new puppy into their household.
They already have a nine year-old Black Lab named Clementine – they call her Clem or Clemma. Clem is the greatest dog – she's smart, calm, loving with the kids, loyal, and black. All the traits for which a person would choose to own a Black Lab. But Clem has had infertility issues her whole life. So in adding this new puppy to the mix, Jeremy and Carolyn may be ministering to those unrequited maternal longings that Clem has been burdened with, but never spoken of.
Enter Francie Nolan. Or just Francie. Or Fran. (If you don't recognize the name, now is the time to read a great book – A Tree Grows in Brooklyn, by Betty Smith.)
Francie is their new Chocolate Lab puppy. She's smart, calm, loving with the four kids, will hopefully prove to be as loyal as Clem, and of course, she is brown. Clem's maternal bell has started ringing and she has taken Francie under her wing paw and has shown her the boundaries of the yard, where to lay in order to get cool, where to potty, and how to be a beloved canine member of this family. When they nap, Francie snuggles up to Clem and they doze together.
Carolyn and three of their kids brought the new granddog over the other day and after a romp in the yard Francie was tired out and slept on Carolyn's lap for a while.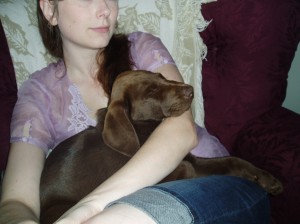 All the children are thrilled to have a sweet new puppy in the household. Their youngest child was napping at home so isn't in the picture.
Have I ever mentioned that I love having children? That I love having grandchildren? And I also love having granddogs.
"These are a few of my favorite things…"