Lunch with Carey
All three of my daughters love the new Japanese restaurant in our city. I'd heard them and others talk about it for a long time before I finally ventured in to try it, and now it's one of my favorite lunch spots. So, a few weeks ago Carey and I had lunch together at Hanabi.
Hanabi is edgy, youngish and hip, so I'm not sure why I like it so much. Because I am not edgy, youngish or hip. Well, edgy maybe, but certainly at 53 I'm not youngish and I most definitely am not hip. Hippy? Perhaps. Hip? No.
Carey and I went to Hanabi to eat fantastic food, to celebrate my birthday, and to decide on the first book we're going to read in our newly established Two Person Book Club.
I am not one who eats shellfish very often, but I ordered their shrimp tempura lunch special and it was beyond delicious. I tried not to roll my eyes and moan when I tasted the first cloud-like bite of sweet potato tempura. I didn't want to embarrass Carey. She might never go to lunch with me again if I roll my eyes and moan at the table.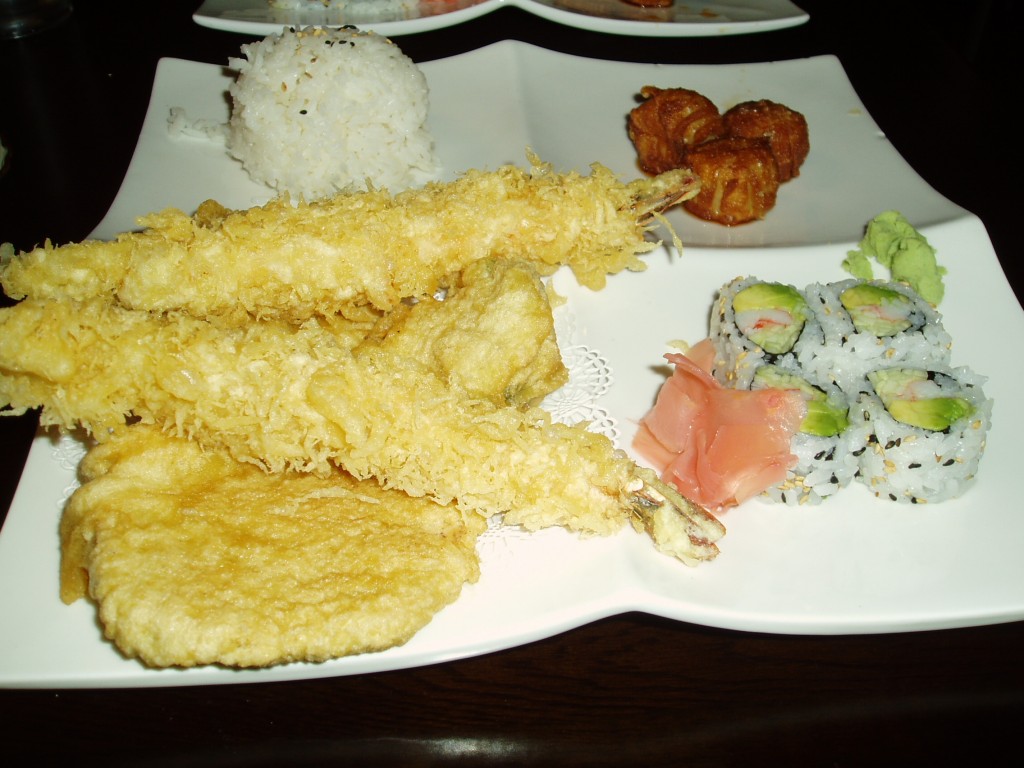 This was my plate. I did not take a picture of the miso soup that came as the first course. Clockwise from the top left: White rice with little seeds on it (what are those little seeds I wonder?), three little steamed shrimp dumplings called Shumai, four California rolls (avocado, cucumber, crab, seaweed and rice) with pickled ginger and green wasabi, shrimp and vegetable tempura. Once again, at Hanabi you take a bite of food you never thought you would eat and you say Oh. My. Gosh. In a good way.
Here's my talented and loving friend of twenty-five years:
Carey's meal was similar to mine, but her main item was called Beef Negimaki, which is basically broiled strips of beef marinated in teriyaki and rolled around scallions. It was delicious, but a little scalliony.
Anyway, for our first book to read together in our newly formed Two Person Book Club, we decided on Ben Hur. I'm on chapter eight and am loving it so far. The language is rich and it's quite the transporting read.
For my birthday Carey gave me an authentic Irish Tin Whistle. Carey's sister Gen plays the instrument beautifully and Carey has been learning through tutorials on youtube. I hope to be playing the music from The Lord of the Rings and/or Titanic by next week and I'll be sure to alert you here on the blog. 🙂
Carey is one of the most gifted people I know. You can read what I originally wrote about her here. She has her own business, and makes absolutely gorgeous jewelry that she offers online. She's detailed, precise, wonderfully artistic, and I'm always amazed at how reasonable her creations are priced.
Years ago Carey used to make dried floral arrangements and once in a while I would go to help her when she was doing a show. Dozens of people would line up at her booth before it even opened, and while other vendors were there at the show all day, Carey invariably sold out of everything before noon. I used to tell her that I thought she could sell her florals for more, but she was quite content making them so reasonably priced. Everything she makes is unique and eye-catching. If you'd like to see some of Carey's amazing handiwork, click right here.
So if you live in my city, try Hanabi. If you're not opposed to shellfish, have the shrimp tempura lunch special. If you've read Ben Hur, why don't you leave a comment and share your opinion about the book? If you would like to schedule me for an exhilarating tin whistle concert, please contact my agent here.
And be sure to visit Carey's site and tell her Julie sent you.
Thank you for reading my little blog, and have a blessed week.