Knee Replacement Journal – Part Two
Evening, Friday, June 14, 2013 – I don't know why it is that when someone brings us a meal, I cry. I feel all weepy and grateful and lavished upon in ways I can't explain. Maybe because as I've gotten older, I've felt less creative and inspired in the kitchen, and feeding the multitudes has come to feel like a duty rather than a privilege. It's my housekeeping/wifely mountain, that's for sure. Tonight we sat down to the table and ate mouthwatering walleye fillets, breaded and baked to perfection. If you're a Minnesotan you know that walleye is a prized fish for eating. We also had a bean casserole with every color and size bean imaginable, which frankly makes it sound ho-hummish (to me at least), but when I put a forkful in my mouth I looked at Michael and said, "Oh. My. Gosh. These. Beans." Absolutely the best tasting beans I've ever eaten. And there was a giant bowl of fresh fruit with pineapple and blueberries and raspberries, enough to last for days and for many smoothies, and some rolls made out of pretzel dough, and a diminutive, rich dark chocolate cake for dessert. Feeling weak and tired and sore, I wipe tears as I eat my beans and fish, and I silently ask God to bless Kay J. and Julie G. for generously and lovingly bringing tonight's meal. I could get emotional right now as I type this. I think when I look back on my knee replacement and recovery, I'll remember the meals almost as much as anything else, because the relief they gave felt like such a salve on my soul.
Saturday, June 15, 2013 – My knee is swollen and sore, and I'm taking the icing and elevating instructions very seriously. Today I get up and move around, have a smoothie and a piece of toast with peanut butter for breakfast and feel so full I could burst, brush my teeth, grab some more ice packs from the freezer, and go back to bed for more icing and elevating. The first few days we're supposed to ice 20 minutes out of every hour, so this means hours and hours a day. This is okay with me, since I don't feel like being up for long anyway. We have enough leftovers from Kay and Julie's meal last night to have a wonderful meal tonight. My sweet granddaughter Mrs. Nisky is here helping and what a godsend she is. She fetches things for me, keeps me company, and learned how to play Gin Rummy quickly so we play that. And I've read to her while I ice and elevate.  Thank you Lord.
Sunday, June 16, 2013 – Mrs. Nisky goes home today and I will miss her so much. One week ago today I was on my way to Stillwater, getting ready for my surgery. I feel so much stiffness, and the exercises are very difficult for me. I'm supposed to be doing several sets of exercises twice a day, and I feel like I've climbed Mount Everest if I've done them once. Help me Lord! To bend my knee at a 90 degree angle, as most of us do when we sit at a table, is almost impossible. Yet in Physical Therapy over the next weeks, 125 degrees will be the goal. The thought makes my skin crawl. And my leg no longer straightens out like the other one, which also is normal apparently. So in this new world I live in, in order to move my knee, I have to get rid of my knee, get a new knee, not be able to move that knee at all, then slowly be able to move that knee over the course of several weeks, and hopefully move it lots and lots someday. I read an article online on my iPhone while icing and elevating that tells the reader that with knee replacement surgery, the three P's to remember are, Pain, Physical Therapy and Patience. I so get that.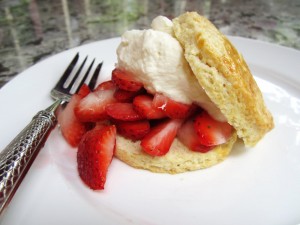 Tonight we are again blessed, this time with a meal from Laurel. The care and generosity with which we're being provided for almost does me in. Laurel brings her smile and hugs, which are always heartening and strengthening to me, and boxes filled with food for dinner. A beautiful, herbed pork loin roast, so lean and tender. Baked potatoes, still hot from the oven and wrapped in foil. A spinach salad with thinly sliced yellow bell peppers and fresh sugar snap pea pods and slivered almonds, oh my. And the most fragrant rosemary rolls, warm and soft and ready for a slather of butter. And for dessert – homemade strawberry short cake, with lovely juicy fruit and homemade whipped cream. Michael is in heaven over that one. Again, sitting down at our table with this bounty provided through love and hard work, while wearing my plaid nightgown and doing so little during each day, I am overwhelmed. I pray that the Lord will return this blessing to my friend Laurel, times a hundred. I am beginning to understand the third P – patience. I'm not recovering as fast as I had thought. This may be a slooooow process.
Monday, June 17, 2013 – One week post op. I feel like a vice has been wrapped around the whole knee area. It's not painful per se, but it is certainly not comfortable. I want someone to take off the vice. My swelling is going down a tiny bit. Today is my first day at Physical Therapy and my therapist is a great young woman named Suzanne. I drive myself there. She has her master's in PT and I am happy to find within minutes that she is so knowledgeable and compassionate. Range of Motion will be the buzz phrase over the next weeks. She measures how far my knee will straighten when I'm lying flat on my back, and how far it will bend, doing these demonic exercises called Heel Slides. They should be called Hell Sleds. Sleds from Hell, that's what they feel like. Suzanne is gentle and thorough, and massages all the very tight and traumatized muscles in and around my knee. It feels wonderful. The only thing that doesn't feel wonderful is when she starts in on my knee cap, and I almost go through the roof. She makes a notation. After an hour of working, massaging, assessing, my Range of Motion measurements went from 13 and 90 degrees to 4 and 104. Quite the improvement, I guess. I walk out to the car and strap myself in, sighing deeply as I realize I'll have at least 20 of these PT appointments, and I ask for God's help. How thankful I am that Su and I are going on this journey together, and we compare notes every day. What she is experiencing isn't exactly what I am, but together we are seeing how much we need to readjust our expectations of recovery. She is an encouragement to me. Tonight we enjoy leftovers from Laurel's delicious meal, and I sit up in the recliner, ice packs under and over my knee, to watch "The Bachelorette" with Michael. Believe me, this is not his favorite show, but I've taken an interest since the current Bachelorette (Desiree Hartsock) is a Christian and has brought a little class to a show that I would previously have used my ten-foot pole around. When it's time for bed I'm sore and a bit discouraged at how stiff I feel, how vice-like the sensation is around my knee. I haven't been taking pain meds during the day, but I gladly take them at night and do so now. I haven't written in my gratitude journal in a long time, and I realize before I fall off to sleep that it's time. My normal, complaining, impatient nature is stirring, and I don't need to wrestle with that too.
Tuesday, June 18, 2013 – Each day is very similar. I wake up in stiffness and a little pain, gimp around for a while as I'm getting lunches and breakfasts ready for our Fosters (who have been loving and helpful and such dears it makes me get teary to think of it), feed Edith and Mildred and let them out with their horrible anti-bark collars, let them back in, boil water for the day's pot of tea, make coffee for Michael, and then I grab my ice packs and head back to bed. I realize that I'm letting paperwork and housework and most things go, but I must. And I keep telling myself this is okay. I get dressed if I have to go somewhere, otherwise I stay in one of my three plaid flannel nightgowns. Today Michael has a foot doctor appointment, so I will get dressed and drive him downtown. I'll stay in the car and play Words With Friends, and when he returns we'll drive home. Woo hoo, we've had our day out! We Are Old Now. I miss being able to soak in our deep tub, but baths are not allowed until the incision has completely closed, so I take a shower every other day. I ice and elevate with two thick pillows on our bed, read a chapter or two from All Creatures Great and Small and occasionally nap. I've never been much of a napper, but these days it feels good. Michael naps a lot, so each afternoon there are four of us (two human, two canine) on the big king-sized bed, resting away for an hour or two. Tonight we sit down to a feast brought by my friend Carol, who comes in cheerfully toting box after box of hot food ready for our meal. Tender chicken in a yummy white sauce served over angel hair pasta. Fresh steamed broccoli, somehow still hot in the serving dish. A salad I literally moan over, with fresh greens, bits of crisp apples, cashews, craisins, and a homemade citrusy vinaigrette. And homemade butterhorn rolls, which Michael moaned over, and still-warm rhubarb bars with homemade whipped cream. Just one of these creations would have been too much for me to accomplish in a day, yet Carol went all out and gave us a meal full of delicious homemade things that made me cry with thankfulness. And there was enough for the next day. Days of meals, my friends….can you believe it? I feel humbled and grateful for the way these women poured His love out over us. What lavish provision. Thank you Lord.
Wednesday, June 19 – Sunday, June 23, 2013 – a blur of days. Icing and elevating. Showering. Watching a TV show or two with Michael. I don't care for murder and violence, so why am I interested in "The Closer," a TV series available on Netflix starring Kyra Sedgwick who's a southern woman in charge of a mostly-male crew of cops for the LAPD, figuring out high-profile murder cases? We watch "The Closer" and I now imitate how Kyra's character Brenda Leigh Johnson thanks people…."Thank you, thank you so much!" I get up for an hour at a time, do some paperwork, pay some bills, throw in a load of laundry. But I listen to my body and it usually says an hour is enough. Then I am down again, icing and elevating. It feels like limbo, but it's actually life. I need to remember this. This is life right now. Whatever I need today, I have. I am realizing also that changes with knee replacement recovery come at glacial speed. I might feel a bit of improvement in a week or ten days, not in a day or two. I'm relieved to know this is common. I get out my gratitude journal and start writing.