How Could It Be 32 Years?
Today Michael and I celebrate thirty-two years of marriage. With his Parkinson's and my new knee taking its time to settle in to my leg, I don't know how much partying we'll do, but that's okay.
This morning when we woke up I looked over at him and he was looking at me. "I like your hair," he said. He makes me laugh. He likes my hair, sticking straight up in the air after a night of tossing and turning.
I wish I could have scanned the whole page from an old scrapbook, but my printer/scanner will only do 9 1/2 x 11 inch scans. So the images below are from half of a scrapbook page from our wedding day, June 28, 1981.
Michael was 32 and I was 23.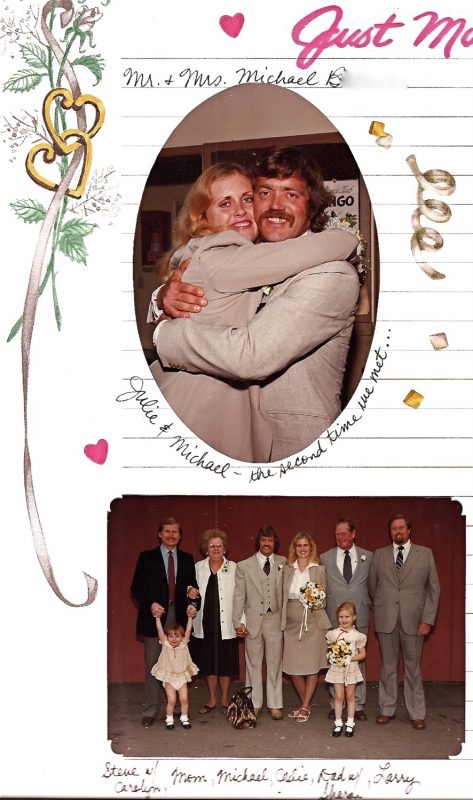 We got married in a women's club building in Los Osos, CA, before driving the fully-packed rental truck east and then north toward MN the next day.
Above, you can see from left, my brother Steve holding my daughter Carolyn's hands (she was 2 1/2), my mom Virginia, Michael, moi, my dad Doc, with Sharon standing in front of him (she was 4), and my oldest brother Larry.
Michael and I both agreed this morning that we couldn't possibly have imagined that in 32 years we'd be where we are now. Had you interviewed us back then we'd have probably spouted off words like "travel" and "fun" and "church"….things we just knew would be in our future.
Well, we've done some traveling, and loved it. We've had some fun. And we still chuckle about some of those fun times. And Jesus is the reason Michael and I met in the first place — He is the one who has kept us together. Oh, so faithful He has been! And we've also been blessed with some pretty wonderful friends we met in church. Michael and I just didn't know that sickness and disappointment and trials would weigh so heavily (and early) in our times together. Although why we didn't expect that, I don't know. I would tell people today, enjoy every single day — have fun, love each other, worship God, travel, lay down your pride, outdo each other doing good to one another, forgive, encourage, but by all means expect hardship. Prepare for trials and sickness and troubles, because they will almost certainly come. So don't be shocked by them, and be sure you reach for your Savior's hand every day.
As we mark 32 years together, I'm not sure how much travel and fun and church are in our future. The Lord knows, and He can make impossible things happen — He's very good at that. (Michael actually believes we'll take a long trip in the next year or two!)
I'm grateful for my dear husband today…he may not be able to do all the things he used to so thoroughly enjoy, but he's got the loving/being patient/gentleness/kindness/faithful thing going on like no one else I've ever known.