How Long, O Lord?
I know a couple who have given their whole lives to ministering to God's people. When one of their sons fell into meth addiction many years ago, they continued to selflessly minister to their flock, encouraging and believing for other peoples' children, when their own was lost to them for over ten years. When this couple's prayers were finally answered and their son returned to the Lord and finished his prison sentence, their joy knew no bounds. After five years of being clean, their son returned to the world of meth, and this couple are again praying for his deliverance while they continue to minister to many other hurting people.
I know a Christian woman whose Christian daughter won't speak to her, even though this woman has humbled herself and begged for forgiveness many times. Her daughter will not allow her to see her grandchildren even though they live in the same town.
I know a Christian couple who are probably two of the most patient, skilled, loving, steadfast parents I've ever known, and their adult son has dominated their lives with his anger since he was a baby. And continues to do so.
I have a Christian friend who has prayed every day for over twenty years for her two children to pay a bit of attention to the Lord and the solid spiritual upbringing they received, and my friend has not seen the answer yet.
I know a man with a terrible disease that is slowly taking over his body, and his friends and family and pastor have prayed for his healing, anointed him with oil and prayed prayers of faith and praise for years, and healing has not come.
I have a relative who is the kindest, most generous, loving woman, but her former daughter-in-law hates her faith in Christ and has not allowed her two daughters to see or speak to their grandmother for years. Now they're grown up and have taken on their mother's contempt of their grandmother's love of Jesus, and will not see her, but she prays every day that God will change their hearts.
I know someone who is a woman of prayer. She and her husband raised their three children to love the Lord, and gave them a stable home with a happy marriage for a model. One of the children is openly disdainful toward a God who makes what he sees as unfair rules and judgments, and he does not believe. This woman continues to pray, but has not seen the answers she's asking for.
I know a young woman whose heart is soft and tender and who loves Jesus with everything she's got. She has a father who claims to follow Christ but who is full of destructive pride and rage, and has been cruel and hateful to her and her mother for much of her life. She has believed the Bible's promises about how prayer changes things, but has not yet seen the answer to her cries for her daddy.
I know a believing couple who want God to bless them with a child. Their brothers and sisters have had babies, but they have not conceived, and as she prays each month that a new life will form, she tries not to lose hope and to believe that God hears the cry of her heart.
I know a woman who has a strong, child-like faith in the Lord, and married a man who ended up being an alcoholic. She prayed for years that God would get a hold of her husband, and at times it seemed like He did, but most of the time it seemed like He didn't. They finally divorced.
I'll bet you know some people like this too.
Or maybe you have also been praying for something or someone for years and years, and are still waiting for God to move.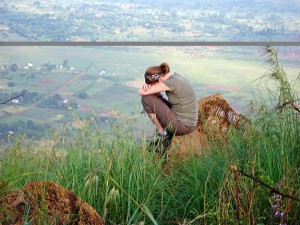 The older I get the more I realize how little I know about God. I know that He is good and He is faithful and He is great, but I don't think I understand His timing and His ways sometimes.
Have you ever felt like that? Have you ever said, "How much longer before you answer this cry of my heart, O Lord?"
It gives me comfort to know that others have prayed that way too.
Like King David….
How long, O Lord? Will you forget me forever?
How long will you hide your face from me?
How long must I take counsel in my soul
and have sorrow in my heart all the day?
How long shall my enemy be exalted over me?
Consider and answer me, O Lord my God;
light up my eyes, lest I sleep the sleep of death,
lest my enemy say, "I have prevailed over him,"
lest my foes rejoice because I am shaken.
But I have trusted in your steadfast love;
my heart shall rejoice in your salvation.
I will sing to the Lord,
because he has dealt bountifully with me.
~~Psalm 13
I love how David pours out his heart in desperation to God, but also makes a decision to declare the faithfulness of God in almost the same breath. I appreciate how he's so worried about all the horrible things that might happen, but in the next sentence he's remembering how much God has already lavished upon him.
And I'm grateful to know that God is accustomed to His people being desperate and thankful at the same time, worried and rejoicing all in the same hour. He can handle it.
Even if we think we can't, He can.
Trusting with you in His steadfast love,