Grayness and Grace
(Written three days ago…) I woke up this morning around 3:30 and couldn't get back to sleep for a long while. I pulled back the curtain behind my bed and watched the snow fall for a while. We're supposed to get three inches today. The wind is howling and it seems like a good day to stay home, except I have a doctor's appointment at 9:20 this morning, so I'll be venturing out. I don't really want to go to the doctor because he's new to me, since my old, beloved family doctor of 32 years no longer works at our clinic. Our new guy is friendly, loves his work, listens well, has a beard, all good things in my book. I'm going because I think I need a sleep study. I have awakened a few times in the past couple of months with a loud, desperate, air-sucking gasp, halfway sitting up, with my heart pounding so hard and fast it feels like it will come out of my chest. I think I can tell my heart is doing this because I stop breathing, and the severity of the pounding makes me think my breathing lapses are long. I don't think I'm having a dream or nightmare. Maybe I'll get on the CPAP wagon now, who knows? I have a couple of friends who use CPAP machines at night and these little whirring boxes have truly transformed their sleep. I never thought I would be headed down this road since I'm not much of a snorer and haven't had other sleep apnea symptoms. Oh well. I guess putting on my plaid nightgown and climbing into a strange bed while being hooked up to various wires, and being observed by strangers while I sleep with my mouth open is the next thing on my list of adventures.
My sweet seven year old granddaughter Li'l Gleegirl spent the night on Saturday and helped me make cookies for the annual cookie exchange my three daughters and I do together. We made Spicy Molasses Cookies and they are so scrumptious with a small glass of milk. Li'l Gleegirl wanted to go with me on Sunday to spend the day with Grandpa, so she brought some toys and books, we packed a lunch for her, and off we went. It's almost an hour's drive, and after we had gone about twelve miles she said, "Are we half way there yet?" I forget how quickly time can drag when you're young, and how true the overused cliche "time flies" is for us older folks.
Anyway, Grandpa was so glad to see her and they shared a long hug. She enjoyed seeing all the birds again, and she explored the big gameroom they have there, played some little instruments during the Gaither Homecoming Gathering that was on the TV in Grandpa's living room, and was very good company for me. When the time for afternoon worship/church rolled around, Li'l Gleegirl and I were getting ready to take Grandpa to chapel when a staff person from the veterans home approached and informed us there was a confirmed case of influenza in the building and we were to put on a mask. All visitors were also encouraged to limit their time there to fifteen minutes, and we'd already exceeded that, so we returned Michael to his neighborhood called Birch and prepared to leave. Because this was a sudden change in our plans, chapel canceled, no nice long goodbye with a quiet prayer, Michael became agitated. The delusional thinking that is part of Lewy Body Dementia kicked in and he thought the whole flu thing was a big conspiracy dreamed up by the powers that be to keep us apart, and he didn't think I should leave. I hate trying to explain things to him that he can't understand. This is one of my roles at this point in our lives now, and I hate it.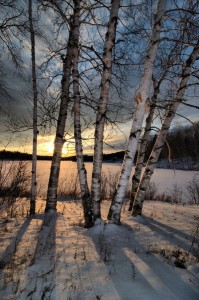 Driving home, the landscape of the north shore of Minnesota and weather was as bleak as I was feeling inside. Gray and colorless, no signs of life, nearly frozen, lacking light. Li'l Gleegirl was a bright beam in the midst of it all, though…
I have a small white tree in my bedroom, decorated by some of my grandchildren. I haven't put up the larger green tree in our living room, and am not sure I will. My daughters may think I'm becoming like Mrs. Scrooge or something, but that's not it. I'm not sure how to articulate it. I'm happy about celebrating Jesus and the hope, love and mercy He brings and I am desperate for. I just crave a pared-down, condensed, slow walking out of this celebration. Yet I know I cannot impose my Advent journey/desires on others.
I do look forward to our family get togethers so much. But somehow everything has become wistful, nostalgic, tinged with sorrow for me, and you can imagine how fun that is for everyone. Some would say, "and this too shall pass…", but I don't want to rush these times. I don't want them to quickly pass. When life gets harder and narrower, I hope the Lord can cause me to go deeper.
My friend Ember wrote this to me: "Spring always comes. 'As long as the earth remains'. The human heart will also have its time in the sun and its season of life rising anew."
I know this is true.
So this is my refrain for today: "Oh, for grace to trust Him more…."