Grave Matters
I have begun walking now and then in the cemetery where Michael's body is buried. It's a beautiful place, full of overhanging trees, large ponds, rolling hills and very old graves. When Michael and I traveled to England, Ireland and Scotland in 2007, we found we both enjoyed walking in old graveyards, reading the words on the head stones and pondering history. I am enjoying the same here in Northeastern Minnesota. I see older women walking in the cemetery occasionally, and I can imagine why. Aside from the quiet beauty of the many lanes weaving throughout the sloping sections there, it's relatively private and there's no traffic. Older women (the ones who aren't terribly fit) like to walk without being noticed, and Forest Hill is a good place for anonymous waddling.
I have taken several pictures of headstones and mausoleums that caught my eye, and I thought I'd share them here. You can click to enlarge some of them if you like.
I like this rough-hewn cross that looks like it was literally chopped a chunk at a time from a huge stone….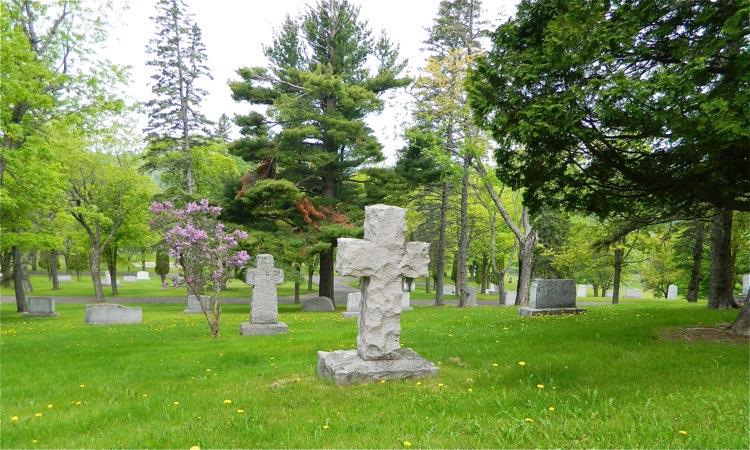 I also like this one, that looks half undone, with a Greek pillar emerging from it….
I admire this one each time I'm there, because of the amazing detail carved in the bouquet of flowers and the look of a parchment scroll for Mr. or Mrs. Gee's name…
This one always makes me grin…no offense meant to the Coffin family…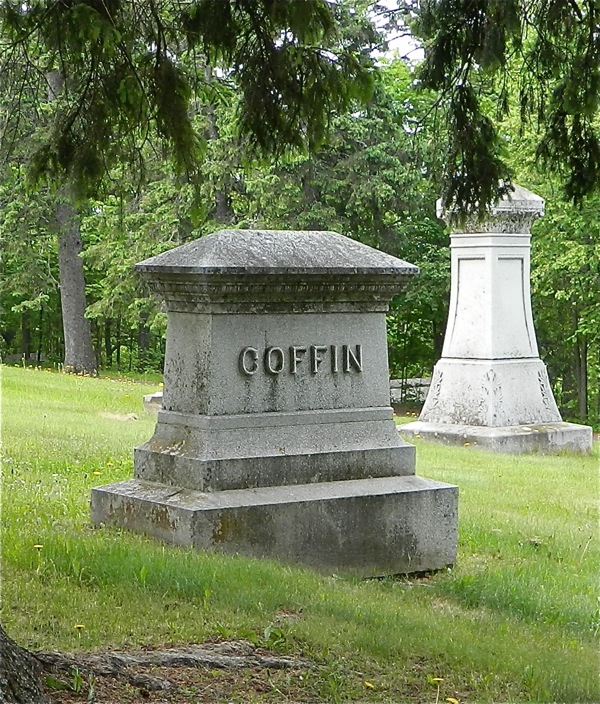 So many of the white marble markers are covered with over a hundred years of mold and lichen. This one is about ten feet tall…
It looks like the Johnsons originally intended to have names and dates engraved in the empty square section. I think I'll get closer next time to see what the book says. I wouldn't mind an open book over my grave…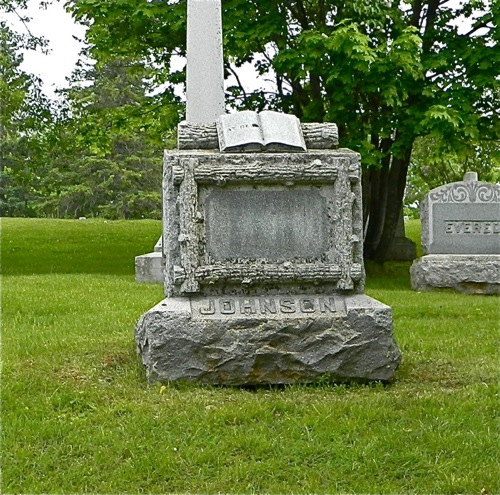 This is one of the older sections of the cemetery. Headstones are smaller than are usually seen today, and many of them have either fallen over or nearly so, as the ground has eroded over the last century.
I find the Greek or Roman temple-like mausoleums fascinating. I wonder what they look like inside….are there shelves where caskets have been stacked? Many of the names on these edifices are familiar to me because they're from wealthy families in our city, some of which have large buildings named after them downtown.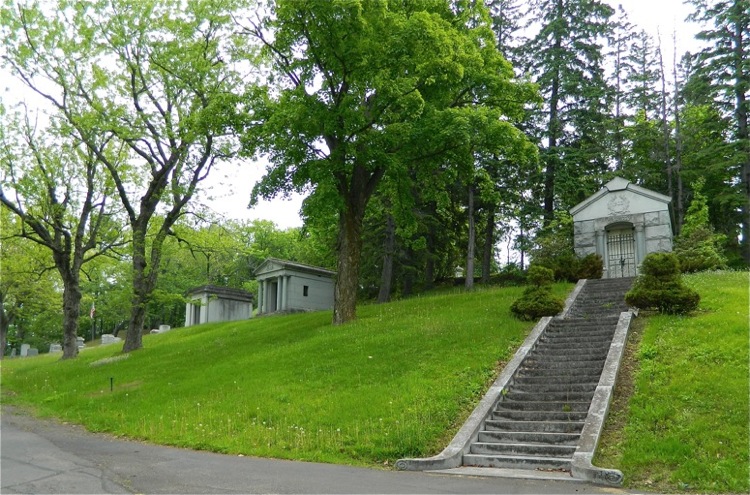 This one is huge…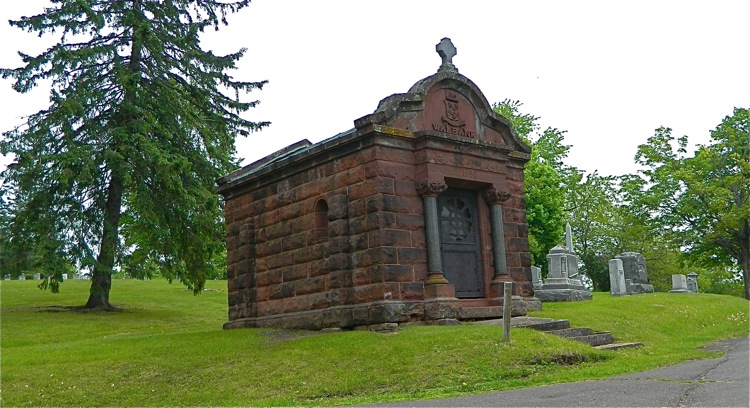 I took this picture in the oldest part of the cemetery. Elizabeth Shaw was born in 1833 and died in 1897.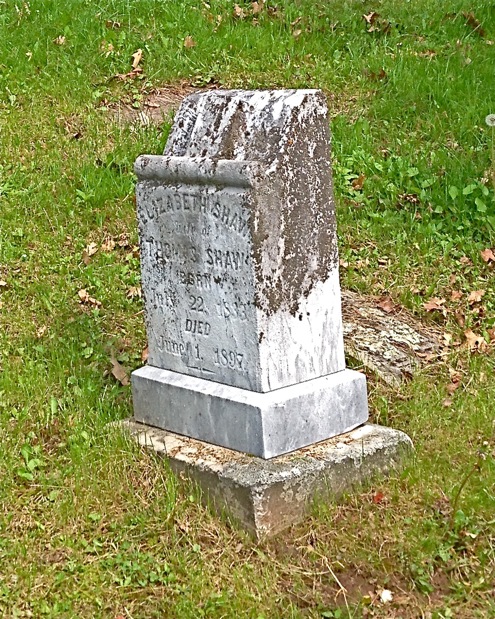 All the graves pictured above lie beyond the furthest trees on the hill you see in this picture below. This part of the cemetery below is newer, and Michael is buried out of the view of this photo, to the left.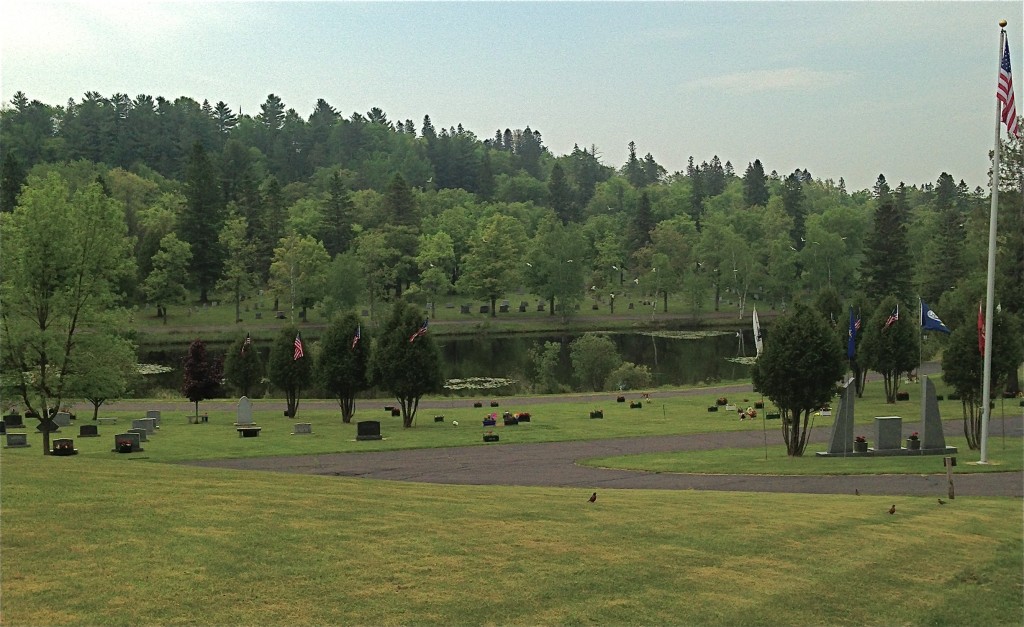 This is a field of military graves with tiny headstones, and most of these men lived during World War I.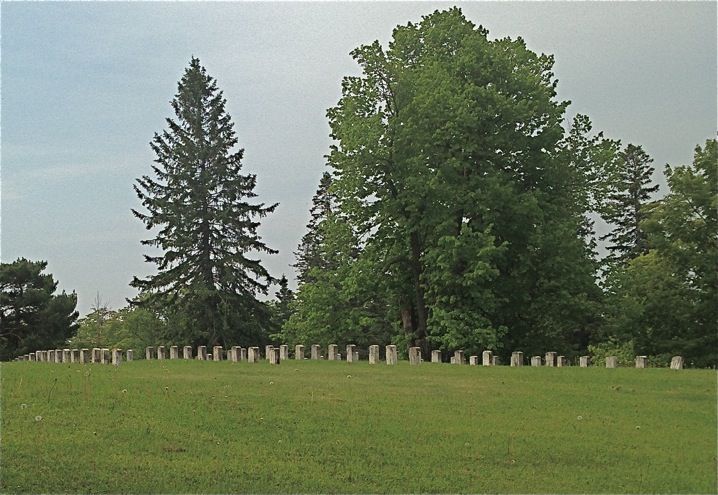 I took this picture because I enjoy seeing the incongruity of the cube the Dowse family chose, compared with the more traditional grave stones.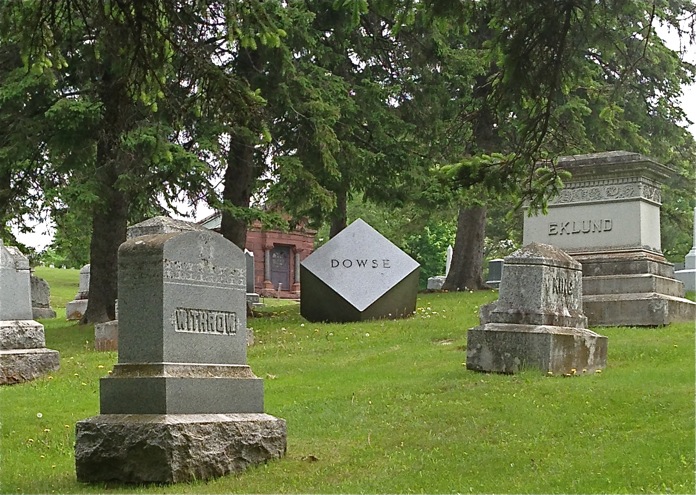 And the Wilsons apparently planned to come and sit for a while, but wanted the sundial so they could keep track of the time…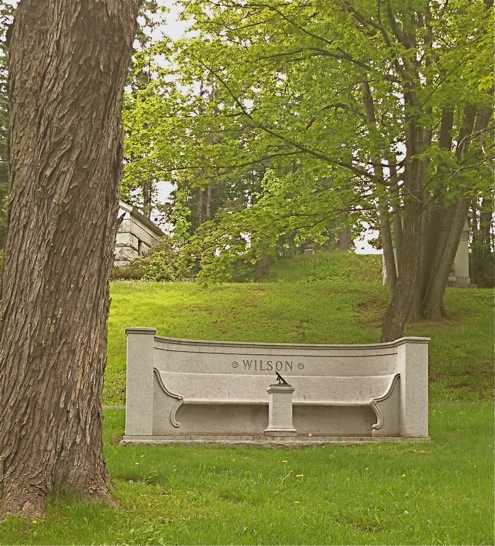 There are a few of these above-ground graves too. This couple were friends of Michael's parents…
And I like Johann and Christine Krause Rakowsky's grave marker. At the bottom it says, "Christ is my life, death my reward."
May it be so, Lord.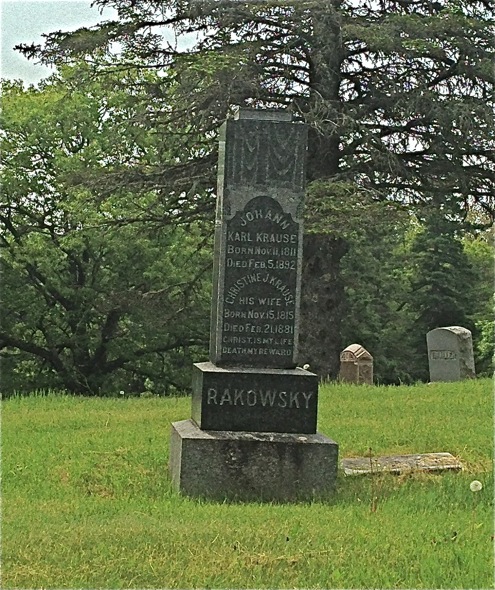 And if you haven't seen the recently installed headstone I chose for Michael, you can click here.
In more earthly matters, I will be Rug Doctoring my carpets this weekend. Very exciting, I know. But it will make me happy afterwards.
What are you doing this weekend? Yardwork? Traveling? Resting? Working? Reading?  I would love to know…