God's Agenda or My Agenda?
My dear friend Kay is one of those people I've never met face to face, yet feel a bond with that only the Lord could have orchestrated. Many of you who read this blog regularly will have seen her gracious comments after some of my posts. Kay lives in Cornwall, England with her husband Alan. She's an avid reader and such a great writer, I've encouraged her to start her own blog and told her I'd be her first subscriber. Kay may not be ready for that yet, but she has generously agreed to do a guest post here on my blog, and I know you'll love what she's going to share. I look forward to reading your comments in response to what God has laid on Kay's heart….
*         *         *         *         *         *         *
God's Agenda or My Agenda? — by Kay Stevens
Have you ever heard anyone say that 'Life is a funny old thing'? It may be an unknown phrase in the U.S., but I've heard it said quite a few times here in the U.K. Life is often unpredictable, challenging, surprising (sometimes shocking) and unfathomable. Christians are not exempt from these feelings. Sometimes people will say 'Life is what you make it'. Well, I would like to argue that is not the right way for those who follow Christ.
I had had my life planned out for so long. Obviously I realized that unexpected things happen along the way, but I felt quite happy planning my future. This was way back when my children were small and I was still married to their father. Although I was a Christian, I tried very hard to be the one in control of my life. Life wasn't too bad, but it wasn't particularly good either. I just trundled along, not growing in my Christian life at all. And then I came upon a big crossroads. It took me eighteen months to decide what to do and I'm ashamed to say I took that decision without turning to my God. I took a turning that led to sadness, loneliness and depression that lasted for eight years. During those long years I cried out to God for help and couldn't see any light at the end of the tunnel.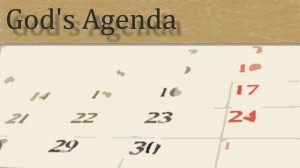 One day I went to my usual church house group meeting and the leader, Mary, gave everyone a small piece of broken pottery and she asked us to write on them something that we wanted to leave at Jesus' feet. I thought for a moment and then wrote 'Lack of hope for the future'. This was my honest, laid-bare feeling. Mary then glued the pieces to a wooden cross as a physical representation of what we had done spiritually. I then promptly forgot about this action.
A few weeks later after praying with friends, I was persuaded to register with an on-line dating site. It was a secular company but I made it clear on my profile that I was looking for other Christians.  The rest, as they say, is history. Within six months I had met and married my lovely husband, Alan, and we are now approaching our sixth wedding anniversary. Mary gave me the piece of pottery back and it is one of my most treasured possessions.
God had provided me with this wonderful, Christian husband at just the right time. I was devastated when three years later my beautiful daughter moved two hundred miles away when she got married. In my previous plans, I had always envisaged Louisa living close to home as an adult and that we would go out on shopping trips, cinema viewings and coffee mornings together. After just over two years of marriage, my son-in-law walked out on Louisa not once, but three times. This was something I had not planned for either. I expected Louisa would want to come home after this, but she is part of a church plant in her new home town and she is very happy there. When Louisa was first married I looked forward to loving her children – my much wanted grandchildren. But Louisa isn't sure that is what God wants for her. But God's provision of a loving, Christian husband blessed me so much. It also blessed Louisa, because she knows I am not lonely or sad anymore.
Last year Alan and I went on a short course named 'The Course of Your Life'. The lessons were spread over a few weeks and they permanently altered my way of thinking. One of the sayings that we were told was, 'Happy wife, happy life'! This was said as a joke, but not long ago I found a little laminated sign in a gift shop with these exact words displayed. The sign now hangs in our garden room.  Alan says that he appreciates the sign and the sentiment is very true!
But, much more importantly, I learnt about God's agenda versus my own agenda. When I turned control of my life over to Him, life was still a succession of highs and lows. For example, Alan's health has seriously deteriorated this year and I sometimes get tired coping. But I know that God's Agenda will prove to be the best for both of us and He will continue to bless us.
So when seemingly unpleasant things happen unexpectedly, I try to remember to tell myself that this is all in God's Agenda. Sometimes it's hard to be patient when 'storms' happen in our lives. But during each storm I know that He is always with me and this certainty is my rock. I still flounder around at times until I remember and accept these truths. And then His calm surrounds and pervades me.
I pray that someone reading this will be encouraged to 'Let go and let God'.
*         *         *         *         *         *         *         *
Thank you Kay, for sharing part of your story with us! I can relate very closely to wanting to be in control of my life, and learning time and again how to trust God when that futile desire just doesn't work. How about some of you who are reading today? How have you coped when your own agenda didn't come to pass for your life, and God's agenda changed things in ways you didn't expect?