Everywhere I turn…
Sara has worked in a local upscale flower shop for a few years now, and we are continually reaping the benefits of her knowledge and creativity. She really knows her flowers (and probably your flowers) and she helps Michael in the yard with our various gardens. I'm one of the few Minnesota women who don't enjoy gardening very much. I love the results of someone else's hard work, but I've never had much of a green thumb.
It seems like whenever Sara stops over, she first grabs a few blooms of whatever happens to be growing outside, then without us even noticing she puts together a few small arrangements and sets them out around the house. I might come downstairs in the morning and see this on the kitchen table:
Our lilacs are in bloom on the west side of the house, so Sara cut a few stems and arranged them with maple and hosta leaves, phlox and a tulip. It brightens everything up! (All photos can be enlarged by clicking on them.)
We used to have a huge aloe vera plant years ago that we used for medicinal purposes. Sunburns and bug bites usually feel better after aloe gel is gently applied to the skin. Today I noticed this new little aloe plant below, in a kitchen window. Sara bought it last night and potted it in a drinking glass as a little gift for Michael. It looks right at home with our Delft pigs, a windmill that plays the Dutch national anthem, two egg cups and a delightful ceramic sculpture Carolyn made of the house we lived in from 1984-2008.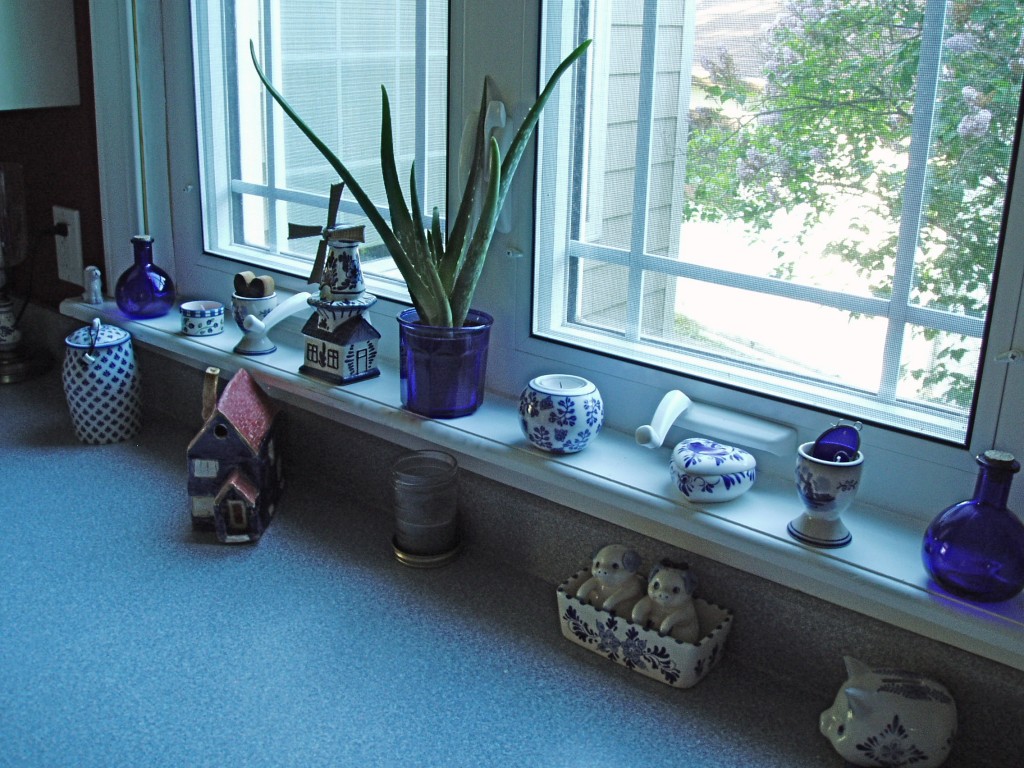 Last night Sara went with Sharon to buy paint for the kitchen in Chris and Sharon's new house. If you like, you can see a few photos by clicking here.
Their large yard is bordered by huge white lilac bushes, and Sara cut a few of those blooms and leaves, some fern and also coral bells. This morning when I came downstairs to start breakfast and pack lunches, this lovely little arrangement was sitting on the coffee table in the living room: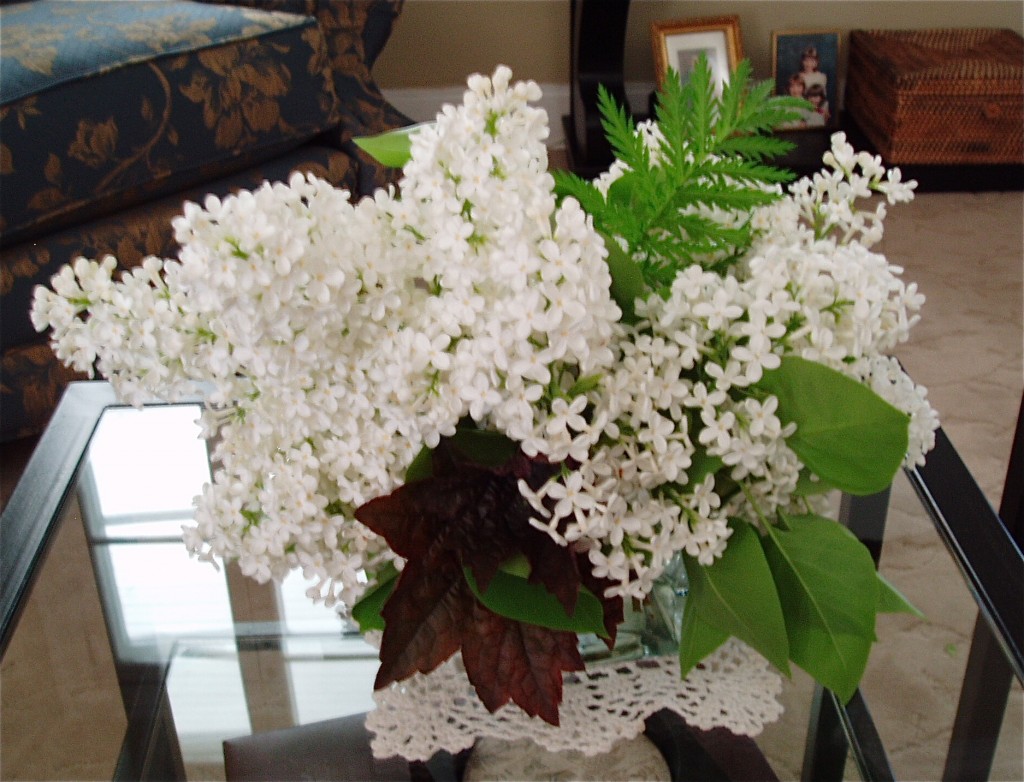 Last summer some friends gave me a plant I had never heard of. Sara potted it in a black and white vase so it would look nice in our master bath, where we have black and white toile curtains. This is a peperomia plant on the side of the tub, and it's in full bloom right now:
Aren't those blooms creepy unusual? Every day a new little white spiky flower with a blood-red stem unfurls. I have really enjoyed this plant, even if its blooms aren't as typically beautiful as lilacs, roses or irises. Hey, you bloom whatever you can bloom. And this peperomia can only bloom pointy spikes. I think that's better than not blooming at all.
Everywhere I turn, there are little pockets of nature's beauty in our home.
Thank you Sara…