Doc, my dad
October 2, 2008 | My Joys
This is an amazingly accurate likeness of my father drawn in about one hour, by my gifted son-in-law Jeremy. This is the quintessential Doc, from the expression on his face, to the cigar in his hand, to the mouth poised to speak on whatever things he felt passionately about, of which there were many.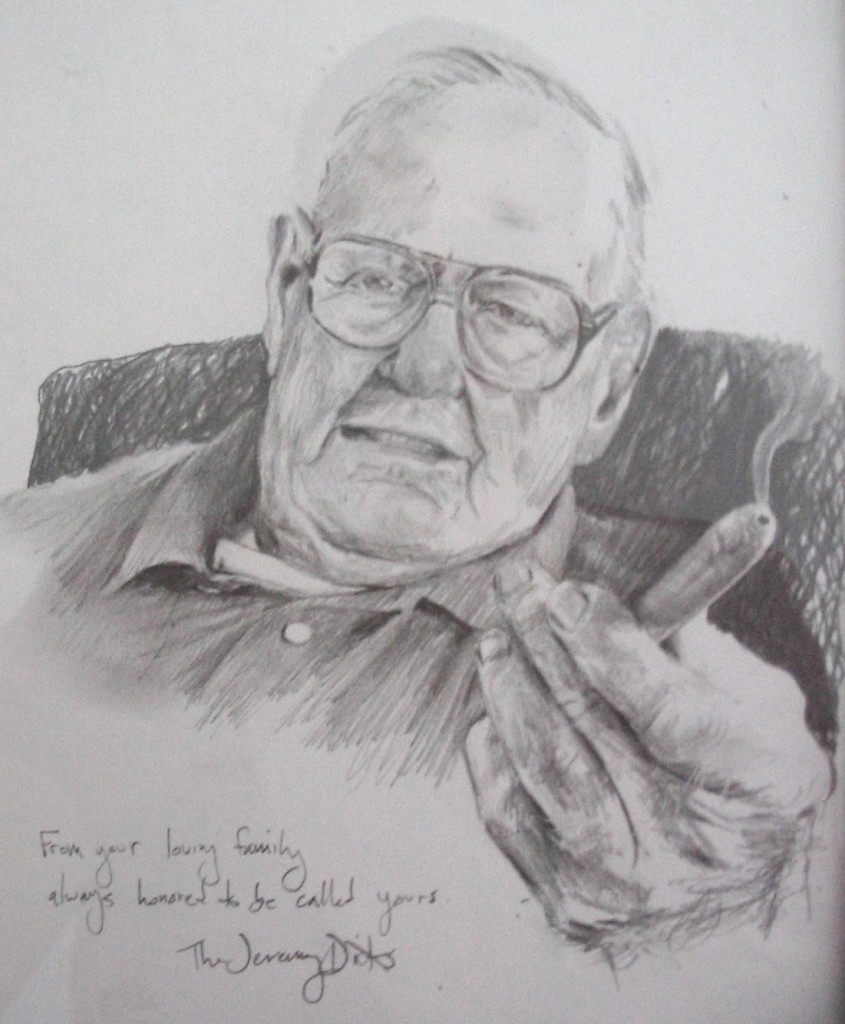 Most people knew my dad as Doc the high school basketball coach. Some knew him as Doc the golf coach, as Doc the veteran, Doc the patriot, or Doc the conservative. To me, he will always be Dad.
From a very early age I began to sense that my dad was well-known in our community, someone special to many people. Whenever anyone heard my last name they asked me, "Are you Doc's daughter?" I was proud to say that I was.
My dad was the grandson of an itinerant preacher and the son of a pastor. From the time I was three years old, he made sure I got to Sunday School at the First Baptist Church where we lived, and I believed everything I was taught there. I remember every one of my Sunday School teachers, the first Bible verse I memorized, and the songs we sang. I remember the first time I realized that I needed a Savior and couldn't be good on my own no matter how hard I tried. I remember walking down the church aisle at age twelve to ask Jesus to come into my life and take over.
Aside from being a record-setting basketball coach, my dad taught Driver's Education, so I was a proficient and illegal driver by the time I was ten years old. There isn't a time today when I'm effortlessly parallel parking and slipping into a tight parking spot in one try, that I don't think of my dad teaching me the secret of that "very valuable life skill".
My dad sang to me. He sang goofy songs he'd learned as a farm boy in rural Missouri, and old hymns that I learned by heart as I listened to him sing the words. Whenever he sang The Old Rugged Cross, he would get tears in his eyes.
Dad always let me tag along. He never treated me like I was just a child. He actually enjoyed my company, even though I could be a whiny little thing with a thousand questions. He never shooed me away, never once told me to be quiet, never told me he didn't have time for me. I didn't realize how remarkable this was until I had children of my own.
He was a kid magnet. He loved children, and children loved him. My three daughters couldn't wait to take their summer turns to fly to California and spend two weeks with Grandpa. He sat for hours while they played beauty shop, putting gel in his hair, hanging dangling earrings on those huge ears, and giggling with him. He doted on them and made them feel special and cherished.
My dad was never one to hold back. You always knew where you stood with him. With Doc, you knew that winning was paramount, liberals were suspect, and that one should have at least six cigars in one's shirt pocket at all times. And if you were fortunate enough to play basketball for him, you knew exactly how to snap your wrist sharply out to the right when you took a shot.
My father could be difficult too. He was opinionated and hated to be wrong. I think he probably thought he rarely was. He demanded a lot of his basketball players and of those he loved. But I can honestly say that I always knew he loved me.
Even though my father didn't live out his Christian beliefs as openly as I think he would now, I know he wanted to pass on his foundational faith in Jesus, and it "took" with me. I caught it.  It has changed my life, saved my life, altered my outlook and lifted my chin. I want nothing more and nothing less than to pass it on to my daughters, and I take every opportunity I'm given to let my seven grandchildren know how much they are treasured by their Heavenly Father. I fervently pray that they will catch it too.
My dad's last words to me were on the phone on Saturday, November 17th, 2007. His voice wasn't the booming, assured, laughing one I've known all my life. Instead his voice was weak and raspy, and he was closer to death than any of us knew. But we know now that he knew how close he was to leaving here. The last thing my father said to me was "Love you, love you, love you."
My father died on November 20, 2007, in his home in San Luis Obispo, California, where he was lovingly pampered and selflessly cared for by his wife Dorothy. He was 87 years old.
My dad left me many things, but I'm most grateful for two. I'm thankful he led me to a place where I would hear and eventually believe the gospel of Jesus Christ, and I'm so grateful that he made me feel loved. For a daughter to know that she was her father's delight is a priceless gift.
My father had a presence about him that isn't often seen. So his absence seems to leave a larger void. Even now it doesn't feel real that someone so commanding and confident is really gone. But I will see him again.
And today, nearly one year after not hearing his voice anymore, I miss him.