Divine Appointments
I've been thinking about the ways that God must have been pursuing me from the time I was a very little girl. What a comforting thought that is. When I have come to a time in my life when my company is not often sought out, it brings tears to my eyes to slowly scan back over my life and see that He wanted to make Himself known to me, and was scheduling divine appointments before I could even speak.
When I was born my parents and two older brothers lived on DeLay Avenue in Covina, California. We lived in that house until I was three years old. Our next door neighbor was a woman named Ruby Greener, and she was a Sunday School teacher at the First Baptist Church of Covina. My parents never told me this, but I believe she must have invited them to church. I know that Ruby used to chat with my mother over the wooden fence when they were in their back yards hanging laundry out to dry, and decades later Ruby told me that my mother confided many sad things to her. My parents never became regular attenders, but they began to take me to church every Sunday, from the time I was about two or three years old. Most Sundays my dad dropped me off, and then returned two hours later to pick me up and take me home. Living next door to Ruby Greener was a divine connection, I believe, a mercy of God who knew there was a little girl whose heart would begin to respond to Him at a young age. He knew what was ahead for me, and knew I would need Him early on.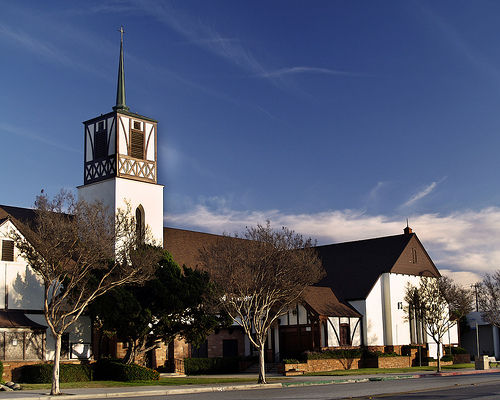 If I keep the God lenses on as I look back, I can see many divine appointments in that church of my childhood. I remember Mrs. Greener leading a group of four year-olds in singing "This Little Light of Mine," and how vigorously I whipped that "bushel" away from my finger posing as a candle. I can still recall the happy, curious feeling I had in those small, upstairs Sunday School rooms, and how much I looked forward to going each week.
I also remember Mrs. Celeste Klee, my fourth grade Sunday School teacher, and how our class of about ten children sat around a table with her, in an alcove off of a larger area with chairs and a piano. I recall how Mrs. Klee taught us many Bible stories, and how she patiently helped us memorize the 23rd Psalm that year. I can still see the two college-age sisters, Lois and Gayle Graves, lead the fourth, fifth and sixth graders in songs like "He Arose" and "He Lives," which was one of my favorites. He lives, He lives, Christ Jesus lives today… He walks with me and talks with me, along life's narrow way… He lives, He lives, salvation to impart… You ask me how I know He lives, He lives within my heart!
Divine appointments.
I will never forget the weekly welcome and beaming smiles of two Sunday School co-teachers when I was in fifth grade. Mrs. Edgar and Mrs. Mount, with their 1960s beehive hairdos, their two piece outfits just like these, their nylons and high heels, and their love. I can still see Mrs. Edgar telling our class what the word testify meant in regards to sharing what Jesus had done in our lives, and I wish I could find if she is still alive today, and contact her to tell her I listened, and to thank her for teaching us and loving us week after week.
I think about how God must have seen to it that my parents bought the house on Eckerman Avenue right behind Tauni Booth's house in 1960. He must have guided the people who organized the classes each year at Workman Avenue Elementary School to make sure that Denel Lupiani and I were placed together in Mrs. Lokken's second grade class in 1964. God knew that Tauni and Denel would be lifelong friends of mine, and that He would schedule decades of divine appointments for them too, and they would come to love Jesus.
I remember the day two little girls wandered shyly into my back yard in the NCO housing area of Beale AFB, where my husband Glenn was stationed. I was only 18 and a new bride, and they were 9 and 7 years old. Celeste and Kathleen introduced me to their mom and dad who lived one street over, and that friendship would eventually pave the way for me to be exactly where I am today, in Duluth, Minnesota, the still grieving but deeply grateful widow of Celeste and Kathleen's older cousin Michael. I would never have thought that two sweet little girls at my back door would lead to friendship with their parents Frank and Yvonne, who were originally from Duluth, MN (which I'd never heard of), and that years down the road when my marriage suddenly ended in Germany, the wheels would begin to turn toward me receiving a letter from Yvonne's nephew Michael, whom I married after one meeting. And that marriage turned into almost 34 years of love and grace and learning and challenge and blessing. When I connect the dots backwards, it's mind-boggling.
Another divine appointment was when I met my friend Su. I have plans to share about her on the blog someday, and indeed I already started the post long ago. Little did I know that the spark of friendly connection we felt for one another in Southern California would turn into so much and last so long — forever friendship, her move to Minnesota years after mine, the ease of two who accept each other just as they are, the deaths of husbands, some beautiful travels together, and more.
I have another friend named Sue, and she's another treasure I've begun a blog post about, but haven't published yet. When I think of the almost casual way she and I met in church, yet consider how profound her godly influence has been on me, I shake my head. Sue told me about Community Bible Study over twenty years ago, and after dragging my heels a few years, I finally showed up at CBS one morning in September and registered. Nothing has ever shaped my spiritual walk like CBS. As the years of CBS blessing continued, so did our friendship, and Sue is someone I love and trust implicitly.
I picked up a local Christian newspaper years ago and read an interview about a woman I didn't know, but I never forgot her name. Later when I heard that her husband had Parkinson's Disease like Michael did, I kept getting nudged over and over for almost a year, call Vicki S….call Vicki S….call her. I tried to find her a few times but her number wasn't listed, so I couldn't even get her address. Finally one day I saw her email address in a group email we received from a Parkinson's support group leader, and I emailed her and introduced myself. Picking up that article to read lead me to Vicki years later, who then informed me about medical insurance that was available for no cost to me because my husband was 100% disabled due to his service as a Marine in Vietnam. Even though Vicki's friendship has blessed me relationally, knowing her has saved me literally thousands of dollars, and provided for me in a way that makes me want to bow my head and sob.
Heavenly setups.
I could go on and on about the meanderings of my life that seemed like nothing at the time, but have turned out to bring about the richest gifts from God. Friendships. A faithful, loving husband. Another daughter. Fellowship around His Word. The daily awe of living a stone's throw from Lake Superior. Provision.
A man's mind plans his way [as he journeys through life],
But the Lord directs his steps and establishes them.
Proverbs 16:9 –– Amplified Version

I can see that God has directed my steps, even when I had no idea it was happening. Even during some of the saddest, darkest times, I believe He was guiding me in spite of my oblivion. He is so merciful and powerful — He directs our steps even when we pay no attention to Him, so we'll look back one day and be floored by His kindness and mercy.
Well, it's time to do something about dinner on this beautiful Thursday evening.
How has God directed your steps? I hope you'll be willing to share one or two examples with us….
Thank you for stopping by,