Carols in October
Sometimes old habits die hard. I have a habit of beginning to play Christmas carols in October each year. And it all started like this…
In October of 1978 I was twenty-one years old, married to a man in the United States Air Force, and we had an eighteen-month old little girl and another one due in January. We had just moved to Germany (then known as West Germany), and we lived in a little village called Damflos, not far from the Luxembourg border.
My husband worked twelve hour shifts in a top secret underground bunker about forty minutes away from our village home. Our household goods had been loaded onto a ship in Long Beach, California weeks before, but weren't due to dock at the northern German port of Bremerhaven for six more weeks.
We rented this wonderful German house from the town butcher (the Metzger) and his wife. I even found a photo online – click here and you can see part of the house just to the left of the church. The Air Force had put an old couch, two upholstered chairs, a dinette set, some beds and dressers in our little house, to keep us functioning until our personal things arrived. We had only the clothes we had packed in our suitcases. The Air Force housing office was out of cribs at the time, so they provided a playpen for our daughter Sharon to sleep in, which of course she didn't. (She liked our bed better. I didn't sleep through the night until she was almost two years old, but that's another story.)
We had no television, no books, no nearby friends, no car (our 1978 Volkswagen Rabbit was also being shipped from the states, down through the Panama Canal and across the Atlantic Ocean to Bremerhaven), and I didn't speak any German yet. And because we lived in such a small village, no one there spoke English. I take that back. Our kind landlord, Herr Diel, could say, in a typical thick, guttural German accent, "Hall-ooo Yimmy Carter!" And then he would smile and nod, as if he had uttered something profound.
So for hours each day, my little daughter Sharon and I would walk the quaint village streets of Damflos, stroll to the outlying forests surrounding the area, visit with Herr und Frau Diel, watch Herr Diel butcher pigs and make myriad assortments of wursts, and wait for Daddy to get home. After a week or two, my husband decided we needed some music, so he got a ride to the Base Exchange an hour away and came home with a nice stereo system. I borrowed some books and toys and games from friends, so Sharon and I had something to do during the day. By playing with old fashioned wooden blocks with letters on them, she learned to read simple words by the time she was two. I also studied German a little, and practiced conversing with our landlords, who lived behind us. They were patient and encouraging, and within about two months we could have simple conversations with them.
Finally we received word that our car and furniture had arrived, and having our own things again felt familiar and good. But my husband still worked twelve hour days, and the television stations were naturally all in German, and we had no phone. Our good friends the Zobels lived an hour away. As I went through some boxes that had been delivered, I found all our LPs (long-playing vinyl record albums), and for some reason I didn't want to play albums by Chicago, Bread, or The Tubes in Germany. The Tubes in Germany just weren't right. (The Tubes anywhere on planet earth still aren't a good idea, if you want my opinion). 
Things had become simpler in a few short weeks and I was enjoying the quiet and the soothing rhythms of life in the village. Germany was beautiful, quaint, picturesque, and for me, very much like the fairy-tale illustrations from the books of my youth. As I unpacked that carton of LPs, I realized that I wanted to hear Christmas carols, even though it was October. I guess being surrounded by gingerbready houses, castles and ancient forests just put me in the mood. So I played Christmas carols day in and day out. Glen Campbell sang Over the River and Through the Woods. Dinah Shore warbled Silent Night. And Julie Andrews was my favorite – her rendition of I Saw Three Ships was enough to set me to daydreaming and yearning for hours. I still love that song.
Ever since that time, it's like an internal chime in my head goes off when October arrives, and it keeps sounding softly until I put away the Modernaires, Fernando Ortega and Sara Groves, and bring out the huge pile of Christmas CDs. Thankfully no one in our busy household seems to mind.
So today, October 15th, 2008, these are the CDs cycling through my stereo, which goes through our house intercom and into each room.
A Scottish Christmas. What is it about ancient European places that makes me pine and yearn? I would drop everything in about six seconds to spend Christmas in this Highland castle. Maybe someday.
Ring the Bells by Travis Cottrell. This is a brand new CD and very rich sounding. The London Symphony Orchestra accompanies him, and Travis can really belt out the tunes.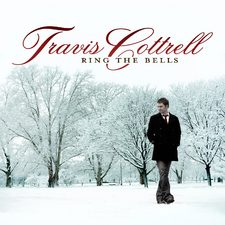 The Christmas Collection by Amy Grant. What is Christmas without one of Amy's sixty-four Christmas CDs? 
And one of my favorites – the sound track to the movie Little Women – I loved this book, loved the movie, and can't wait to play this CD every year. Beginning in October.
So today I'll be doing laundry, writing out bills, making a huge pot of spaghetti sauce, and working on my paperwork Alps. Oops – see how I slipped something European into even my mundane daily duties?  Why not "piles" of paperwork?  Because maybe I'll want to actually attend to them if they remind me of the Alps.
Tomorrow I might play Perry Como or Windham Hill. The next day it could be Debby Boone or Jo Stafford. Or Rosemary Clooney.
What is your favorite Christmas CD? Or your favorite Christmas song?