Book(s) Four in my Top Five
It's not easy to pick five books that you like best out of everything you've read in your life so far. In fact, I'm not sure it's really possible for me. This post should really be titled, "Book Four in my Top Fifty", but I don't think I'll do that.
There are so many books that have been worthy reads over the years. I will never forget The Robe by Lloyd C. Douglas, Treasures in the Snow by Patricia St. John, Of Whom the World Was Not Worthy by Marie Chapian, West With the Night by Beryl Markham, Disappointment with God by Philip Yancey, Peace Like a River by Leif Enger, Girl of the Limberlost by Gene Stratton Porter, Uncle Tom's Cabin by Harriet Beecher Stowe, No Compromise by Melody Green, and The Hawk and the Dove by Penelope Wilcock.
But today I'm going to share about my fourth favorite book(s). Once again a series will count as one, and if you haven't read these, I encourage you to get all of them and read them in order. This is the Mitford series.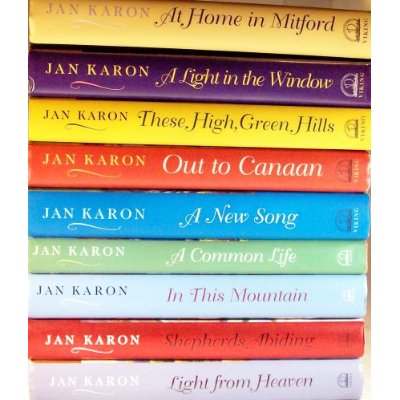 My good friend Carole Seid, who travels around the world teaching people how they can effectively homeschool their children with a good math program and a library card ("why drive a Pinto when you've got a Mercedes in the garage?" I've heard her say many times when referring to the numerable advantages of schooling at home compared to public or private schooling), recommended the first book in this series to me. At Home In Mitford was a gift from Carole and I was anxious to read anything she liked. She and I often have similar tastes in books, and she always steers me to a good read. So I started the book and was perplexed at why she had raved about it. I thought it was a little boring and slow. But so was Anna Karenina and I enjoyed that book – I can press through a book that isn't a page-turner.
So I put the book on the shelf and didn't go back to it for two years. I picked it up again when I wanted to start something new, and again couldn't figure it out. By this time Jan Karon's books were all the rage, and I did not understand why. I just couldn't get interested, and set it down again.
About a year later I made a decision to read the entire book whether it ever got interesting or not, and about halfway through, the lights went on. Karon's books are truly like no other books I've ever read. They are meandering, simple, and sweet. But they're also heart-wrenching, addicting and profound, once the reader gets accustomed to their pace. I have vivid memories of sobbing through many passages, sensing that God was speaking deep truths into my heart through the words of the beloved fictional characters of Mitford.
The Mitford books made me want to be a better person. They made me want to pray without ceasing, and they made me believe I could learn how. They made me want to be a better wife, and call my husband "Dearest." They made me want to walk my dogs more. And write more faithfully in a journal. They made me want to revel in my ordinary life, and to live more simply. They made me exult in the realization that one person can make an important difference. The Mitford books made me want to keep putting one foot in front of the other, trusting that God is sometimes best shown to the world by the faithful plodding of His flawed people.
I don't ever remember being as exquisitely "transported" in a reading experience as I was by reading the nine Mitford books.
If you haven't read them and you decide to give them a try, don't stop if you wonder what all the hoopla is about when you first start turning pages. Keep going. Be open minded and prepare yourself for God's voice to whisper clearly to you many times before you turn the last page of the ninth and final book, abundantly blessed but deeply disappointed because there are no more.
I have read this series twice (once for my annual "summer read") and I will certainly read the Mitford books again. If you have read them, will you share your opinions with us here? What moved you the most about the series? Did anything surprise you about the books? Did you find yourself wanting to change in some way after reading them? Who were your favorite characters and why?
As I type this blog post, I am sitting in my many-windowed office, looking out on a beautiful yet bitterly cold winter wonderland. I am at home in Minnesota. I love it here, but I could easily leave today without a backward glance if it were possible for me to be at home in Mitford…