Blessed is the Home…
When I got out of bed this morning at 5:45, it was still dark. I padded down the hall in my Acorn slippers to the kitchen, turned on our outside light to check the temperature, and it was 17 degrees below zero. Or about minus 27 degrees Celsius. I had half hoped we would escape these bitter temps since January is 2/3 over and the globe is warming, but hey. Instead of fretting I started counting my blessings as I fed Edith and Mildred and let them out, laid out breakfast things, and started making lunches.
1. Our house is warm. This alone deserves about 647 thank yous. Thank you… thankyouthankyouthankyou Lord!
2. The flu has now left my body, and I'm feeling human again, and my skin doesn't hurt at the merest touch.
3. I don't have to finish An Episode of Sparrows if I don't want to. I love Rumer Godden and really wanted to like it, but at page 100 I'm still not enjoying the book, so made the very unlike-me decision to take it back to the library.
4. I've had Eden's Bridge on our CD player lately and had forgotten how much their music lifts my heart and touches my soul.
5. Michael and I might watch another episode from the 1970s series "All Creatures Great and Small" tonight.
This morning I also gave thanks that our garage is attached to our house, so starting the car in this weather is never an issue. I drove to Community Bible Study Leaders Council where the company of women, the prayers, the song and the discussion snatched the woe-is-me lenses off my nose and firmly placed the God Lenses there instead. What a relief that always is. The woe-is-me lenses are awful — do you have a pair too?
When I returned home I took my mittens off, hung up my coat, and exchanged my shoes for my indoor Acorns again. I let the dogs out of their kennels and they greeted me in their quirky Schnauzerly ways. Michael and Sara had gone to get some groceries. I did some tidying up, and felt happy that I actually knew what I was going to make for dinner tonight. I defrosted some very lean beef and made an old recipe for tiny baked meatballs with a homemade BBQ sauce, served with brown rice and marinated six-vegetable salad.
Then I decided to rest for a bit, since each day I still feel a little weak even though my fever has long gone, and I picked up my iPad to catch up on my Words With Friends game. Carolyn, Sara, Kay, Pat and I have leisurely games going, and I smiled as I chose the tiles to make my words and thought of the silly little connection I feel with the people I play with.
After about 15 minutes I got up and took this picture: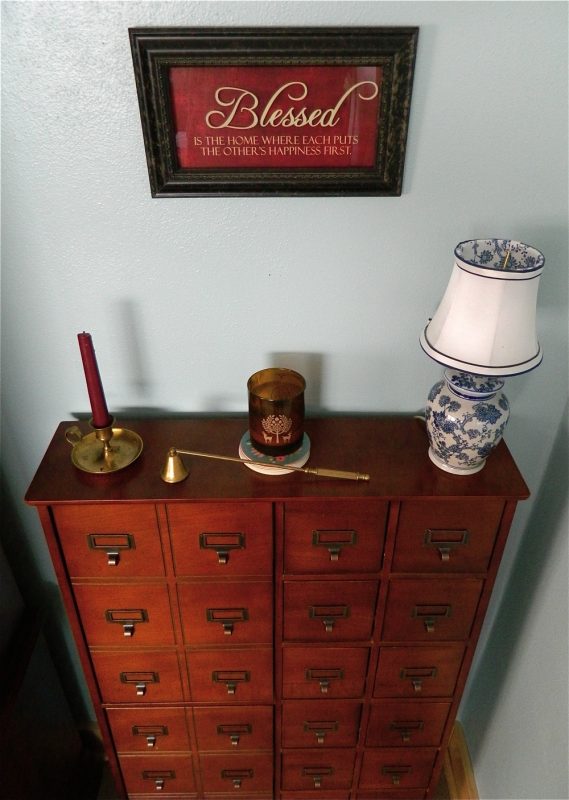 This apothecary cabinet holds our CDs and sits in a corner of our living room. The plaque on the wall behind it reads:
Blessed is the home where each puts
the other's happiness first
You might be thinking that since we have this hanging so prominently, we live by this maxim in our home. But you would only be thinking that if you didn't know me very well. If you know me at all, you know that this is something I strive/yearn/long/attempt to do, but alas, still struggle with.
I'm learning, though. And I know that the Lord is showing me how profound this admonition is in ways I never expected.
I'm not saying that people shouldn't take care of themselves or make their own needs a priority, or that wanting our own joy and happiness isn't a good thing. But just think if everyone in a household tried to live this way for a month. In order for it to be the biggest blessing, everyone would have to do their part, but imagine how wonderful it could be.
In a family with a mom and dad and some children, think of what might happen if the husband put his wife's happiness before his own. Then what would happen if the wife responded to that kind of sacrificial love and decided that she would put her husband at the top of her list that month? Then what if the children saw the harmony, tenderness, and the servant-hearted love between mom and dad, and they caught on in their own way, sharing their toys and helping out without being asked? And what if this became a habit, or at least the way things went in that household more often than not?
If I could go back and live my life over, this would be one of the things I would pursue most wholeheartedly, trying to live this way with God's help. Since I am basically a very selfish person by nature, I would need God's help to live this way for even one day, much less one month.
My daughters are grown now, and I'm not sure I modeled the words of this plaque very consistently for them when they were little. I think I did sometimes, but oh, how I wish I could undo a few words and actions that should have gone unsaid and undone.
But I do have today. There are still people in my home and in my life. And I have reached a point where I think the happiness of others in my care and in my family is a very worthy aim.