Anticipation
Webster's online dictionary gives this as one of its definitions for the word anticipation:
"the act of looking forward; especially: pleasurable expectation."
Every summer for the past nine years, I have regarded Tuesday mornings with an "act of looking forward, with a pleasurable expectation" of what would take place in my home.
I have been blessed to have a delightful group of women grace my home each week for nine summers in a row. I joyfully anticipate their arrival and their presence. I anticipate their hugs, their words, their prayers, their smiles, their friendship.
In anticipation of my friends arriving each Tuesday morning at 8:45, I try to prepare our house to receive them. Our den is where the television is (which is needed for our Bible study DVD), and it's a small room, so I bring in a few folding chairs to provide enough seating for nine.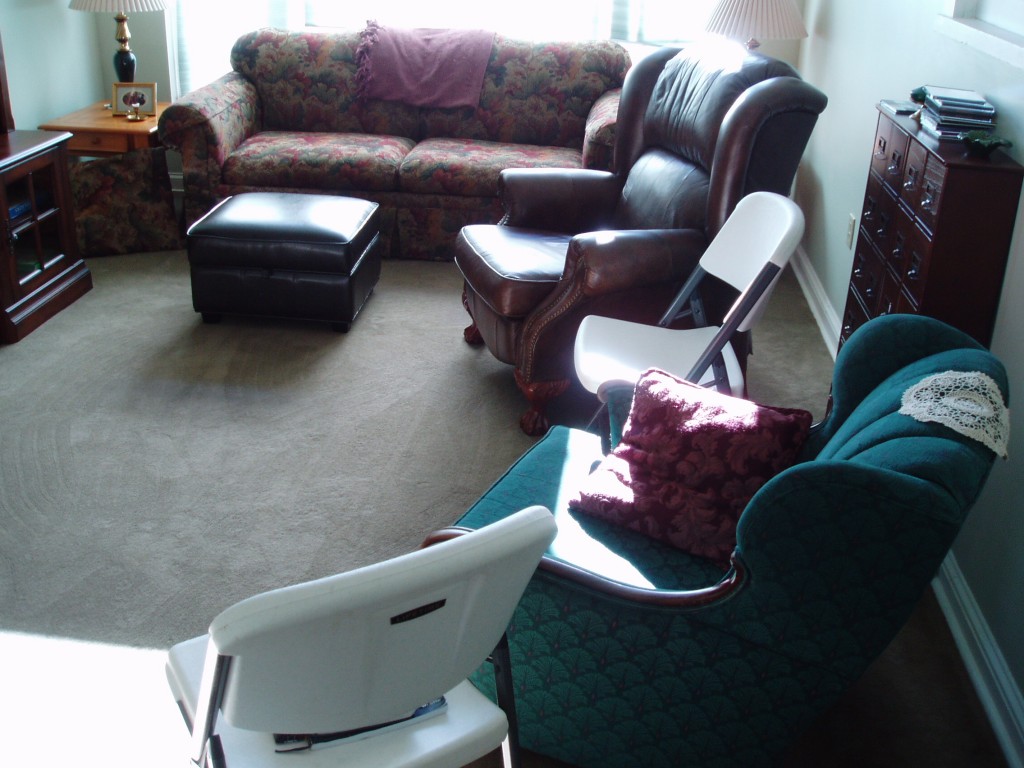 When our study ended in mid-August this year, I prepared a simple luncheon in anticipation of some final time together around the table, enjoying each others' company, breaking bread together, and talking about what we learned (and hope to apply) from our eleven week study.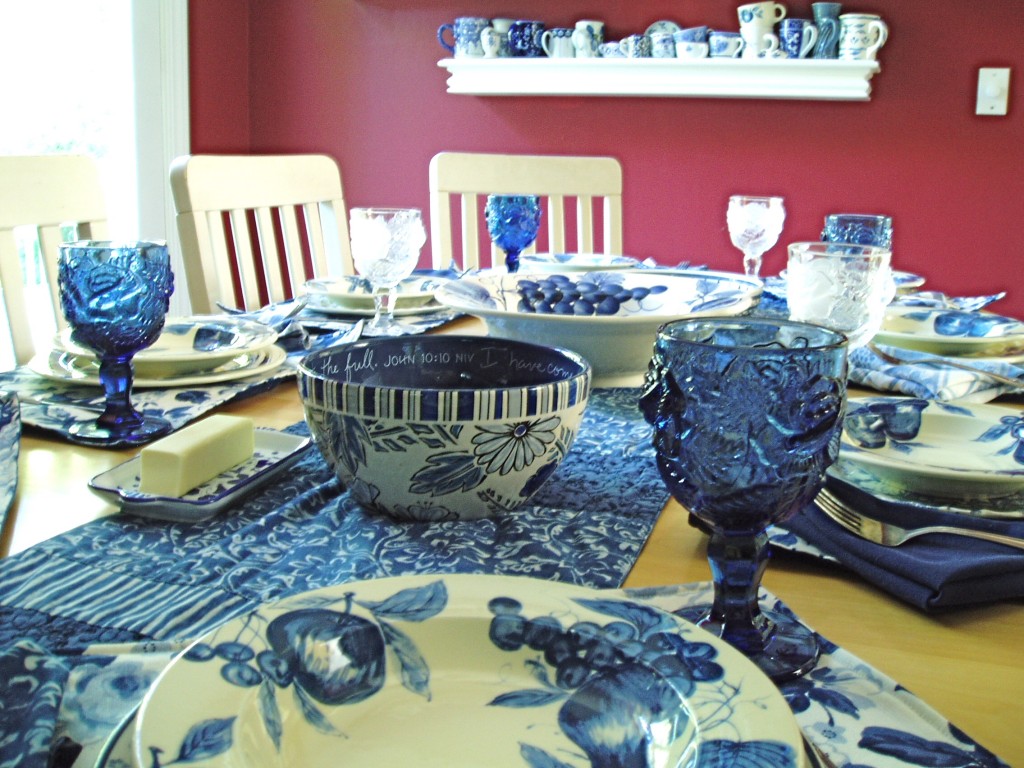 In anticipation, I set the table in my mismatched blue and white plates and napkins and bowls and glasses. You can't tell from the photos very well that underneath the bowls, each plate is different. They're all blue and white, but some are old and were gifts, some are chipped and have been part of our family's dining for thirty years, some are English and purchased off of ebay, some are trendy and nicely painted and more pleasing to the eye. Sort of like people. At first glance this table may look fairly uniform – it's all blue and white. But if you had been there and could have closely observed, you would have seen that there was a lot of variety and each piece has its own history.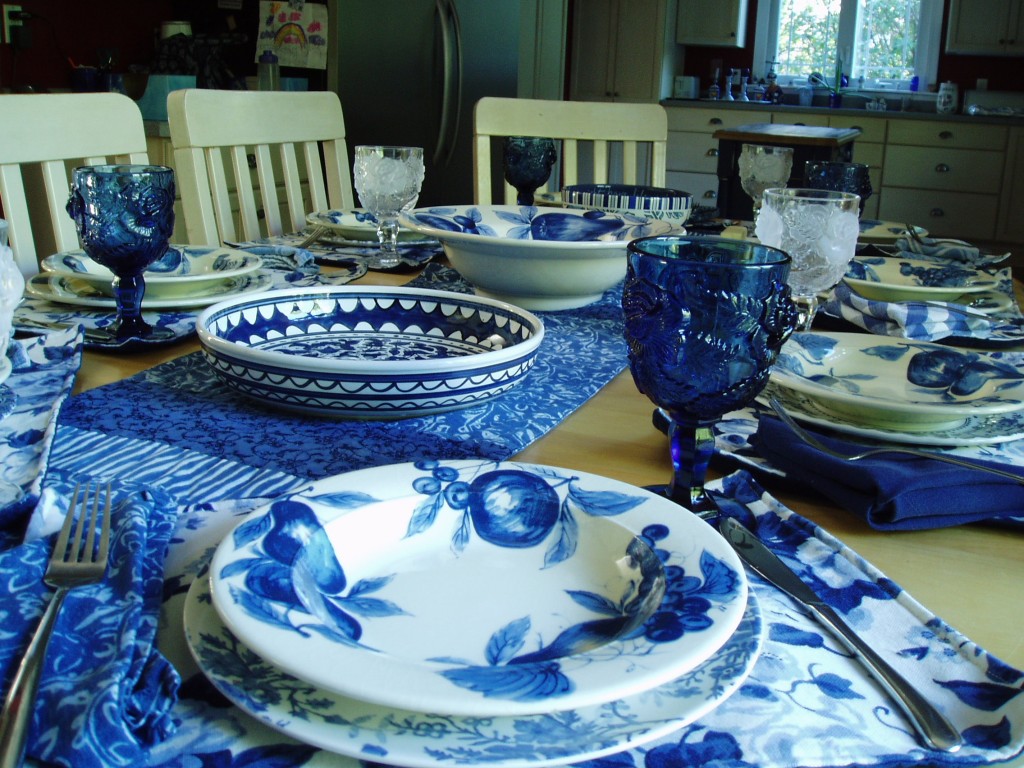 There are pieces are from Israel, some from The Madonna Inn in San Luis Obispo, California, some were gifts from my mother, some came from Holland, some from estate sales, some handmade items were from an old friend I haven't seen in years. I like how they all go together, but aren't the same at all.
It's how we all are. If we can find a way to serve side by side and enjoy how we're made and the unique and individual beauty we each bring to the table, a feast is there for the taking.
Above, from left: Sharla, Fiona, Lorna and Kay.
Above, from left: Laurel, Lana and Sue. Deb wasn't able to be with us for our last gathering and she was dearly missed.  🙁
Grocery shopping was done in anticipation of my friends sitting at my table for a meal. The firmest grapes were purchased, as was the only brand I like of seasoned rice vinegar. Ginger and some of my favorite French loaves were picked. The chicken was poached in simmering water with some cider vinegar added to it, the fresh basil was coarse-chopped, the red bell peppers julienned, the broccoli blanched for one minute, and I finely minced the garlic as I pictured the fellowship around the table.
We had simple but flavorful fare — Spicy Grape Pasta Salad with Basil and Ginger, torn pieces of hot French bread and butter, and a dense dark chocolate cake with my mother's peanut butter and chocolate frosting for dessert.
In anticipation of these beautiful women being in my home, I prayed and asked Jesus to join us here, to grace us with His presence, help and direction as we studied Isaiah and put our minds on Him. I asked Him to help us all live out the message of our study and to break free from the things that keep us from all He has planned for us.
In anticipation of next summer, I ask the Lord what He would have us study next year. I will try to listen well, and choose the one that will again have us all sitting at His feet, humbly asking for His touch and strength.
Lord, will you bless Sharla, Fiona, Lorna, Kay, Laurel, Lana, Sue, Deb and me today? Give us whatever we need to love you more, to trust you more fully, and to walk with you more closely. Thank you for the privilege of reading your Word, of gathering together in your name in freedom, and of the bounty you place on our tables. Touch each woman today in your own special way, Jesus. In your name I ask this, Amen.