And last but not least…
I love to read and to talk about books with people. For a decade I was a part of a wonderful book club called The Long Winter Book Club, and I miss getting together monthly with all the smart and funny women, our lively discussions, the creative treats, and the journeys via books that we took together.
In previous posts I've written about four of my very favorite books, and now I'll share about the fifth one/s in my top five. It's so difficult to choose. Other contenders were Uncle Tom's Cabin by Harriet Beecher Stowe, Of Whom the World Was Not Worthy by Marie Chapian, The Lord of the Rings by J.R.R. Tolkien, Mere Christianity by C.S. Lewis, Expecting Adam by Martha Beck, When God Weeps by Joni Eareckson Tada, The Hawk and the Dove by Penelope Wilcock, The Robe by Lloyd C. Douglas, Treasures of the Snow by Patricia St. John and about eighty-seven others.
I settled on this series, because of the repeated enjoyment I've gotten out of them. My husband Michael and I have read these books aloud countless times over the years and have never failed to laugh until we're both wiping tears. The author was a truly gifted writer whose sense of timing and grasp of language are awe-inspiring. These are books I go back to again and again, and even though they don't rank up there in literary reputation with Crime and Punishment and Anna Karenina, they never disappoint. People who haven't read them because they seem to be only about animals and possibly too light a read, are missing out on some of the best books ever.
It all started with this book: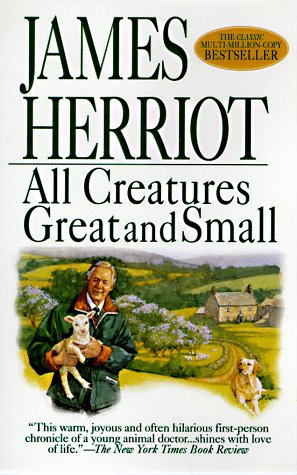 This book made me want to visit Yorkshire. Two years ago Michael and I took an unforgettable trip to England, Scotland and Ireland, and we visited the English Yorkshire town in which James Herriot (real name Alf Wight) practiced veterinary medicine. We toured his home and office, walked the streets of his quaint village – click to see the town square of Thirsk (he called it Darrowby in the books) and stayed in a wonderful bed and breakfast in a nearby village called Pickhill. We thrilled to be able to wake in the mornings and open the windows to the serene views of the Yorkshire Dales…click here. We bought crusty bread, sharp cheese and fresh fruit in a little Thirsk market, and savored that simple meal while almost pinching ourselves to make certain it was all real.
After you read the first Herriot book, you want to go on to the rest of the series right away. Have any of you read these? If not, I encourage you to visit the library and get started. Each chapter is usually a short story itself. You will close the last cover of the last book and never forget what a rich reading experience you just had. As a matter of fact, it's been a few years since I've read these myself. I think I know what my 2009 Summer Read will be: All Creatures Great and Small, All Things Bright and Beautiful, All Things Wise and Wonderful, The Lord God Made Them All and Every Living Thing.
Michael and I enjoyed reading these so much, we then acquired all the DVDs from the British television shows made in the seventies and eighties from these books.
And here's a photo of Michael, sitting in the actual car that was driven by the actor who played James Herriot in the TV series All Creatures Great and Small.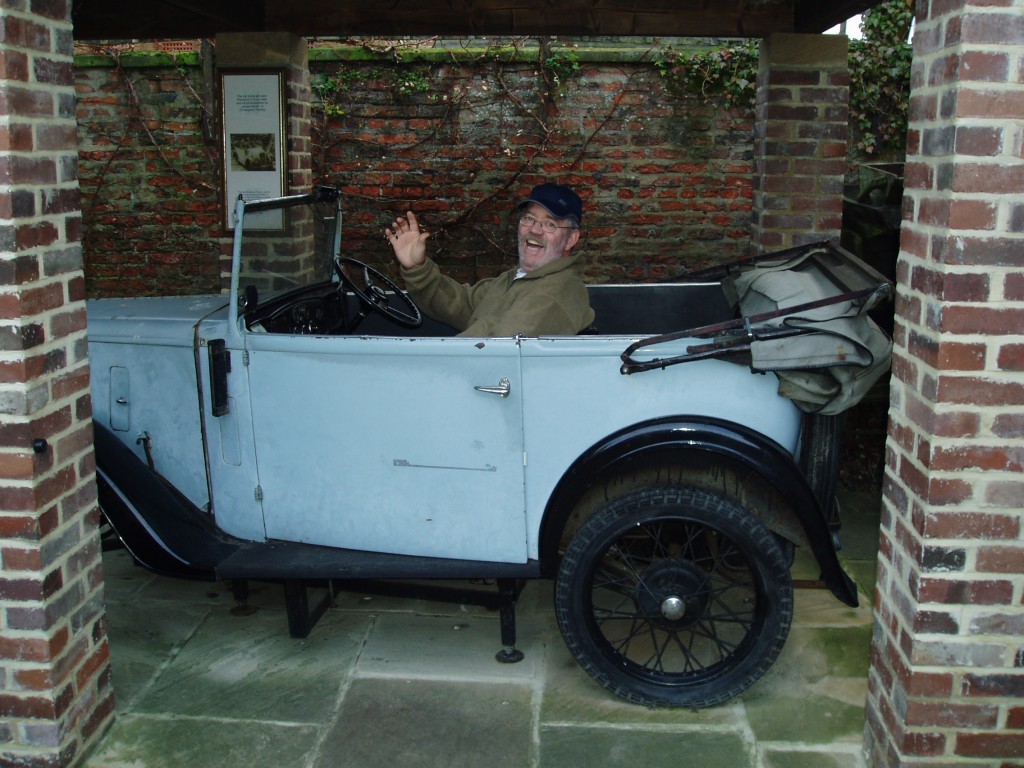 We were so smitten with Yorkshire we hope to go back someday and spend more than two days there. Until that happens, the next best thing will be to reread this wonderfully written series.
What book have you read recently that you could recommend? Why did you like it? Is there a book you've read multiple times already yet plan to read again?
Many book blessings on you,