A Light Has Dawned
My friend Ginny came over last week to have tea with me, and we sat by the tree and chatted. One of the things Ginny does best is ask questions of her friends. She is truly interested in the small details of her friends' lives, and I love that about her. Before she left she said, "Tell me the story behind five of your ornaments." She's a woman after my own heart. Do you ask thoughtful questions of your friends, and then listen with your ears and your heart simultaneously? It's a rare gift.
So I thought I'd share a few photos of some simple ornaments on our living room tree, before I wish you all a merry Christmas. 🙂  All the photos can be enlarged by clicking on them if you like.
Below is a thin, bendable, copper mold of a real maple leaf. It's a keepsake from a cruise Michael and I took to Alaska some years ago. When I see it I'm reminded of how breathtaking the Inside Passage was. I remember gasping as we saw breaching whales, marveling at the massive calving glaciers and the milky, turquoise glacial lakes, and pondering the word majesty as we gazed at the towering, snowy mountains.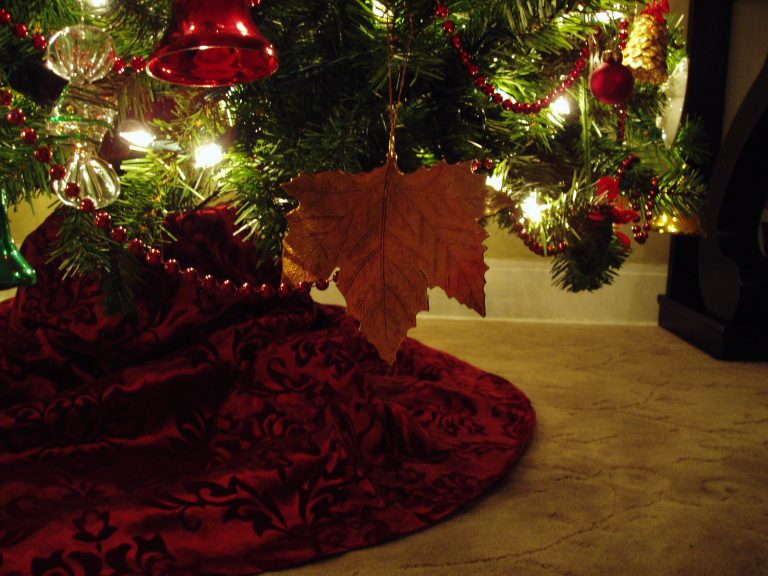 This little beaded candle below was made by my friend Carey's daughter. I hang it each year and remember how long we've known each other. When we met we were young women; now we are mothers to young women.
The little sled below was a gift from my beloved friend Sue. It used to hang in the middle of a grapevine wreath that we hung on the wall for years at Christmas time. Once the wreath fell apart, the sled became an ornament.
Below, the red sled is made out of popsicle sticks, and my friend Lynne made one of these for each of my daughters when they were little. The golden banana above the sled is an ornament from my childhood, at least 50-60 years old. (I am 53). We had several pieces of fruit we hung on our tree in California, and four survive — two bananas, an orange and a green pear. When I put these on our tree each year I'm transported right back to my house on Eckerman Avenue, how much I loved Christmas and dreamed of snow, how I used to turn on the tree lights and sit alone on the couch to enjoy them, and how much I yearned for my family to be happy forever. Decades later, I still yearn for that.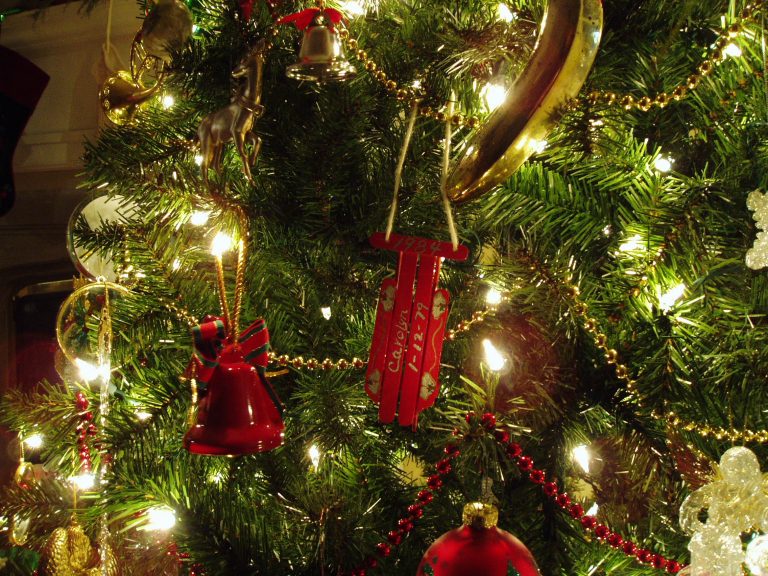 I bought the little Schnauzer ornament this year at Target — just couldn't resist. It looks just like Mildred, and it makes me smile. Target also had a coppery colored dachshund and I gave it to my sweet friend Kay because she has two little wiener-dogs. She named her ornament Jerry. 🙂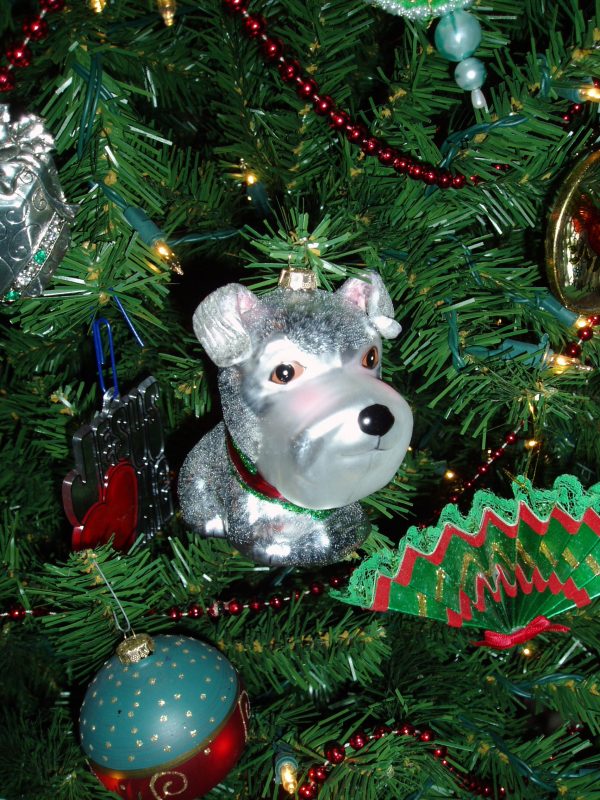 This ornament below has a Christmas photo of the girls when they were 6 1/2 (Sharon), almost 5 (Carolyn), and eighteen months (Sara). Oh, the memories this brings back to me…..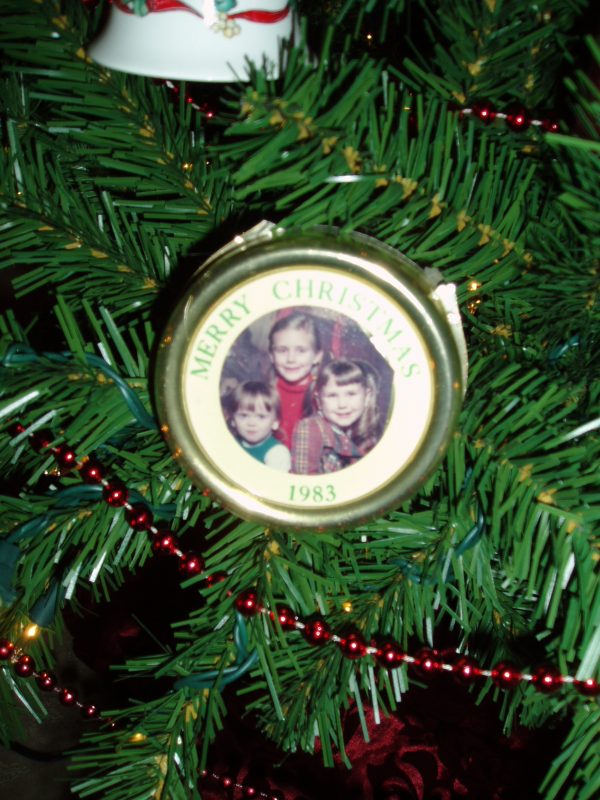 Here's a photo of the remaining pear ornament from my childhood tree: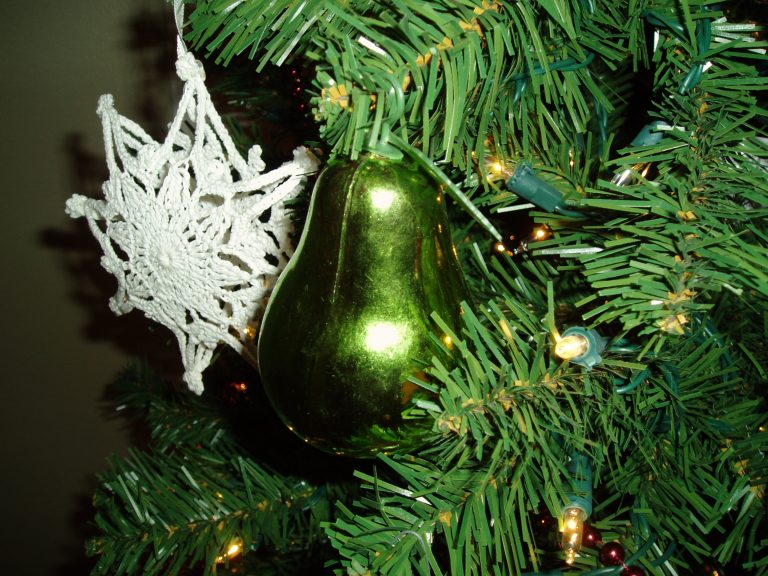 Years ago I used to put cloves in oranges at Christmas time and set them in bowls around the house. Sara remembered that and wanted to do it this year. These sit in our living room and smell fantastic.
See the tray? I won it! I love www.theinspiredroom.net, entered one of Melissa's giveaways, and actually won. The painted words on this lovely tray say, "Simple joy…unending hope…wonderful grace…authentic peace…unfathomable love."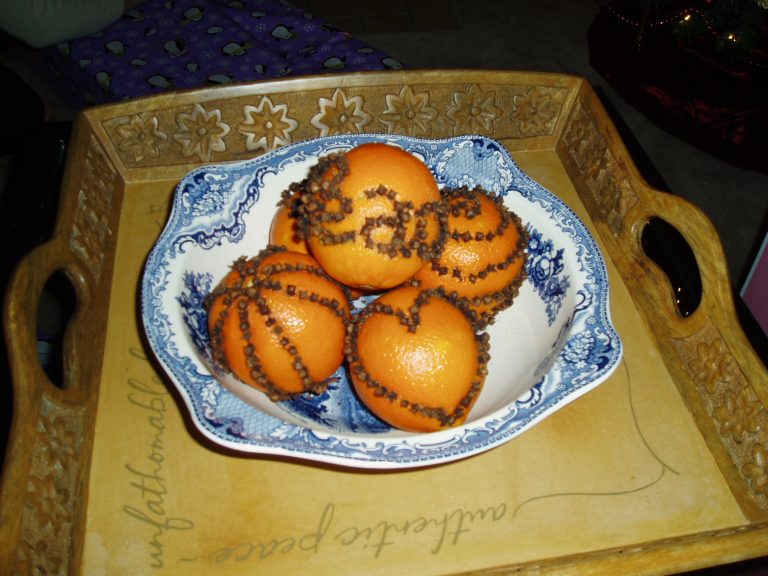 I love all the little doodads we have on the tree that speak of Minnesota, like this knitted hat and our state bird, the Common Loon: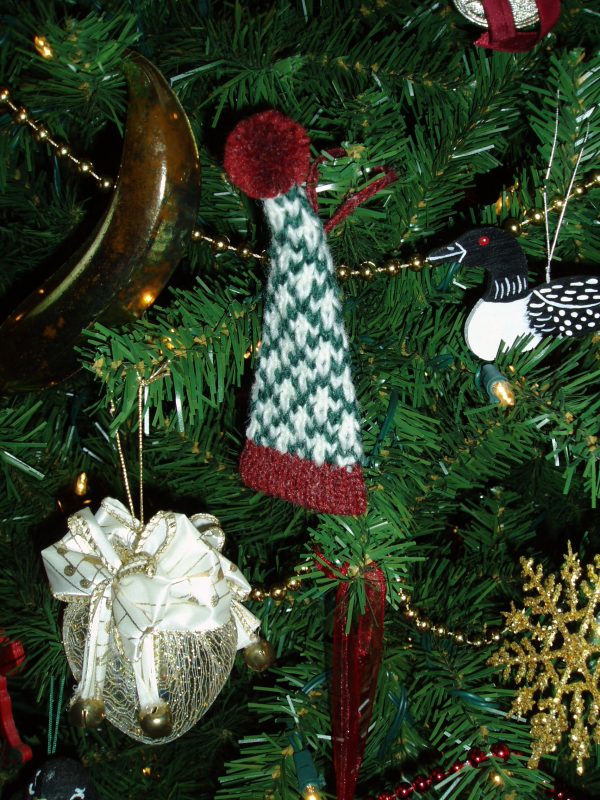 I've always loved green, and these simple green stars have been a favorite on our tree since Michael and I were married almost thirty years ago. The fascinating story behind this ornament is: liked it, bought it, still oooh and aaah over it.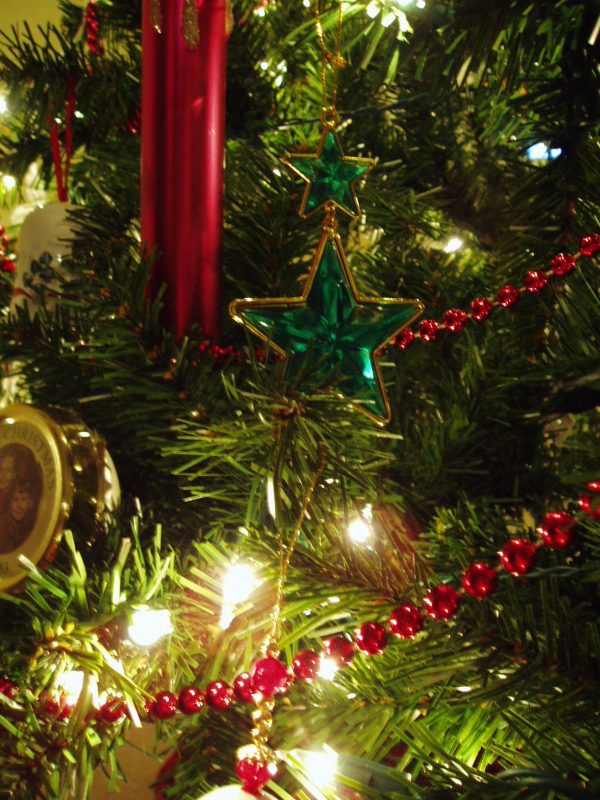 I often wonder why lights in the darkness are so attractive to us. Why do we bundle up our children on cold nights to drive through residential neighborhoods so we can see the tiny lights people adorn their houses and trees with? Why do we say "Ooooooh! Look at those lights!" and "Wow….I love the lights framing their window — look at that!" Why do we sit in the dark and look so long at candles and hearth fires and twinkling tree lights? Why are the stars in the sky so mesmerizing? I think there's more to it than "just because they're pretty." I think there's something built into each one of us that recognizes how amazing it is when light pierces the darkness.
And each of us has darkness. We have dark thoughts, dark pasts, dark circumstances.
But a Light has dawned…..
The people walking in darkness have seen a great light;
on those living in the land of deep darkness a light has dawned.
Isaiah 9:2
As we celebrate the birth of Jesus, our family wishes you and yours peace, hope, joy, love and light.