A Lenten Prayer
I found a prayer for the beginning of Lent and have added to it and adapted it to express my own heart's cry today….
Dear Heavenly Father,
It feels like we are embarking on a Lenten journey together, you and I. 
I want each day of Lent to be one of quiet remembrance, and I want to be ever aware of my need for redemption. I want to remember how much I need you in my life and how even though you redeemed me when I was twelve years old, I am still in need of your redemptive work every day. I want to remember this clearly all throughout every day during this Lenten season. Help me, Lord.

On this special day, Ash Wednesday, may my small sacrifices in withholding things from my life be a way to clear away the clutter in my life to see you more clearly. May my longing for things that are not in your plan for me, help me to focus my life today on you and on others much more than on myself. Let me be aware and prayerful for those who suffer so much more than I do.
Lord, I know there is darkness within me and around me. Sometimes it seems so dark it's overwhelming and paralyzing. Bless these coming days with your Word — let me hunger for what you have to say more than any sugary treat I think I must have. Let your light shine in the darkness. Help me long for your light until we celebrate it six weeks from now when Easter arrives.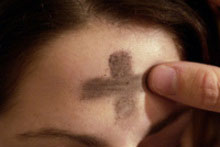 And even though I do not attend a church where ashes can be pressed onto my forehead, I ask you to place your own hand upon me today, helping me remember where I have come from and where I am going. Help me remember what you did for me and do for me, and just how sufficient you really are. I forget so often, Lord.
May I willingly acknowledge to you my sins, not blaming anyone else. May I be aware of my deep need for your loving forgiveness and grace, and lavishly extend the same to everyone in my life. 
I ask you to have your way with me during this Lenten season, dear Lord. Lead me into prayer and communion with you. And may whatever you do in my heart, soul, mind and body, be everlasting.
I love you Lord Jesus. Help me to love you more and more.

Your daughter,