A few Friday things…
Hello friends….I hope you're all finding some time to rest and experience the peace and wonder of this season.
Each year around Christmas, Sara fills our three outdoor flower boxes with assorted evergreens, branches, and large ornaments. This year she added some pampas grass too. These planters are each almost five feet long and they hang on our front deck. The ornaments nestled amongst the greenery are about the size of honeydew melons. Even though I love the flowers she plants in these boxes each spring, I think the winter arrangements are my favorite. Here's a photo of one…you can click to enlarge if you like…clicking twice makes the photos large enough to see more details: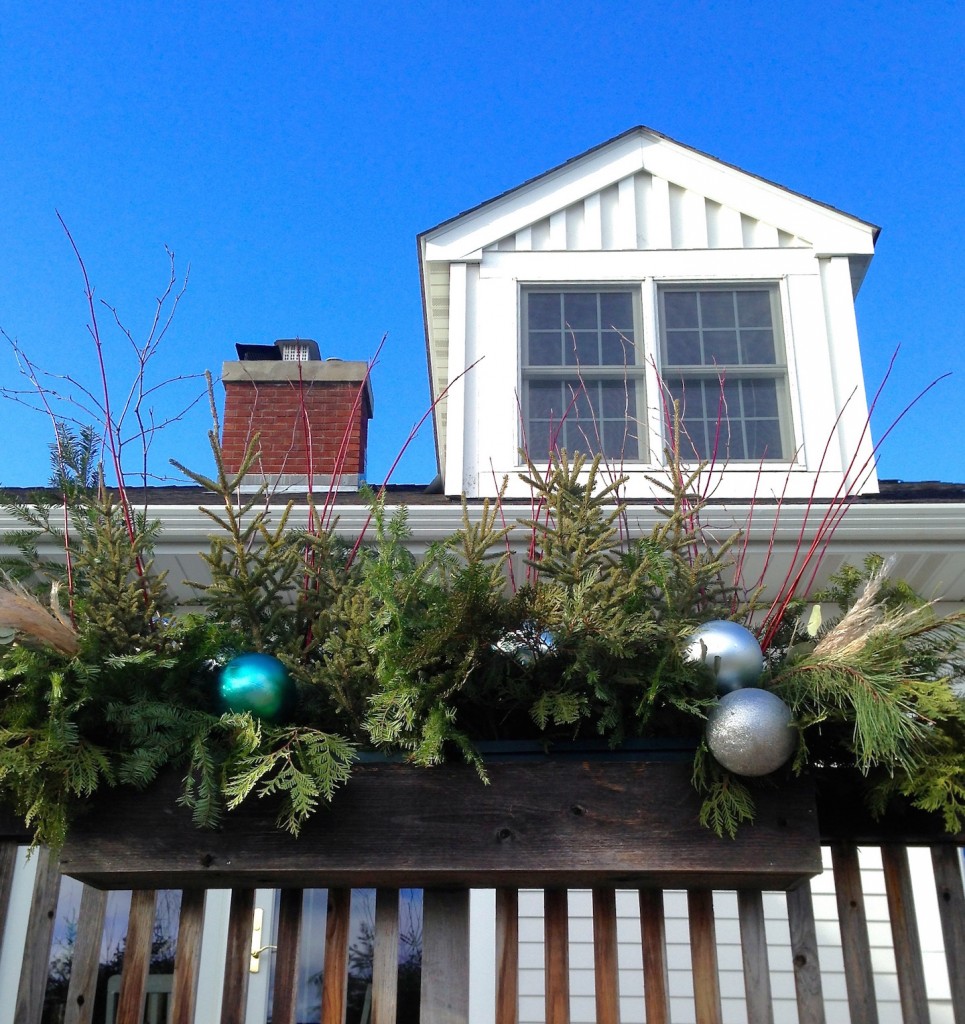 We always say the various pine branches and the blue and silver ornaments look best with a lovely coating of fresh snow, so we're waiting for a good storm. Apparently El Niño is going to bring us a mild winter in Minnesota; indeed everyone in our area is talking about how we haven't had much snowfall this season, and how unseasonably warm our temperatures have been. Our balmy forecast for the coming week is for the low forties…in Decembers past we've expected below-zero temps at night and have had two feet of snow on the ground.
In a little over a week my three daughters and I will have our annual cookie exchange. We'll go out to lunch together and then come back to my house to pick up the two dozen cookies each of us will have made, so we end up with six dozen, plus whatever we keep from our own batches. I just CANNOT figure out what I'm going to do with six dozen various Christmas cookies! Hahaha. I'm making my favorite Christmas recipe, Soft and Spicy Molasses Cookies. Michael used to love to dip these in his coffee.
I always wear slippers in the house from around September until April of each year, and I've come to appreciate certain characteristics in the ones I gravitate toward buying. They have to be slip-ons, they should have enclosed heels, and I prefer if they are loafer-like and don't cover my ankles. I also like for them to have a rubber sole of some sort, since I often step out onto the front deck to call the dogs in, to fetch the mail, or to gaze at the stars at night before I go to bed. Even better are when my slippers are machine washable. Rarely do I care how they look.
Well, I was searching the Acorn slipper website last week, and lo and behold, here's what I found:
I've never added "must have many brightly appliqued cardinals" to my list of slipper prerequisites, but from now on I just might. When I opened these up and slipped them on my feet I had the fleeting thought that I may now be approaching Cardinal Overload. The second fleeting thought I had was… "I don't care." These make me smile and they keep my feet warm, so who am I to impose a cardinal limitation on myself?
This morning before driving to the mall area to look for a plaid scarf/shawl, I drove up to the cemetery. I live very close to Lake Superior, and that huge body of water has a warming effect on the weather close to its shores, hence our lack of snow. However, if I drive one mile away from the Lake, up over the hill that leads inland, there's snow on the ground. There was close to three inches at the cemetery and I took a picture of Michael's grave, looking toward the morning sun. The distant pond in the photo is where I saw two men on ice skates playing hockey last week.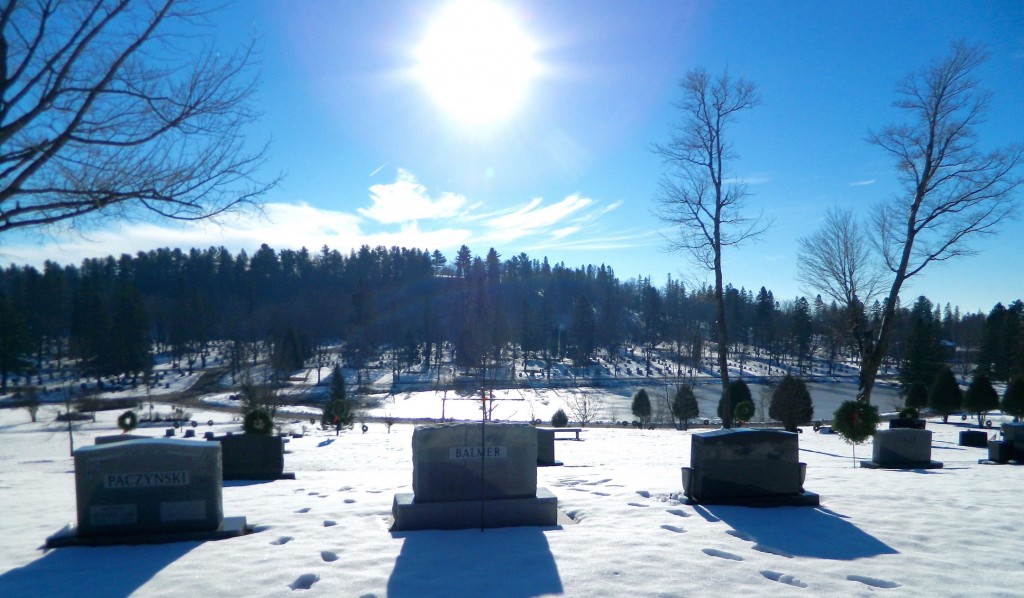 Sara will also be making a wreath this week to hang on the cross-shaped wreath hanger in front of his grave.
It has been 298 days since Michael went home to Jesus. It comforts me to think that when I go to the furthest reaches in my mind of what beauty, peace, grandeur and joy must be like in heaven, I can't even come close to imagining what he's experiencing. ("But just as it is written, 'Things that no eye has seen, or ear heard, or mind imagined, are the things God has prepared for those who love him.'" — 1 Corinthians 2:9)
I spent some time today with my granddaughter Mrs. Nisky, Sharon and Chris's second child. She has been coming over now and then so we can work on her math lessons together, and after those are finished she works on a project she's making for her daddy for Christmas. I'll show pictures of it here on the blog after he opens it. We also like to read out loud for a good long while before she goes home, and the book we're enjoying now is a childhood favorite of mine called The Pink Motel by Carol Ryrie Brink.
As I sit here tonight with my (cardinal decorated) feet up on Michael's recliner, the tree lights glow nearby and I can hear both Schnauzers breathing deeply as they doze stretched out on their sides. Dinner is done, Phoebe the parakeet's cage has been covered, and in less than two hours I'll be turning in for the night myself. I look forward to working tomorrow on the sharing I'll do on Tuesday morning at Community Bible Study. I have a rough outline completed, but may have to just dive head-first into the mental oatmeal I always encounter when writing what I pray God puts on my heart. I'm planning a short PowerPoint slideshow to go with it, and that's always a fun thing for me to do.
What are your plans for the weekend? I hope your sleep is deep and love abounds between you and all of your dears….
Blessings,