You can never have too many cardinals
It appears as though my grandchildren associate cardinals with me, or (eek) me with cardinals. What word comes to mind when you think of one of your grandparents?
Here's what comes to mind when I think of my own grandparents.
Sadly, my father's father died before I was born, but when I think of him the word preacher comes to mind. Grandpa Neddy followed in his own father's footsteps and was a poor pastor/preacher in a couple of Missouri hamlets back in the 1920s and 30s. One of the places was called Sudheimer.
When I think of my father's mother, the word letters comes to mind. Grandma Julia lived her whole life in Missouri and I only saw her three times, but she wrote to me in Southern California about twice a year. Each time she would send a five dollar bill with her letter. Her shaky handwriting conveyed how fragile she had become in her eighties, and even though she wrote about people and daily events I didn't know much about, I liked getting letters from Grandma. I remember that she would occasionally make an attempt at humor in her letters, which was suggested from her use of the word "ho" at the end of the funny sentence. Sort of like we use "ha."
When I think of my mother's father, the word Pledge comes to mind. Not the kind of pledge that means promise or oath, but Pledge furniture polish. Yes. Grandpa Bud was so fastidious, and believed so fiercely in taking care of the things he had (and worked hard for and paid cash for, never owing a penny to anyone) that perhaps he took it just a leetle too far sometimes. He used to go out into his garage each morning and wipe down his car with Pledge furniture polish and a soft rag. His garage was neater than most houses. I remember seeing his 1960 black Cadillac, and later his 1970 brown Buick Electra in the rain, and they had been polished with Pledge so often that rain would bead up on the cars in large, nickel-sized drops.
When I think of my mother's mother, the word cook comes to mind. Grandma Oma loved to cook, and put every Midwestern favorite on the table frequently, and invited us over. Cream gravy and biscuits (which I never liked), bubbling fruit cobblers (which I never liked), pot roasts and potatoes (which I never liked), pies, green beans cooked in bacon grease, and fried chicken, all of which as a child I would not eat.
Apparently, when I am just a memory to my grandchildren, one of the words they'll think of when I come to their remembrance, is cardinal. And that's okay with me, as long as they remember the cardinal story and why these gorgeous red songbirds are so meaningful to me.
We have two sets of Magformers that we keep here at the house that all the grandchildren love to play with. Invariably, one of the grands will grab the Magformer basket when they come over, plop down on the living room carpet and begin building, sometimes for hours.
Last week my daughter Carolyn came over and brought her two youngest children with her — Vivienne (age 5) and Audrey (age 3). I love watching them play because they're creative and lively and on this day were kind to each other and shared toys cheerfully.
Before it was time for them to go, Vivie brought me to one of the living room lamps, which has a metal base that looks like a swirl of leaves on a vine. She had built a cardinal out of the strongly magnetic Magformers, and a hanging birdhouse to go with it, and stuck them on the lamp.
Vivie is on the left and Audrey is on the right, and aren't the cardinal and birdhouse so sweet?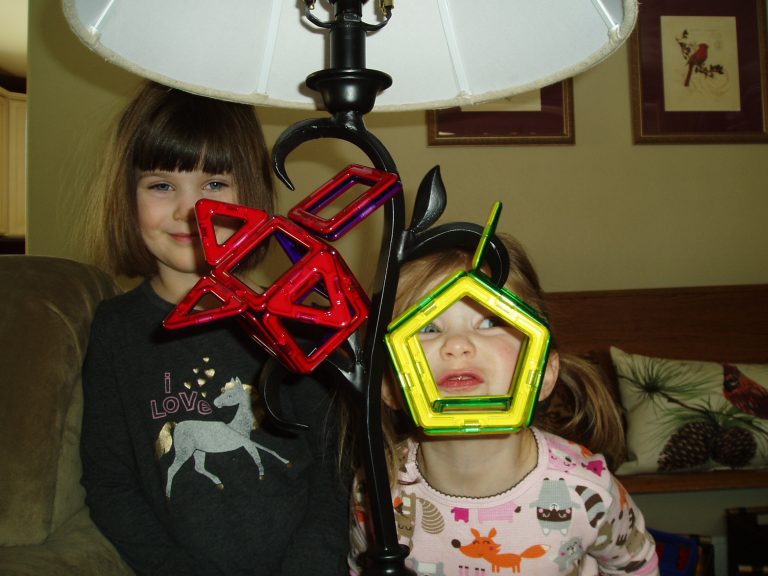 You might be able to see a cardinal or two elsewhere in the photo. I'm beginning to think that when my grandchildren are grown and perhaps telling their own children about their Grandma Julie, the words they remember about me might be Jesus and cardinal. (Which would be just fine with me, because Jesus and cardinal would be so much more desirable than big butt and dithering and/or controlling and crying.)
I'm hoping they might say something like this: "My grandma believed in two things with all her heart. She believed in Jesus, and she believed you could never have too many cardinals in your house."  🙂
What are some words that come to mind when you remember your own grandparents?