Wow and Wow
I'm so thankful my knee replacement surgery is behind me! And I thank all of you who prayed for me. There were times (especially on Wednesday) when I was quietly writhing in more pain than I'd anticipated, even though I'd had plenty of pain meds, when suddenly a wave of joy swept over me and I knew I was being lifted up to the Lord.
I hope to share more when I can, but I've been up a while now and must go back to bed. Ice is your friend, rest is your friend, pain meds to help you rest are your friend, are the wise words I keep hearing from those who've walked the New Knee Road before me, and I'm listening.
Here's a photo I took with my iPhone a few hours after surgery: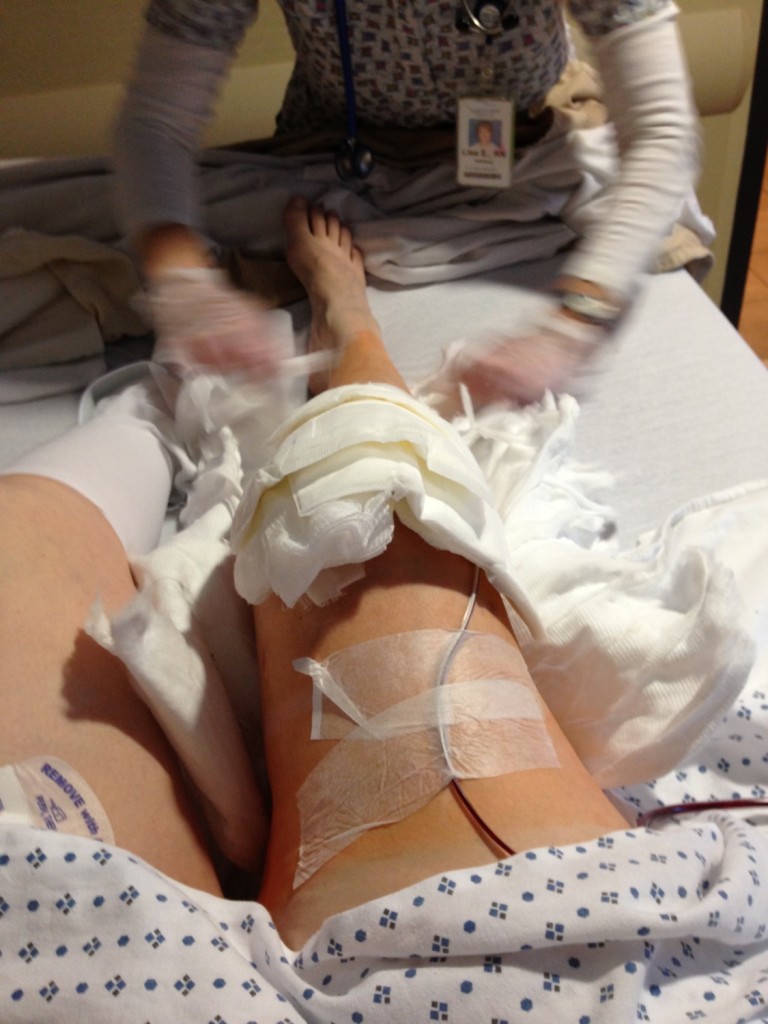 The nurse was checking my incision and making sure the hemovac drain inserted at the right side of my knee was indeed draining, and she was getting ready to put on the ultra-suprema-comfy compression tights they make you wear to prevent blood clots.
And a day later when the swelling was enough to make me ask myself, "Hey, what in the world is that enormous purple thing that seems to connect your thigh and your calf, girl?" the hemovac was still intact. (I actually didn't take a picture when it was purple — I was probably too preoccupied with writhing at the time.)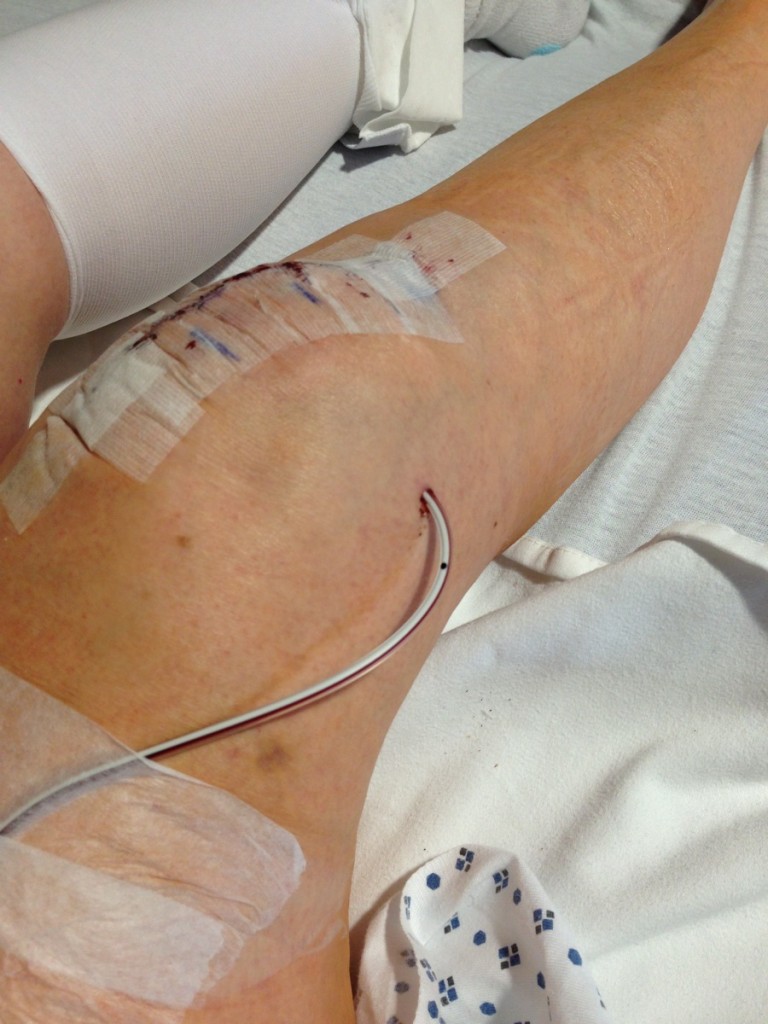 My sweet granddaughter Mrs. Nisky has spent two nights with us now that I'm home, getting me water, putting my warm ice packs back in the freezer and bringing me fresh cold ice packs, drawing pictures, playing gin rummy with me, cuddling close as I read this wonderful book out loud, setting and clearing the table, and spreading lots of cheer around.
Here's what my nightstand looks like — the flowers Sara picked from our garden add a lovely soft touch to the cane/pain meds/bandage look I've got going these days. I'm more grateful than I can say that dentures, purple hair dye, and nose hair clippers are not part of this picture.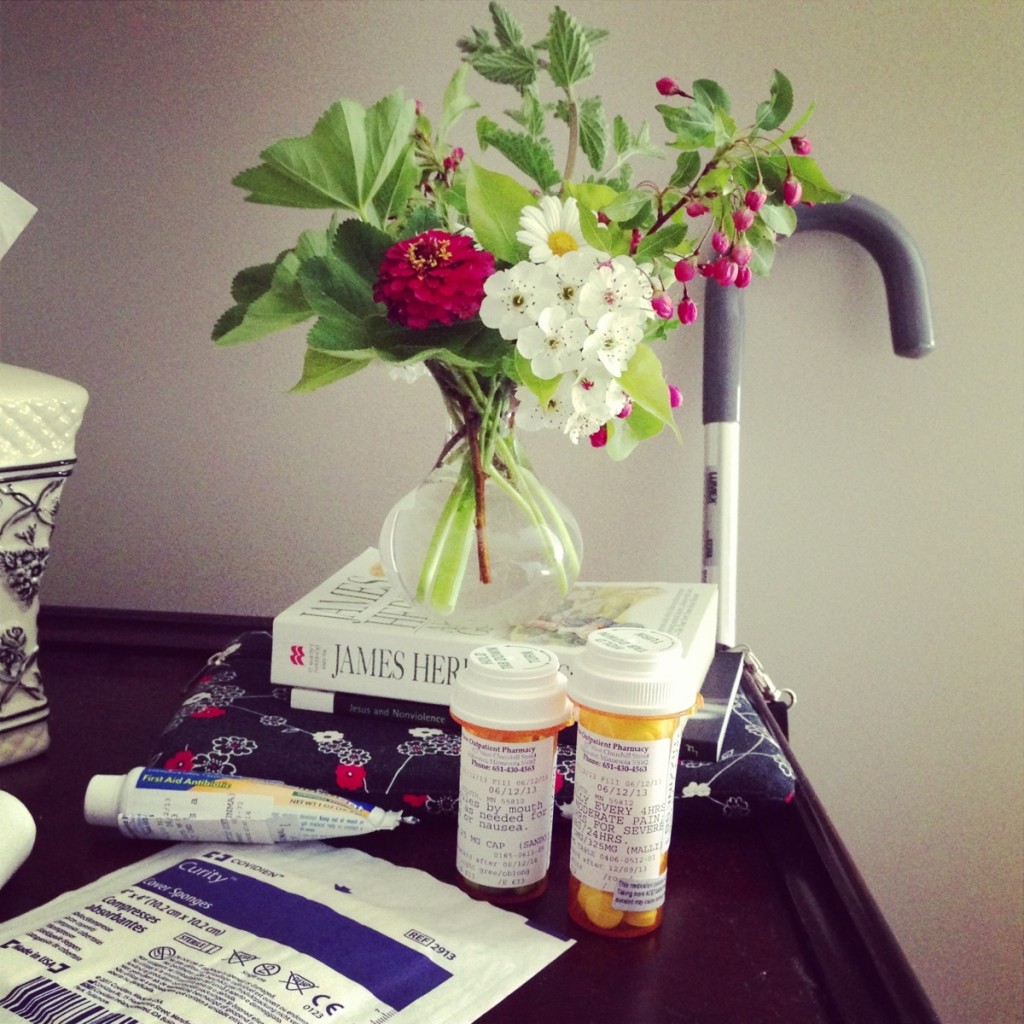 I'm still pretty swollen and the deep and richly colored bruising is starting to spread to the hinterlands of hip and ankle. Apparently it will be months before the swelling is down. But that horrible grinding pain that sent me to the surgeon to begin with is completely gone. It's a wow and wow situation. Wow, there's a lot of swelling and pressure. And wow, that cruel bone-on-bone torture is gone. There's probably some whoa and some woe and some whew and some wah in there too, but I don't want to confuse anyone. If I titled this blog post Wow and Whoa and Whew and Woe and Wah and Wow, it might be just too much.
I will share more when I can. Thank you for caring and praying….