Winter acclimation to the extreme
When I moved to northeastern Minnesota in 1981, I was rather excited about finally living in a place with four distinct seasons. My early winter memories are of sunny days in Southern California with temperatures mostly in the sixties, riding my bike or skateboard, swimming as often as possible, and never knowing the feel of a snowflake on my eyelashes. If it snowed in the mountains two hours away, sometimes we were fortunate enough to drive there and play in the snow for a few hours. Before I married Michael I had never experienced subzero weather or a blizzard or icicles hanging from the roof. Now these are a part of our life for a good portion of the year.
The first winter I spent in Minnesota was a record breaker. I have kept the local newspaper's front page all these years to commemorate my initiation to American Siberia. There was snowstorm after snowstorm and record breaking wind-chills. I remember calling my mom (who lived in Morro Bay, CA) and reporting that the wind-chill temps were 60 to 70 below zero, and the drifts were piling up so high outside I inwardly questioned my decision to move here. She was deeply concerned, wondering how the house could possibly stay warm, whether or not we had to walk around wrapped in blankets, how life in general was carried out in those conditions.
After six months of snow and cold, little signs of spring began to appear, and never had they been more welcome. Six-foot high drifts in our yard melted away to scattered snowy patches with grass showing through. The days grew longer. The house wasn't so drafty and the car didn't groan when we started it. I remember going outside with my heavy coat, mittens and hat on, and realizing with a rush of relief that it was too warm to be dressed that way anymore. I was overdressed! Spring had arrived, and we could pack away our winter outerwear as real Minnesotans do, and get outside and start frisking like spring lambs.
Since this was the first spring after my first harsh winter, I had not yet become weather obsessed, as I now am and as all Minnesotans are. Back then I didn't compulsively check the weather report or put a thermometer up outside the kitchen window so we could plan our day according to what the temperature was and how we should dress.
One fine May morning after I saw Michael off to work, I went outside in the sunshine and it was so warm and inviting I decided to take the girls downtown to walk around and maybe to the park to play. I hadn't yet lived here a year and I wanted to explore my new town. Sharon was five, Carolyn was three, and Sara was about six weeks old. I put the girls in summery clothes – tee shirts, lightweight pants, and tennies. Since Sara was still a baby she was bundled up in a sleeper and a blanket. I donned a favorite old sleeveless denim shift and a pair of sandals. I don't have the dress anymore, but it was very similar to this, only a darker color of denim.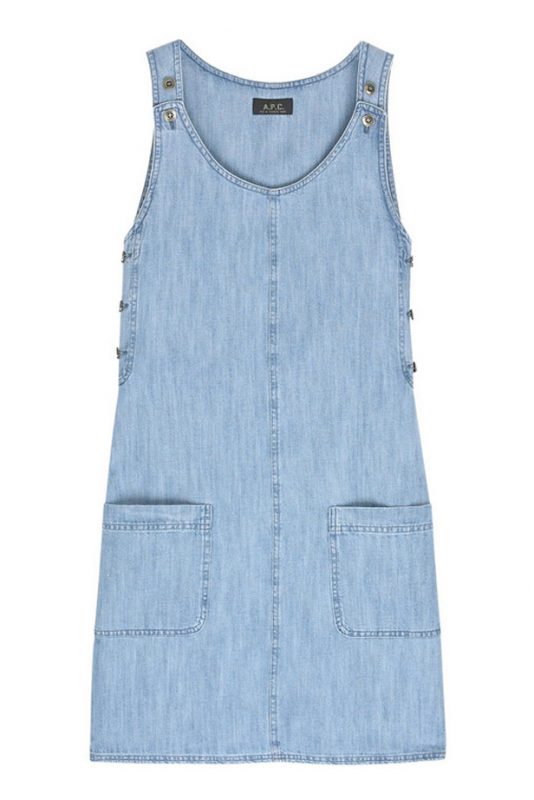 We piled into our station wagon, drove downtown, and happily sauntered around, looking in shop windows, and enjoying the fresh and warm air of spring after such a long, harsh Minnesota winter. The girls were chipper and skipped along the sidewalk, looking forward to the ice cream cones I had promised later on in the day. Baby Sara was quiet and content in the stroller, and I was thinking how invigorating being outside felt, and how marvelous it was to live in a place where the seasons dramatically change.
After a while I started noticing that people who passed us on the busy sidewalks downtown seemed to be looking at us for longer periods of time than was polite. I wondered if they had never seen a young woman walking with her children before!
As the girls and I paused on a corner and waited for the light to turn green so we could cross the main street, I happened to glance up at the bank building in front of us and noticed that it had an outside lit up thermometer with the current temperature displayed. I stared, and possibly dropped my jaw when I saw that we were strolling around like beach bums when it was 26 degrees (or minus 3 Celsius) outside. Yet we weren't shivering and we honestly didn't feel chilled or uncomfortable in the least.
I did an about-face and quickly herded my little girls down the street and back into the car. We did not stop for ice cream cones on the way home. Once back inside our little house we all changed into more appropriate attire, and when Michael came home from work that night I couldn't wait to tell him what had happened. I had heard him use the phrase, "It's tee-shirt weather!" and now I understood. He was quite amused, and to this day we still mention it when spring arrives, and grin at each other.
To this day, after a long, bitter winter, it's not at all unusual to go outside in the spring and feel that a tee-shirt is sufficiently warm attire, even on days when it's barely in the thirties.
I think it's called acclimation. And I guess I would call that little downtown stroll we took in the spring of 1982, winter acclimation to the extreme.