Winner's Choice!
There were six people who left comments describing themselves using alliteration – their answers were fun to read!
I used random.org to pick a winner, and the number six came up, which means Christy is our winner. This time I'm doing something different with this giveaway. I'm going to let Christy choose one of two prizes for her winning, warm and waggish answers.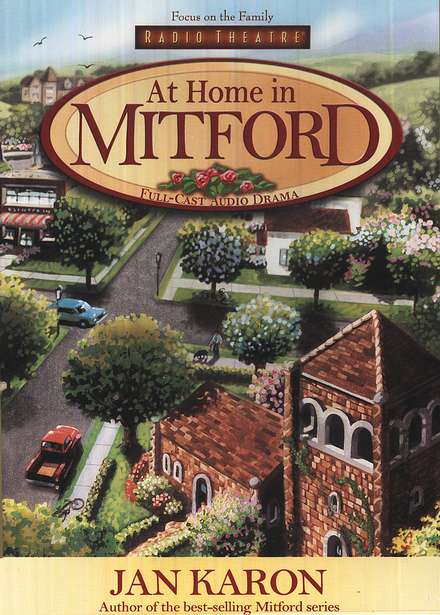 This set of CDs is a wonderfully done radio theatre drama of the book At Home in Mitford by Jan Karon. I have listened to this whole production several times myself (although this set is brand new and unopened) and it's a thrill each time I hear it. If you've read the Mitford books, this will not disappoint.
It's not a book on tape — it's an acted-out production with music and phenomenal sound effects, and there are some famous people who lend their voices for the characters.
Michael and I have listened to this in the car and even though he hasn't read the series, he enjoyed it too. The running time is six hours and 36 minutes.
Or Christy can choose a new copy of this book that I just finished:
The Book of the Dun Cow by Walter Wangerin, Jr.  I had read two of
this author's other books and enjoyed them (The Book of God and Paul), but I just recently heard about this one. If any of you have read this one I'd love to know what you thought.
I don't even know how to describe this book. I couldn't put it down. I've never read anything like it. I was riveted. Stunned. Repulsed. Amazed. Engrossed. Moved. Enlightened. Encouraged.
So now it's up to Christy to choose between the Mitford CD set, which is wonderful, or The Book of the Dun Cow, which is unforgettable in its own way.
Christy, please make your choice in the comment section and tell us what your choice is and why. Then I'll mail it out to you right away!
Thank you all for leaving your alliterative descriptions!
Blessings,