What are you trying to do?
Before my husband Michael was diagnosed with Parkinson's Disease, we used to work well together as a team. We've provided foster care for three women with developmental disabilities in our home for many years. We used to work hard together, and the sense of accomplishment in a difficult job was very satisfying. (This is a picture of Michael fishing last summer.)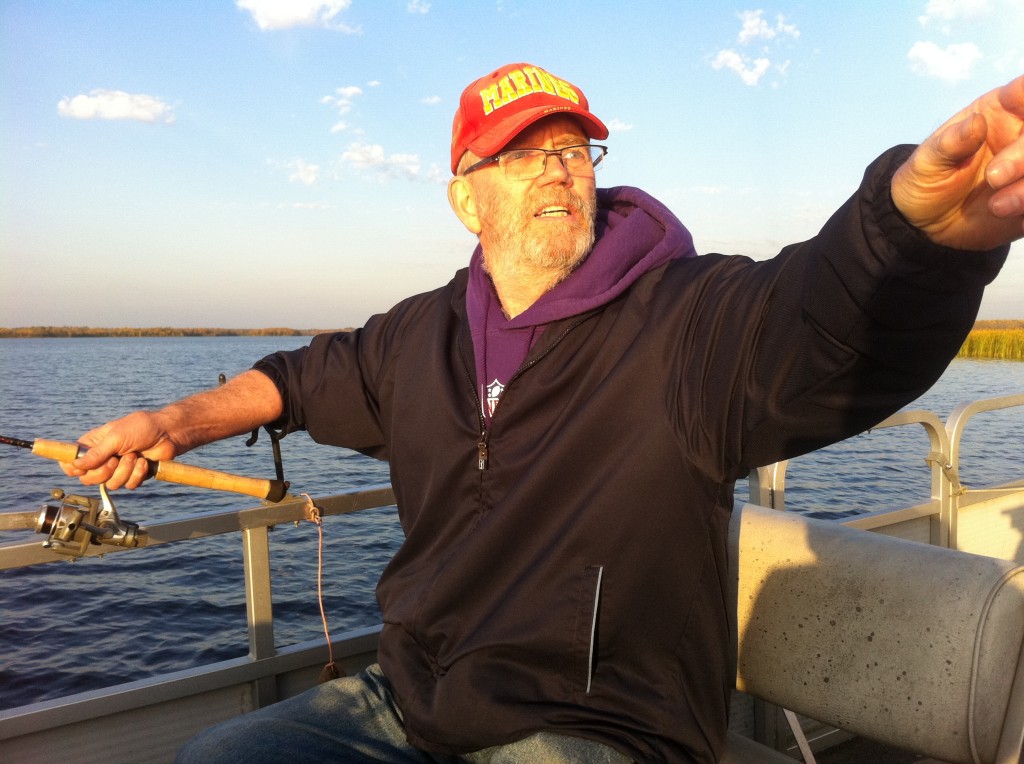 In the busy mornings Michael would get meds and breakfasts and good cheer started. I would pack lunches, make sure proper clothes were worn, and in the afternoons I would tackle our piles of paperwork. He and I shared the responsibilities of our Foster's various medical appointments. He did the grocery shopping and I did the cooking. He did the laundry and I did the folding. Together we took our residents out for dinner, movies, on vacations and to concerts.
Now, because Parkinson's causes Michael to experience some cognitive issues and confusion, I mostly do it all. There are days when I feel like I'm cooking and caring for the multitudes.
Here's one little example of something that I've had to let go of due to Michael's disease.
Michael takes a lot of medication, and he also likes to take vitamins. The bottom shelf in one of our kitchen cabinets has become the medicine shelf. I could see after a while that it was hard to keep organized, so I got two see-through plastic containers. The container on the left can hold all of Michael's meds, and the container on the right holds all the vitamins. There was room for a neat stack of pill cups in the middle.
My way of keeping the medicine shelf was like this:
After a while it got harder and harder for Michael to stick to my method. He would take his meds and vitamins and just put them back willy-nilly, his way, often completely ignoring the two plastic containers.
Michael's way looks like this:
At first I reminded him about it and asked if he wouldn't mind putting his prescription meds in the container on the left and the vitamins on the right, and he would always say okay. But he could never remember to do it for longer than a day or two.
Each time I would open that cabinet I would be surprised and frustrated again at how he'd messed it up. I would think to myself, I have to do everything in this house. I am the resident slave. How hard is it for him to do just this one little thing?
So I started praying about some of these issues and my attitudes.
One morning I woke up and went downstairs, opened the kitchen cupboard where the medicine shelf is, and even though I had straightened it the day before, it was all messed up again. I sighed and whispered out loud, "What am I doing?" And it was the sort of prideful question one asks when one thinks something has gone wrong with their life and things just don't seem fair.
Do you ever remember, in a time of frustration, thinking or saying out loud to yourself, "What am I doing here?" or "What am I trying to do?"
I've muttered those words to myself more than a few times in the past several years, and I believe the Lord has graciously helped me realize the answers to my questions. Here's what I think the answers might be for me, and maybe for others:
You're building a life. You're leaving a legacy.
Those words began to resound in my heart louder with each passing day. As the borders of my life kept getting more confining and seemingly mundane, while I seemed to grow more tired and Michael's and my conversations more infrequent and difficult, I could hear the Lord's words, "Julie, you're building a life."
Isn't that just like the Lord to tell me I'm building a life when all the things I think constitute a good married life are being pared away? But God's Word is full of His upside down methods to remind me that His ways are not my ways.
God sent Gideon out to do battle after reducing his army from 32,000 to 300 men. (Judges, chapter 7)

God chose a poor, obscure virgin to be the mother of the King of Kings. (Luke, chapter 1)

The stuttering Moses was chosen to be a mighty mouthpiece for the Great I Am. (Exodus, chapters 3-4)

And God showed us through the life of His Son that the way to true joy and peace, the way to be like Him is to be a humble servant of all. God doesn't accomplish His purposes in ways we ourselves would think to choose.
Jesus demonstrated this over and over and His disciples still didn't fully understand even though they were right by His side for over three years. Even on their last night with Him, they were arguing about which one of them was the greatest! (Luke, chapter 22)
So lately I have this very keen, almost holy awareness, that with the strength that God gives me every day, I can humbly partner with Him in building a life.
Even at my age, and no matter what your age, we are still building our lives.
And when we make small choices every day to build and not tear down, to serve and not usurp, we not only build a life, we begin to leave a legacy.
Did any of you give up your career to stay home, change diapers and wipe noses, and if you did have you ever asked yourself, "What am I doing?"
Perhaps you married someone who seemed to be a fine man before the ceremony but has caused you more than a few heartaches, and you've wondered, "What am I doing here?"
It's at times like these that the Lord can provide some much-needed clarity and remind us – "You're building a life. You're leaving a legacy."
The last time I stood with a stinky attitude in front of that messy medicine cupboard, it's as if the Lord asked, "Are you trying to have an orderly cabinet, or are you trying to build a life?"
And to others He might ask, "Are you trying to have perfect children, or are you trying to build a life with your family?"
It's like when we sit behind a phoropter to have our eyes examined and the optometrist asks, "Which is better, one? Or two? Three, or four?"
Are you trying to let others know you're smart, or are you trying to build a life?
Are you seeking the esteem of people, or are you seeking to build a life?
Do you want to be right, or do you want to build a life?
A legacy is something that's handed down to those who survive us. And whatever we've built our lives with and on, that is our spiritual legacy. I'm not talking about a financial legacy here – money is temporal – I'm talking about an enduring, godly legacy, one where Jesus Christ has been visible and beautiful in our lives, and those we leave behind take Him seriously because we took Him seriously. And maybe those we leave behind will learn to love Jesus because they saw us love Him.
But what if we're trying to build a life and those around us won't cooperate? What if our children, our spouses, our neighbors, our siblings, even our friends, make it hard for us to be patient and display the humble character of Christ?
And what if we're fifty, sixty, seventy, eighty years old and we're not sure we like the legacy we're leaving so far? What if no matter how hard we try we still seem to think or behave in ways that are sometimes more destructive than they are building?
Here are a couple of things we can remember.
First, I've written here about us building, but as Christians we know that it's in Christ we live and move and have our being, and that we don't draw a breath or think a thought without Him first having given us the ability to do so. So yes, we build, but it's in His strength we're to do it.
Secondly, God has the most miraculous and wonderful ability to restore what the locusts have eaten, even if the locusts are us.
Don't let the enemy foul your vision if you're in the autumn or winter of your life and you feel that the spiritual legacy you're leaving your family and friends is not the one you could have.
Start today. Go humbly to the Lord and ask Him for supernatural strength to be a builder in the lives of those around you. Ask Him for the desire and the vision to continue to build even if others make it very difficult for you. Ask Him to change your legacy. If that seems impossible, then ask Him for the impossible! And keep on asking for it.
In the Community Bible Study class I attend, our lessons this year have highlighted the fact that God delights in the impossible. We've been reminded that He often likes to use the least likely in situations. When the Lord sent Elijah to the Kerith Ravine, who did God command to provide food for Elijah?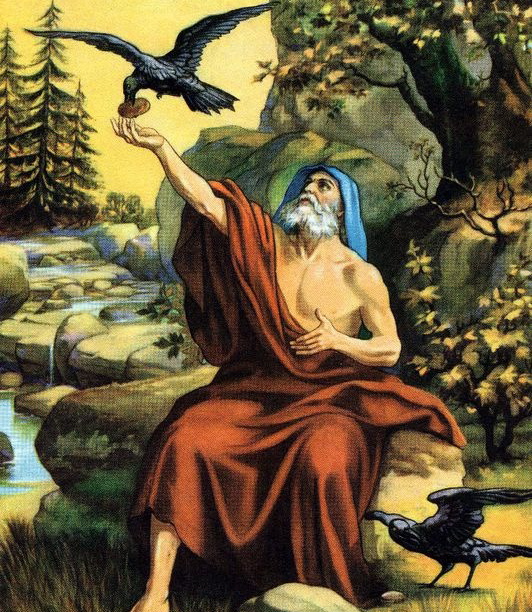 Ravens! Greedy, notoriously grasping ravenous ravens. Not friendly dogs or gentle doves or any other animal, but the one bird least likely to bring and share their food. (1 Kings, chapter 17)
When the Lord told Elijah it was time to leave the Kerith Ravine and go find food and water somewhere else, he could have sent him to the home of a wealthy person who had wisely stored food for the drought. But no, Elijah was sent to get food from a woman who was almost out of food, because God delights to show Himself the God who can do the impossible. That way He gets the glory that He, and no one else deserves. (1 Kings, chapter 17)
Lastly, on days when we realize that our words, actions and even thoughts haven't been the kind that help build our lives and those around us, I think we need to remember His grace and mercy.
Ephesians 2 says God is rich in mercy, and that the riches of His grace are incomparable. That means there's nothing in this universe that can compare, nothing is big enough, deep enough, high enough or wide enough to hold the riches of His grace and mercy, expressed in His kindness to us through Christ Jesus. He knew we would need a lot of it! Hey, He knew I would need a lot of it.
And what do we do when we're submitting to the Lord, depending on Him to help us build our lives and leave legacies that will bring glory to His name, but no one seems to notice or care? Or what if our very own family members seem like they don't want to join us in any life-building, legacy-leaving endeavors?
We do it anyway, delighting in the fact that even if the small choices we make are hidden to much of the world, they're not hidden to God.
Recently I went on a silent retreat and while I was in my little prayer hermitage I took some pictures. This unremarkable photo is of some steam rising from a cup of tea I brewed.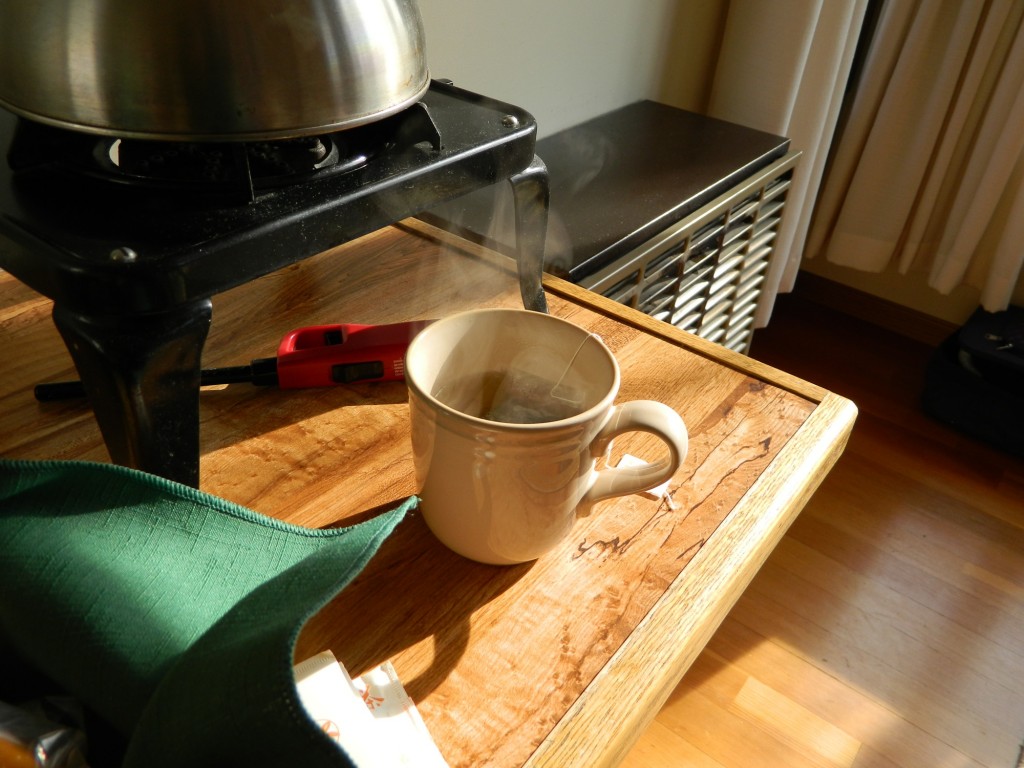 It wasn't until I got home and was formatting the pictures to put on this blog that I saw the little hidden detail that only God would have seen had I not snapped a photo.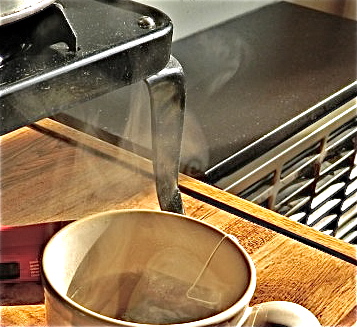 Here's a closeup of the same shot, and if you look carefully just above the cup and to the right of center a little bit, you might be able to see the perfectly formed swirly spiral of steam. It looks like the top of a tiny cinnamon bun, and of course it was gone in an instant.
I can't tell you how tickled I was to see this perfect little swirl of steam, how beautiful it still is to me. I would never have seen it had I not taken a picture at that moment, and then later enlarged it. How many little hidden beauties are there out there that no one but the Lord ever sees? And what difference do they make?
I don't know.
But I believe when we choose, word by word, prayer by prayer, hour by hour, to take the life and breath God graciously bestows on us each day and build with them, it matters.
Even if we're building small.
Even if we're building late.
Even if much of what we do is hidden or unappreciated, it matters to God.
Building lives, leaving legacies….
We may be adding to the beauty that sometimes only He sees, but that is enough.
What are you trying to do?
What am I trying to do?
It is my deepest prayer that even though my children and grandchildren may not inherit worldly riches from me, the Lord will help me leave them a legacy of riches in Christ. I do know that I haven't been the finest display of His glory yet, but since I woke up this morning with my heart beating and my lungs still drawing breath, I take hope.