Walking On
I, who dearly love my quiet times and solitude, have had the busiest couple of months I've had in years. I have always guarded my calendar and intentionally kept days blank each week as much as possible, and that has changed quite a lot. I'm still processing the changes.
Along with a new friendship that feels like a part-time job in many ways, I am still struggling with how to put words to what our family experienced in early June. I want to do justice to the post I've started, when I share about my beloved tenth grandchild, Hannah Joy, who went to heaven ninety minutes after she was born. I have the most precious photos and feelings and yearnings I want to write about, but just haven't been able to as of yet.
My daughter Carolyn, son-in-law Jeremy, and their family have walked through such a sorrow-filled time, and I have been humbled and grateful to see God's faithfulness to them. Sometimes there are just no words, even for someone given to verbosity.
I have walked in the cemetery regularly this summer, and now the season is coming to a close and autumn is showing its welcome presence. We've had a muggy few months and I love the promise of dry air, crisp nights and blazing trees.
Here is the place I always park my car when I take my morning walks.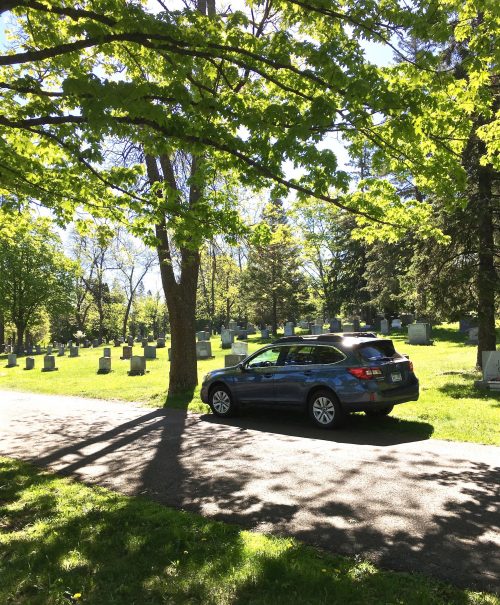 I'm not sure why dappled sunlight filtering through tree leaves moves me so much, but it always does. Even when I'm driving and I see this kind of light, I always notice and say aahhhh. Maybe I'm being taught that light shining through dark brings beauty. Jesus does that in our lives, doesn't He?
We have a beautiful Lakewalk in our city that runs right along the shores of vast and breathtaking Lake Superior, and it's about two stones' throw from my house, but I don't walk there nearly as much as I do in the cemetery where Michael's body rests, where Hannah's body rests, and where mine will rest someday. The Lakewalk is wonderful, but there are bikers, dogwalkers, skaters and joggers, and it can feel a bit traffic heavy. The cemetery is quiet, gorgeous, and soothing to me, and there are miles of paths. I usually walk 1.5 miles.
I love how from almost any place in the large cemetery, I can stop and turn toward one hill and pick out Michael's headstone and grave. I didn't plan it this way, but when I chose the spot for his (and eventually my) burial, I didn't know that the light colored granite and the height of the site would make it stand out even from afar.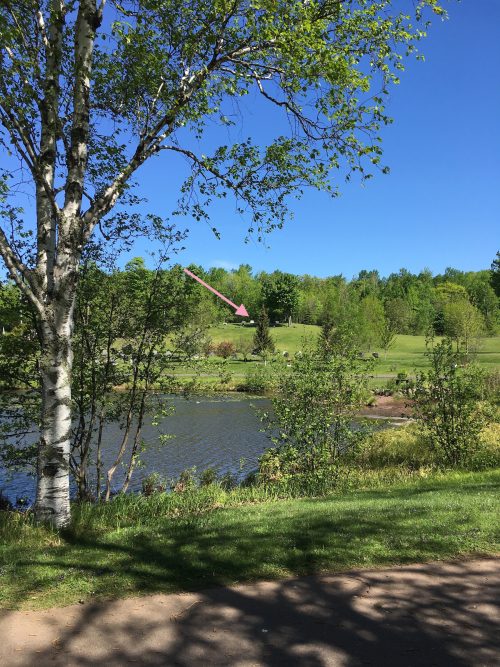 There are two large ponds there, with ducks and geese abounding. I've seen deer and foxes too. You can click to slightly enlarge this photo if you like — the arrow points to Michael's headstone.
Now the maple trees are starting to show off, and the squirrels are more active, gathering their winter stores. I have two chipmunks who frequent my deck and probably live underneath it. I actually turned my furnace on for a little while last weekend, and the hints of fall and winter make me feel content. I'm much more of a turtleneck, SmartWool socks, simmering soup, fire in the hearth kind of person, than a gardening, shorts, picnic with potato salad sort.
Maybe someone will need to remind me of that when dark and treacherous January arrives, and there seems to be only eight hours of daylight and the furnace never goes off and the icicles hanging from the roof are five feet long and it's sixteen below zero outside. I'll probably be talking potato salad and flowers right around then. (But never shorts!)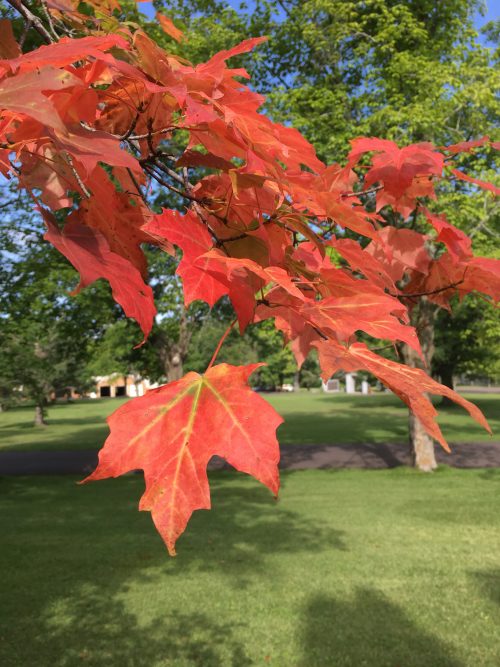 Today I have a foster care provider meeting to attend, and later tonight I'll be attending our first Community Bible Study leaders' dinner. The CBS season begins next month and will go through May. This will be my twentieth year in CBS, and now seems like a good time to recommend it to you once again. There just might be a CBS class in your area, and you can check right here. From the drop-down menu, you can choose your state and see where the nearest CBS class is located. There are classes all over the world in over eighty countries, and if you're outside of the US, check here.
I will be a Core Group Leader again this year, and I always look forward to receiving my core group list, to see who God has placed in my group for the next thirty weeks. I begin to pray for them right away, and ask God to prepare our hearts and minds to gather around our table with the feast that is God's Word.
Young and old, unchurched and very churched, freely charismatic and deeply liturgical, the Lord always meets us when we open our Bibles and ask Him to be there with us, teaching us, correcting us, training us, encouraging us. The older I get the more acutely I see how much I need His power and mercy, and I always find it there in His Word.
Speaking of old…. I'm about to leave my fifties behind. That feels okay to me. From the vantage point of almost sixty years old, I turn to look behind me and see a lot of sorrow (much of it self-inflicted) and foolishness. What I see most clearly, however, is the patience and wonder and love of God. I pray that however long I live into my sixties, He will strengthen me to love Him more deeply, represent Him more accurately, and praise and thank Him as effortlessly as I draw breath.