Tuesday Trivia
A few nights ago Michael and I watched a movie I really enjoyed, Mrs. Palfrey at the Claremont,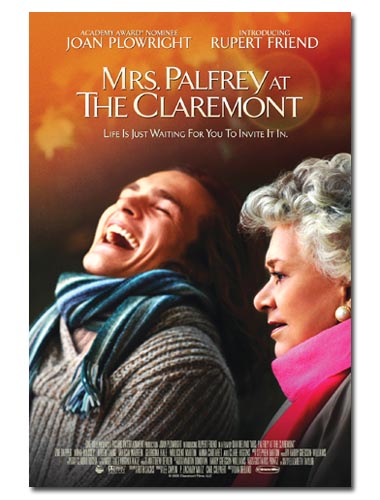 which my friend Kay recommended to us. In the film, the main character mentions her favorite movie as Brief Encounter, so I also put that in our Netflix queue and we watched it last night. The latter movie was made in 1945 and was the story of two married people who happen to meet in a train station, strike up a friendship, and then begin to meet every Thursday thereafter, and "fall in love." Michael is very sensitive to movies like this, and has a hard time restraining himself from bursting out in intermittent snide comments directed right at the people in the film. "Yeah, you're not in love, you're in lust." "This won't last." "The trap is being set." "What about your wife and kids, buddy?" "Look, they're walking straight into the snare" and so on. Since the film is almost 70 years old, it's discreet compared to what is offered today, but I always get a silent kick out of Michael's reactions to things like this. Because if he were dealing with the actual people instead of the ones portrayed on the screen, he would be merciful, gentle, and patient. He would speak the truth and say very direct things like, "You need to cut this off and return to your wife today," but he would do so in humility that would make the truth easier to bear.
The wind howled all night and when I got up this morning at 5:30 the outside thermometer read seven below zero. Even when we turn our thermostat down at night and the house cools down, we stay warm because we have two little stove-pipe-shaped dogs who dive under the covers, then come out an hour later panting, all night long. Under the covers and out, under the covers and out. I feel like I'm Edith and Millie's personal valet during the dark hours. "Oh I'm so sorry, am I not giving you enough room dear? Here, let me move over to the side where I'm almost falling off the bed so you can have more space to stretch out! Oh pardon! I'm sorry I didn't notice you staring at me in the dark! Let me turn over and lift the covers up so you can tunnel down by our feet to keep yourself warm! I'll get back to sleep, no worries!" It's called Indentured Schnauzitude.
I have been craving my mother's beef and cheese enchiladas lately, so that is what I'm making for dinner tonight. Many of the recipes online call for flour tortillas, but a true enchilada is made from corn tortillas and that's what I'll be using. Chopped green chiles, finely diced purple onion, ground cumin, two kinds of grated cheese, enchilada sauce…all baked until the cheese bubbles and served with a generous sprinkling of chopped, fresh cilantro. Yum. What are you having for dinner tonight?
Sunday was my granddaughter Clara's birthday and as I've been doing with my grandbabies these past couple of years, I gave her a list of things to choose from for her gift. She could choose three, and she called to tell me that she wants to 1. spend the night at Grandpa and Grandma's house, 2. go out to dinner at Old Country Buffet, and 3. pick out a gift at Barnes and Noble. I look forward to her coming over this afternoon because we always have such a nice time together.
I have a book I'd like to give away this week. It's called The Snow Child by Eowyn Ivey, and you can read a little about it here. It's a beautifully written book I can't compare to anything else I've ever read, but it would not be everyone's cup of tea, especially if you're squeamish about things like animal trapping. You can win this book if you have never left a comment on my blog before, and you leave one today. 🙂  Your email and personal information is never published and you don't even have to share your name. A random drawing from those who are leaving a comment for the first time will be held on Thursday and the winner announced then.
I hope you're staying warm if you live where it's cold, I hope you're staying cool if you live where it's hot, and I hope no matter what's going on in your life these days, you can find many things to thank God for.
He is with us, and that is His promise.