The Quest for Beauty
(from the archives…)
Have you ever wanted to be beautiful? Or, if you're a male reader, have you ever wished you were handsome? I'll bet there isn't one person reading this who hasn't desired this at one time or another. As our culture grows more and more obsessed with physical beauty and perfection, the chance of living up to the ideal of the word "beautiful" gets slimmer and slimmer (pun intended).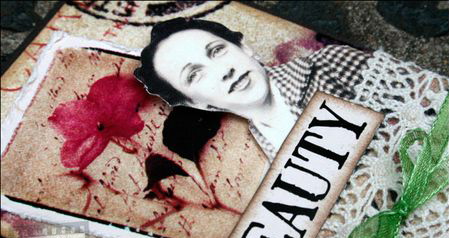 Can you believe that there are actual beauty "experts" out there who think they have comprehensively defined what genuine beauty consists of for a woman? Here are the generally agreed-upon standards: the ideal woman should have large eyes, a small jaw, chin and nose, full lips, firm breasts, long legs, thick, shiny hair, a longish neck, white, symmetrical teeth that show approximately 1/4-1/2 inch when the lips are parted in relaxation, nicely arched and not-too-thick eyebrows, unblemished skin, and a waist-to-hip ratio of .7 or 70%. And I'm not kidding.
In just one day on television, dozens of infomercials play continually for Bare Minerals makeup, wrinkle-erasing cream, fat-cramming "shapers", hair extensions, countless exercise contraptions that promise the perfect body in six weeks or less, and faster teeth whitening processes. The underlying message is always "if you can get closer to that 'ideal', you will finally be happy."
I would like to suggest that true beauty has nothing to do with leg length or nose size or skin tone. As I grow older and gain a (hopefully) more wise and reasonable perspective, I think real beauty shines forth in a person who is refreshingly unaware of themselves.
We all know someone who isn't stereotypically beautiful, but whose personality and demeanor is such that they seem quite lovely to us. We've all seen when someone's inner beauty shines out through any plainness. And we don't have to look far to see someone's outer beauty being smeared with ugliness if conceit and self-focus are present with it.
Who wouldn't like to have a spa treatment that massages away cellulite (ha) and banishes blackheads? Who wouldn't try the newest mascara that promises the thickest lashes you've ever had? I know people who regularly endure some mild pain from chemical "lip plumpers" so they'll feel just a little bit better about their mouths.
Colossians chapter 3 speaks of another way to beautify ourselves:
12Therefore, as God's chosen people, holy and dearly loved, clothe yourselves with compassion, kindness, humility, gentleness and patience. 13Bear with each other and forgive whatever grievances you may have against one another. Forgive as the Lord forgave you. 14And over all these virtues put on love, which binds them all together in perfect unity.  15Let the peace of Christ rule in your hearts, since as members of one body you were called to peace. And be thankful.
The kind of beauty described above is lasting, in fact it grows more noticeable and resplendent the older a woman gets and the longer she walks a surrendered, rather than a selfish path. Do I write of all this because I always live this way? Hardly. I am not immune to our culture's influence, and I remember many years when really important life decisions were made because I was being extremely self-focused and vain.
I think each of us craves beauty in our lives in one way or another. We often try to fill our lives with beauty. How many of us like to decorate, to create beauty within the walls of our homes? How many love to garden, to paint, to play beautiful music? How many of us travel so we can experience new and breathtaking beauties we've never seen before? I also love the beauty of well-written words. We have an inherent love of beauty. God must love beauty too – He has filled His creation with myriad spectacular examples of beauty and grandeur, and He created us with a capacity to desire and appreciate it all, to tell us something about Himself. I believe when we see Him face to face we are going to be stunned by His beauty.
But our culture's standards of beauty have gone awry, as described in that fatuous definition at the beginning of this post, and as we see every day through our media.
I used to like to watch the Miss America pageant when I was young. No matter what, I always rooted for Miss California. When I see those pageants today I'm filled with a mixture of amusement and sadness. I think back to the amount of time I spent (especially in my younger years) making sure I looked as good as possible, and wonder what kind of a woman I would be today if I had spent the same amount of time developing my inner life.
I wonder what a Heavenly Beauty Contest would be like. What would qualify someone for the sash and tiara in a pageant based on what God thinks is beautiful? Let's use our imaginations here.
I'd like to describe some Heavenly Beauty Contest winners from years past. Picture this: the first contestant was very plain of face. She had thick ankles and her waist to hip ratio was approximately .95, meaning she didn't even have a waist. According to one of today's "beauty experts," the many deep lines on her face would have made her a candidate for a surgical lift, but they also betrayed the fact that she had probably smiled hugely at least a million times in her life. She probably never knew the word "highlight" in terms of her hair. But I think the Lord thinks she's beautiful, because she so sacrificially loved Him, and always brought His love and hope to whomever she was with, even in a hellish concentration camp. She brought true beauty into the world. Her name? Click here to see her loveliness: Corrie ten Boom.
How about Contestant Number Two in our Heavenly Beauty Contest? She had very few, if any, of the characteristics of today's "Ideal Woman." She had a large nose, small, slightly crooked teeth, beady, close-set eyes, leathery skin. Her small frame wasn't curvy or anything to write home about. She could have used some help on her eyebrows. I wonder how beautiful the Lord thought she was as He watched her give her entire life to serve and comfort the outcasts in Calcutta that few others would even touch. All because of her deep love for Jesus. You know who Contestant Number Two is – click here – Mother Teresa.
And contestant number 3, or 4, or 26 or 187 could be that woman who lives right next door to you. Or it could even be you. I'm not saying we shouldn't wear mascara or try to be physically fit. I love beautiful clothes and appreciate beauty in people. I'm just saying the vigorous pursuit of it doesn't satisfy. It doesn't last. It doesn't bring peace to our souls or happiness to our homes.
What will I do today to bring true beauty into my home? Even though I don't have all the answers, I know it all begins with the One who thought beauty up in the first place. I think I'll start with Him. He's the only One I know of who can deal with that hard-to-reach inner self.
There's a passage in 1 Peter that says the godly women of old made themselves beautiful by putting their hope in God. I've seen this marvelously demonstrated in some women I know today. The women who calmly, joyfully trust Jesus, the ones who really put their hope in Him, radiate a beauty this world knows nothing about.
I think that's where I'll start today. I'm putting my hope in Jesus. How about you?