The Power of Water
Today is a beautiful sunny day with just a few puffy clouds in the sky. Normally sapphire blue Lake Superior is a shocking muddy brown right now, because our area had a record-breaking storm the night before last, and our dozens of rivers overflowed their banks and poured into our Great Lake, bringing uprooted trees, debris and tons of mud.
Here's an amazing aerial photo of the lift bridge in our harbor, and the huge lake beyond, taken by my good friend Bob King for our local News Tribune.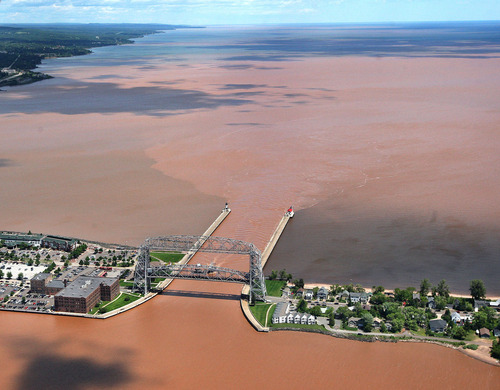 Parts of our city are underwater, and I feel soooo sorry for people whose homes have flooded. Our mayor has declared a state of emergency, and it will take months to do the repairs; streets were lifted up and carried away, huge sinkholes opened up and swallowed cars, entire shopping centers were flooded. 
This next photo by MinnPics is of a street less than a mile from our home.
We had a few rivulets in our basement and a drip or twelve from the ceiling in our entry way, but if you could have seen the sheer volume of water that just poured from the sky, you'd understand why we aren't upset about our dampness at all.
Our area received between 8-10 inches of rain in 24 hours. I've never seen anything like it. Here's a link with some other photos, if you're interested.
And this is a photo taken from space by satellite of our huge lake – the mud can be clearly seen.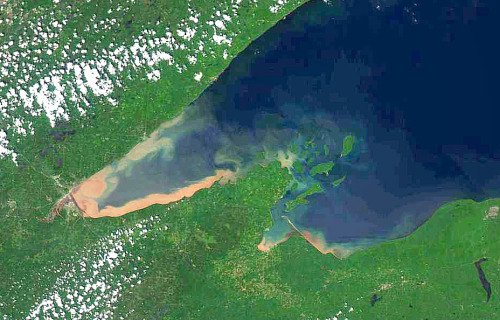 Thankfully, no lives were lost even though so many homes and businesses have been flooded.
It often takes some kind of shakeup to get us to see more clearly the blessings we take for granted. As I type this I'm sitting in a dark theater with four of my eight grandchildren. They're watching Madagascar 3 and I'm not. 🙂
We have more than we need. We have hugs and kisses. We have family. We have a relatively dry home. We have food in the cupboards. We have hope. We have Christ. We have hope because we have Christ.
If someday my home is flooded and my street floats away, I may need you all to remind me that blessings still abound. I pray that I'll always be able to rest in whatever He pours out, even if I think it's too much rain…