The Leaning Barn of Twig
Recently our dear friends Bob and Linda asked us if we'd like to get together for breakfast at an establishment I'd never heard of – The Swamp Sisters. Apparently this diner/cafe in Twig, MN is a pretty popular eatery, and you have to be intentional about visiting because it's only open on Fridays and Saturdays, May through October.
The four of us rode together to The Swamp Sisters, a place run by a group of sisters (duh) on their old swampy farmstead. They raise and sell bison, and some of their recipes have bison meat in them.
When we arrived the parking lot was full and we had to park around back, but we were able to get a table right away. It was like taking a welcome step back in time. Simple paper menus, vinyl checked tablecloths, friendly, apron-clad waitresses, and simple and hearty fare about as far removed from nouvelle cuisine as you can get.
All four of us ordered the special egg/bison sausage/potato/green peppers and onion/melted cheese skillet with a side of salsa and toast, and it was unique, delicious and filling.
It was such a treat catching up with Bob and Linda, who have been our friends for twenty-five years. We talked about our jobs and our children and our blogs (here's Bob's blog) and our families, and fell into that easy and comfortable conversation that always happens when we're with them.
So after our meal and visiting, which passed as quickly as our very lives have these past two decades (whoosh!) we moseyed on out to the car for the drive home. There were a couple of huge chickens strolling around the tall grasses on the property and Michael knelt down and tried to bond with one but she wasn't having any of it. She gave him that jerky and suspicious sideways glance that chickens are famous for and went off into the brush.
Aside from the always-satisfying experience of being with Bob and Linda, the morning's best surprise was a dilapidated and leaning barn behind The Swamp Sisters cafe. I was so glad Bob and Linda had a camera with them.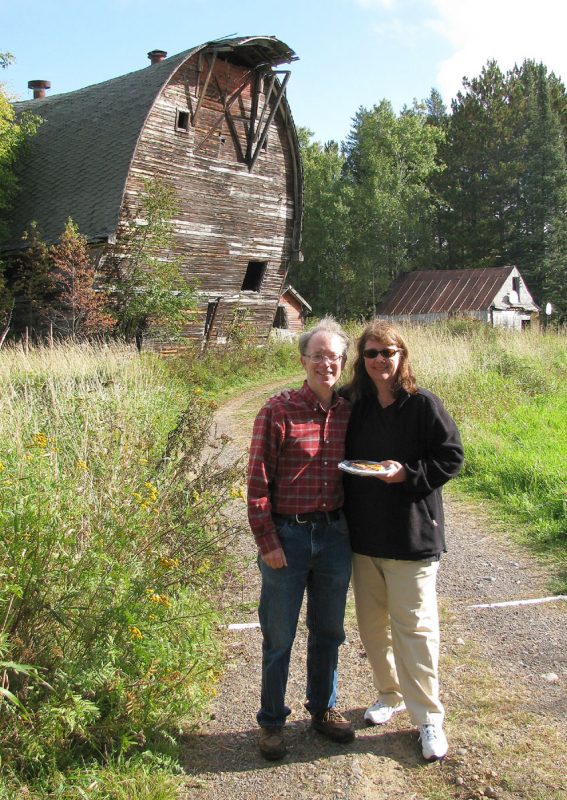 Here they are, looking quite marvelous and upright in front of The Leaning Barn of Twig, MN.
Sometimes old things are just better. I like old songs, the kind Perry Como and Jo Stafford sing. I like old books, the kind that Jane Austen and George MacDonald wrote. I like old barns that whisper of stories I wish I knew. And I also like old-fashioned food that doesn't have the words aioli, ganache, infusion or gastrique in their descriptions. (Although to be honest, I enjoy those kinds of foods too.)
And I like old friends. I like the memories we have that no one can take from us. I like how even when we don't see each other as often as we'd prefer, we still slip right back into that companionable conversation, that trust, that love, that never goes away.
This morning as I get ready to tackle the things on my to-do list, I'm thinking of The Swamp Sisters bison breakfasts, I'm picturing The Leaning Barn of Twig, and I'm smiling as I think of our wonderful friends Bob and Linda.