The Kindred Krageschmidts
When I was a Girl Scout I used to love the songs we sang around the campfire. After a full day of hiking, tying knots, swimming, and washing our mess kits in a pan of lukewarm water, we would finally settle down for s'mores and singing. Many songs were a bit on the goofy side, but some were haunting and wistful, and sung in a round, like this one:
"Make new friends but keep the old…one is silver and the other gold."
When I think of old friends who are like gold, I instantly think of Dale and Susan Krageschmidt. We met them in 1994 when they moved in next door to us in the old neighborhood. It didn't take long for us to become close friends, and even though our families no longer live next door to each other, we still feel the same way about them after fifteen years.
We used to do stuff together. We had a little tradition of spending New Year's Eve together and eating Vietnamese food for dinner. Over the years Susan and I broke open many a tube of Pillsbury Orange Rolls together, having morning tea or coffee and sharing our life stories over our tables. Susan is a fantastic cook, and some of my best recipes I've gotten from her. Athenian Couscous Salad. Waikiki Meatballs and Rice. Kafta, Tabouli and Hummus. Lebanese Chicken with Couscous.
The Krageschmidt's kitchen window overlooked our den, and as Dale and Susan cooked meals together, we would smile and wave geekily at each other like The Beverly Hillbillies do at the end of each show.
Susan is the only friend I've ever had that I've felt comfortable holding hands with. I hold hands with my husband, and my children and grandchildren, and of course I gladly shake hands with people. But until I met her I had never sat comfortably and held hands with a woman friend. One wonderful evening during the Christmas season, Susan and I dressed up and enjoyed some wonderful holiday music that was being performed at a Victorian tea. She reached out to take my hand and in that gesture that I've never forgotten, we both spoke silently to each other, "You are my cherished friend, true and pure, a gift from God."
Susan and Dale are both brilliant scientists, but they never make us feel like we're dolts. They are loving and funny and insightful and humble and honest and trustworthy. We have always been able to share our hearts together. We have always prayed for one another.
After a short time the Krageschmidts welcomed William John and then Zoe Marie into their family. Michael and I were baptism sponsors for them and will never forget the glow of those days when our children were very young.
Dale and Susan and their two children, Will and Zoe, came to visit for a weekend recently. They moved to Southern Minnesota a few years ago and we haven't seen them since then, so we were thrilled to hear of their visit and their willingness to stay with us while they were here. I'm not sure why we're always surprised when the passage of time brings big changes (duh), but oh, how Will and Zoe had grown! Will is almost 14 and Zoe just turned 11, and he's a wrestler and she's an ice skater! How did that happen? They were just toddling, just yesterday it seems.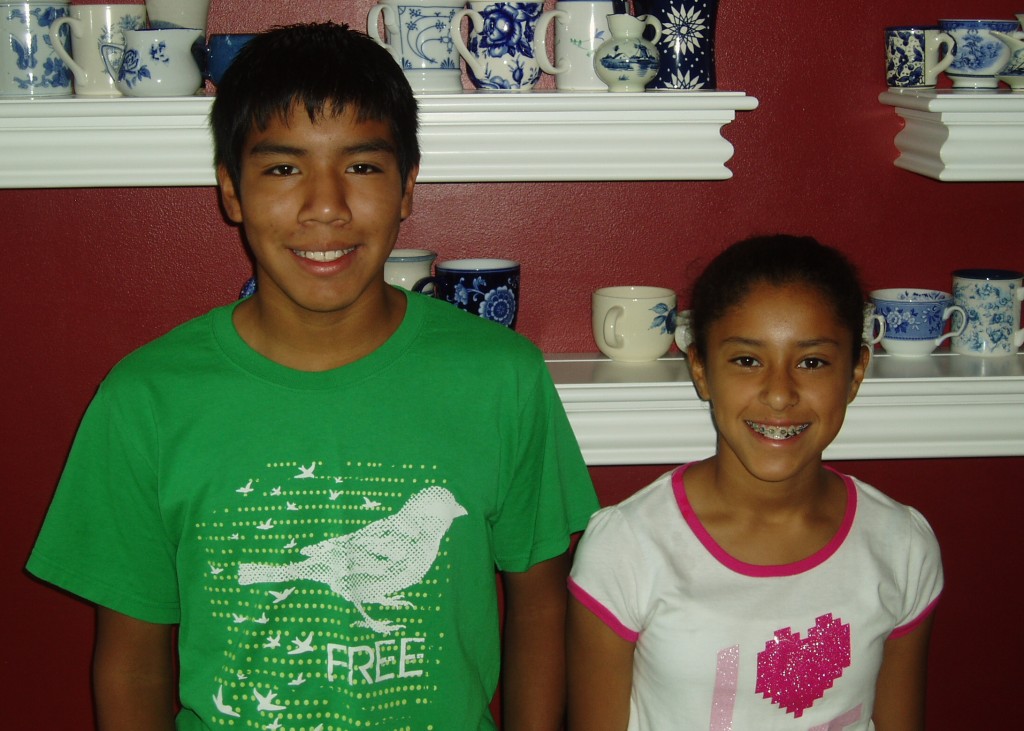 Here's a great photo of strong and handsome Will, and graceful, beautiful Zoe, taken in our kitchen.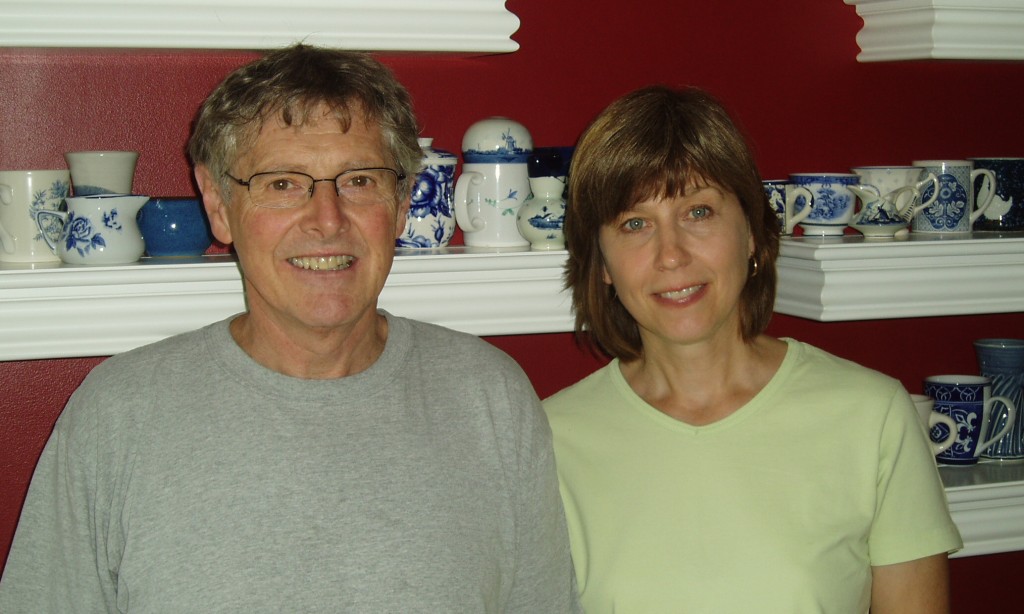 And this is Dale and Susan. Can you see the kindness, the sweetness on their faces?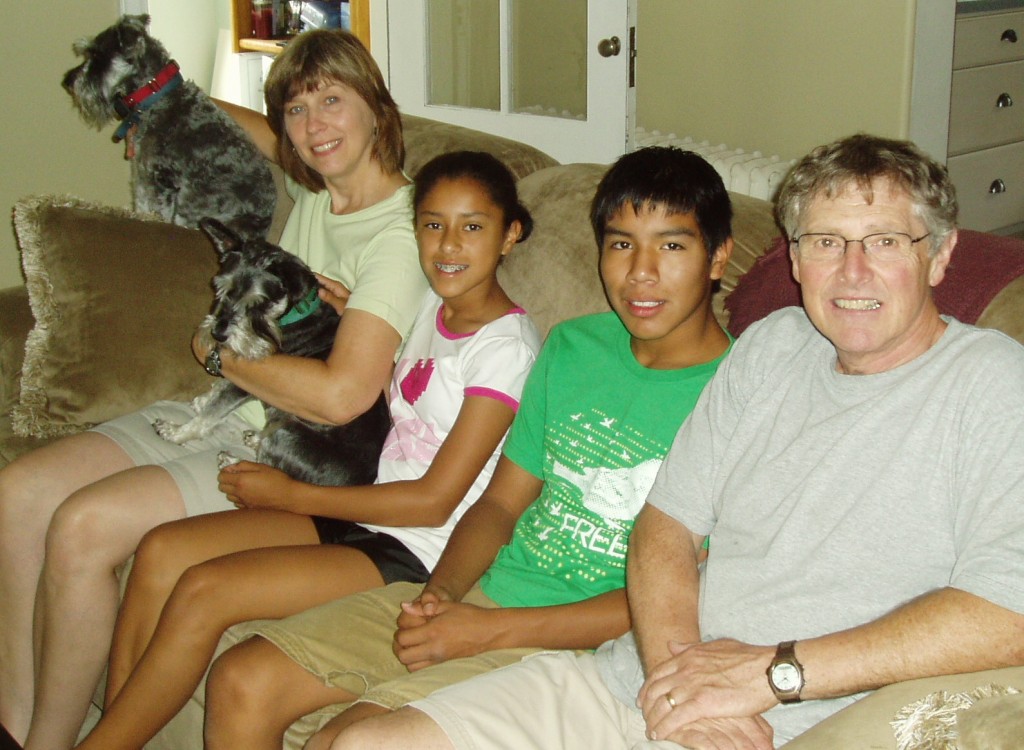 Here are the Kindred Krageschmidts in our living room, with our badly trained Schnauzers Edith and Mildred.
One of the things we've always loved about Dale and Susan aside from their humor and compassion is their love for dogs, and their understanding of our love for our dogs. We all talk in slightly soprano doggy voices to each other, discern and interpret our dogs' thoughts for each other, and generally get quite caught up in our animals' lives, which are often more exciting than our own. Living vicariously, I think you'd call it. (I hope Dale's esteemed colleagues at The Mayo Clinic don't happen upon this blog – I'm not sure they'd understand.) But we understand. We get it.
And our dogs know that Dale and Susan get it too. Before the Krageschmidts went home, we spent some time chatting in the living room, and our oldest Schnauzer Edith jumped up on the chair with Susan and nestled against her.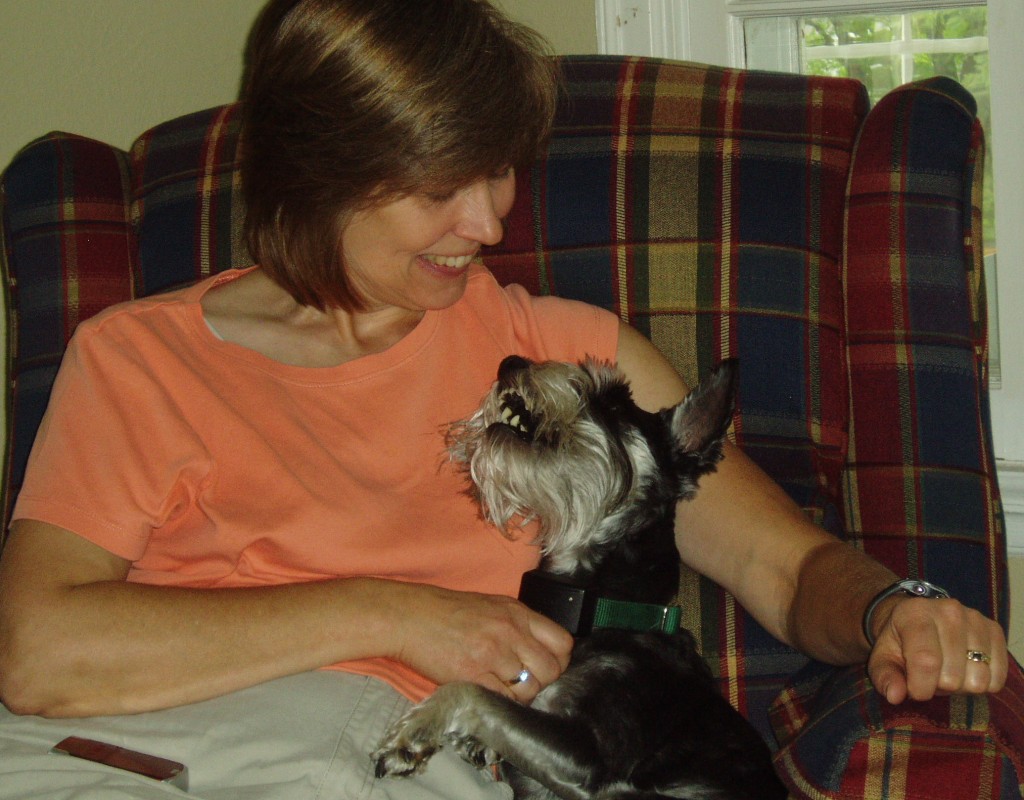 Susan crooned to Edith and gently petted her for several minutes, and Edith looked calmly and adoringly into Susan's eyes the whole time. Pretty soon Edith did something she has never done in her entire seven years. She slowly drew back her little black lips and grinned at Susan. Almost from ear to ear. Not once, or intermittently, but continuously, for a few minutes. Edith held this doggy smile while gazing into Susan's eyes and just poured all her doggy love into Susan's heart. I have a feeling that Susan is the only person Edith will ever smile at like this. To me, this speaks volumes about Susan. 🙂
So we're missing Dale, Susan, Will and Zoe already. It's our turn to visit them next, and we hope to see them this fall before the weather turns unpredictable and blizzards whip up in no time at all.
When I was thinking of an adjective that would fit with Krageschmidt (that also started with a K, since I'm a fan of alliteration), I came up with many fitting K words that aptly describe them. Knowledgeable. Kooky. Keen. Knowing. Kind. But the word I settled on is the one that still tugs at my heart, and makes me wish they had never moved so far away. Kindred.
The Krageschmidts have always been kindred spirits to us. And after having the joy of visiting with them again, I know they will always be so.