The Calvary Road
I love to talk books. I can't think of a time in my entire life when I haven't been reading a book or three. Right now I'm reading a unique and delightful one called Cider With Rosie, recommended by a dear friend in northern Scotland.
But I would like to know what books have touched you the most. If you could only have five books to read for the rest of your life, what would they be?  Which ones would you want to read over and over? I'm assuming for some of you, The Bible is one of them. It is the first one I would choose. (Hebrews 4:12)
What else would you choose? Tell about one (or more) of the books you would pick, and why.
One of my choices would be The Calvary Road by Roy Hession. It was recommended to my husband and me years ago by a godly friend. Michael and I read it out loud together, slowly. We both wept our way through the pages. And it changed our lives. It's one of those books that needs to be read and reread every year. I'm at a place in my life where I need a balm and a true course, and I think it's time for me to read it again.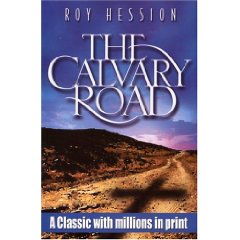 Even one of my favorite ministries, Community Bible Study, puts this book on their recommended reading list every single year. CBS's executive director reads The Calvary Road each January, to help set her course for the coming year.
I have other books I would choose, and I will post about those another time. If you're reading this today, won't you share with us what your choices would be?  What books have made you laugh, given you hope, changed the course of your life, delivered new insight, made you dream?  What books would feed your soul if you could read only those for the rest of your life?
I look forward to your answers. And this sounds like a good time for another blog giveaway. I will send a copy of The Calvary Road to every person who comments on this post.
Happy reading,