Sometimes there are just no answers
Something mysterious happened yesterday. Maybe those of you reading can come up with some plausible answers.
My husband Michael ran some errands with my son-in-law Chris. He then went out to lunch (at Coney Island, of all places!) with his lovely daughter Daphne from Red Wing, Minnesota, who was in town visiting her son Jordan, who's a student at UMD. Then Michael, Daphne and Jordan went to take a peek at Sharon's new yarn studio downtown. Then they all said their goodbyes and Michael came home.
Michael needs to take an occasional nap because of his PD, and he did that as soon as he came back. Like he always does, he laid down on top of the black and white toile comforter on our bed, and then forty-five minutes later was awake, refreshed and starting on another project.
I went upstairs to fold some laundry on our bed right after he got up, and I noticed a small something on the covers, on his side of the bed, right where his middle back would have been laying while he slept.
This is what it was: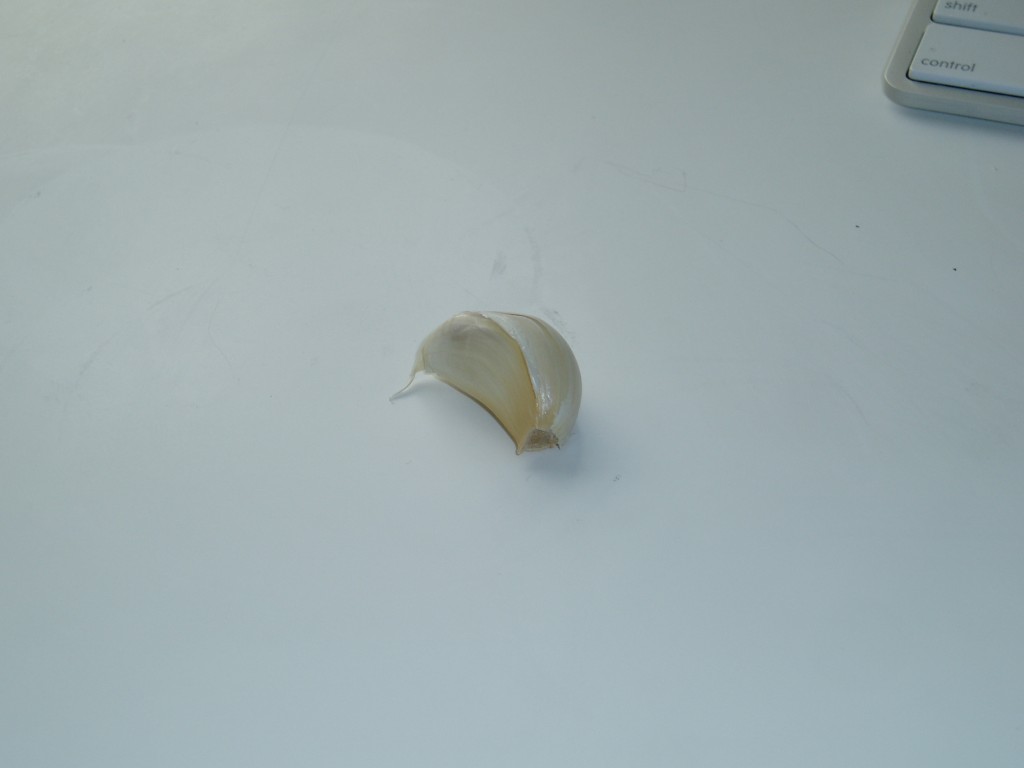 A small clove of garlic. With a bit of the paper still on. On the bed where my husband had just napped.
I went through all the possible explanations. He had not been in a restaurant where fresh garlic was hanging, and even if he had, why would one clove have stuck to the back of his knit shirt and come all the way home with him as he drove in his truck and then laid down to take a nap?
I had not cooked with garlic recently and besides, a stray clove of garlic has never before attached itself to me and ended upstairs on our bed.
There was clean laundry on part of the bed waiting to be folded, but why would a clove of garlic have been in the clean laundry and rolled to the side on which Michael sleeps? It had clearly not gone through the washer or dryer, since the clove was firm and intact and showed no evidence of being washed in the whites cycle and tumble dried for sixty-five minutes.
Our dogs don't like garlic (we know all the things they love: carrots, broccoli, grapes, ice cubes, cucumbers, and very expensive dog food) so I don't think Edith or Millie would have delicately picked up a clove with their teeth — if there had even been one on the kitchen floor — and deposited it on our bed upstairs.
The children in the house can't reach where the garlic is stored in the kitchen, so they aren't the culprits.
When I showed Michael what I found he looked at it blankly and had no answer as to why he laid on a clove of garlic while napping.
Vampires? Does someone suspect that we need protection?
So there you have it. Garlic on our bed. Under my husband while he took a nap.
There are brilliant minds out there reading this, I know there are. Any thoughts?