Scotland in September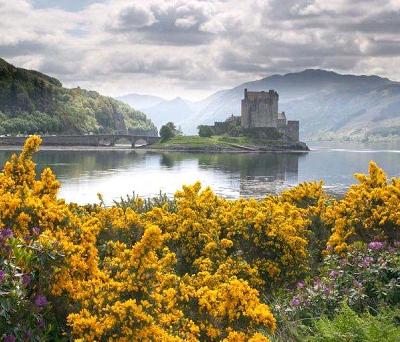 In January of 2007 some good friends invited us to go to Ireland and England with them. Air fare to Dublin was cheap, and even though "spontaneous" is not a word anyone would ever use to describe me, we jumped at the chance and booked our flights. As we read guide books and looked online for information to help us decide where to visit and how to drive with the steering wheel on the wrong side of the vehicle, we also consulted people who had been abroad before. Michael has been to Vietnam (although, ahem, not as a tourist) and I lived in Germany for just under two years, but we knew almost nothing about how to choose from the myriad delights the UK and Ireland have to offer.
As we chatted with our son-in-law Chris, it became clear to us that we would need to see Scotland as well. Chris has been to more countries than I can count, but his words, "Scotland is one of the most beautiful places in the world…" surprised and intrigued me. So we rearranged our plans and decided to spend the bulk of our trip in Scotland.
Little did we know what effect the Highlands would have on us. I still remember driving (white-knuckled at first, on the wrong side of the road, sitting on the wrong side of the car) all the way from Prestwick airport near Glasgow to Inverness in the northern Highlands of Scotland. The highway was almost deserted, and the farther north we traveled, the quieter we became. I turned off the BBC radio. When I wasn't trying to adapt to shifting with my left hand, Michael took my hand and I knew he was feeling similar things. My mother's maiden name was derived from MacIntyre, and Michael's last name is of Scottish origin too. We've never searched our genealogies or spent a lot of time talking about our ancestry, but an inner bell (or inner bagpipe?) sounded inside both of us as we drove on. Sappy as this sounds, when we later spoke of it we both agreed that visiting Scotland had been like finally going home.
Next year we will celebrate thirty years of marriage. Shall we all observe a moment of silence to honor God's work in such a miracle? It still boggles my mind. Thirty years of being with the same person day after day, and my heart still swells with love and gratitude for him. And there were times when I thought for sure I was done. How thankful I am that God never let me walk, and that I know the grace and wonder of a happy union. Our marriage isn't even close to perfect. We would not be a model for anyone. I just consider myself very blessed that I had nowhere to go when years ago I wanted to leave, that somehow God helped me stay until love returned (which it always did), that my husband loved me through my selfishness and pride, and that the man I am growing old with is D. Michael. He has been faithful and true. But I digress.
As we motored northward, the wild barrenness of the land, the sheep dotting the hills, the snow on the mountain peaks, the lakes and rivers, the hospitality of the people we met in passing….all felt so familiar to us. Sort of like we'd been wanderers all our lives who had finally settled in. We loved what little we saw in Ireland and England too, but Scotland stole our hearts.
So, Lord-willing, we will be celebrating our anniversary next year in Scotland. We are in the tentative stages of planning a two week trip. If all goes as we hope, we will stay in this beautiful little cottage near Loch Ness. We will be able to spend time with the dear friends we met last time we visited, when we stayed at their magnificent Ivybank Guest House in Inverness. Tom and Catherine are kindred spirits and we have prayed for each other and enjoyed long-distance fellowship ever since our meeting in 2007.
It hasn't helped things that Michael and I have been watching a BBC series called "Monarch of the Glen" recently.  The show was set in the Highlands in this great house, and we've been foolishly further smitten with Scotland week after week. Even Sara has caught the Scottish bug from watching the Laird of Glenbogle as he tries to protect the 35,000 majestic acres his family has owned for 400 years, while moving its operation into the 21st century. Sara has developed unexplained yearnings to don a plaid kilt and learn to do this.
I've never had any feasible explanation why I have to stifle sobs when I hear bagpipes being played, or why I've always been drawn to plaid and have three upholstered plaid chairs in my house. I haven't fully understood why we're compelled to buy shortbread and feel quite peaceful and content when we nibble it while sipping brisk tea on wintry afternoons. I was never sure why I felt like jumping up and down when Sharon decided to walk down the aisle at her wedding to the song Highland Cathedral.
There are so many places in this beautiful world we would like to see. Michael wants to go to China and Israel. I want to visit Austria, Switzerland and St. Leonards-on-Sea in England. But there's some kind of magnet in both of us that is being irresistibly drawn to the Highlands of Scotland. Why?
Could it be that like countless others before me, deep inside I know my true home can't be found on this earth and I'm just always looking for the real thing? Even though I love the part of the world I live in, it all feels so temporary.
For here we have no lasting city, but we seek the city that is to come. Hebrews 13:14
Scotland isn't my lasting home either. But for some strange reason, it feels just a little more like home than the one I'm in right now.
This is my country,
The land that begat me,
These windy spaces
Are surely my own.
and those who toil here
In the sweat of their faces
Are flesh of my flesh
And bone of my bone.
Sir Alexander Gray
*        *        *        *        *        *        *