Scents and sensibility
Isn't the power of smell amazing? Many of my memories are all tied up to the scents I remember, and I know you relate. One familiar whiff can instantly transport me back to a room I was standing in as a child, or to a recollection of a person I dearly loved. So today I have four questions about the scents in your life.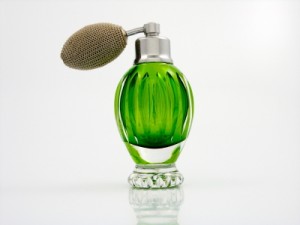 1. What scents (perfumes or otherwise) do you remember from your childhood?  I remember the aroma of baking persimmon cookies from my mother's kitchen, even though I hated persimmon cookies. I remember the Old Spice on my dad's jawline. I remember what a new Nancy Drew book smelled like when I opened it. I recall what my mother's home-fried corn tortillas smelled like as I walked in the front door and knew she was making her wonderful tacos. I remember a rarely touched bottle of White Shoulders perfume sitting on my mother's dresser. She didn't wear it, but I used to open it and think it smelled very sweet. I can still remember the way my father's clean shirts would smell on Tuesdays as my mother sprinkled them with water, and the steam rose from the cotton fabric as she deftly pressed and smoothed the iron over each one. And the smell of chlorine from all the pools I swam in brings strong and pleasant memories.
2. What perfume or cologne did your mother wear?  My mom wore Estee Lauder's Youth Dew, and occasionally Jean Naté.
3. What perfumes or colognes do you wear?  I like Estee Lauder's Beautiful. I used to wear Jovan Musk Oil as a teen — it was all the rage in the 70s. I smelled Red Door on a woman at the mall recently (I asked and she told me) and I thought I would like to try it.
4. What do you do to make your house smell good?  I take out the garbage, have the dogs bathed and groomed, give a single spritz of Michael's cologne to our sheets, simmer together water, vanilla, cloves and cinnamon on the stove, and write posts about smells to get other peoples' ideas. My favorite candle is this one — this is what our house smells like most days.
Now it's your turn. What are your scents and sensibilities?