Rorschach inkblot on our towel?
I've always been the type of person who tends to see things that aren't really there. This can be a good thing, as in cloud-gazing, and…well, cloud-gazing. I can easily find the hippo and the ogre's profile and the Peter Pan hat and the one-eared bunnies in the sky.
I used to be able to see very detailed pointillistic pictures on my sprayed acoustic bedroom ceiling when I was a little girl. I also distinctly remember seeing the silhouette of a small doghouse with the nose of a dog sticking out of it, on a splatter-painted bookcase near my bed.
This uncanny ability of mine isn't really that useful in other arenas, however.
In our master bathroom we have a brushed nickel towel ring on the wall near our pedestal sink. We hang hand towels on it, and because of germs I try to remember to change the hand towel every other day or so. I don't see these germs like I see other things. But I know they are there.
One of our hand towels is a black and white print, to go with the black and white toile-toile-and-more-toile theme we have in our bedroom. I actually have a post coming up about all of our toile. Yes, I not only see things others don't see, but I can occasionally read others' thoughts, and I know what just went through your mind: this is such a fascinating blog.
Anyway, when I look at this particular black and white towel, I no longer see a swirly and symmetrical black and white pattern. I see something else, and I'll share later what that is. For now, I'd like to know if you see anything in this black and white towel.
Anyone who has studied Psychology knows about Rorschach and his mysterious ink blots, which would supposedly reveal to a therapist what kind of a personality (disorder) his patient had.
Now, look carefully into our hand towel. What do you see there?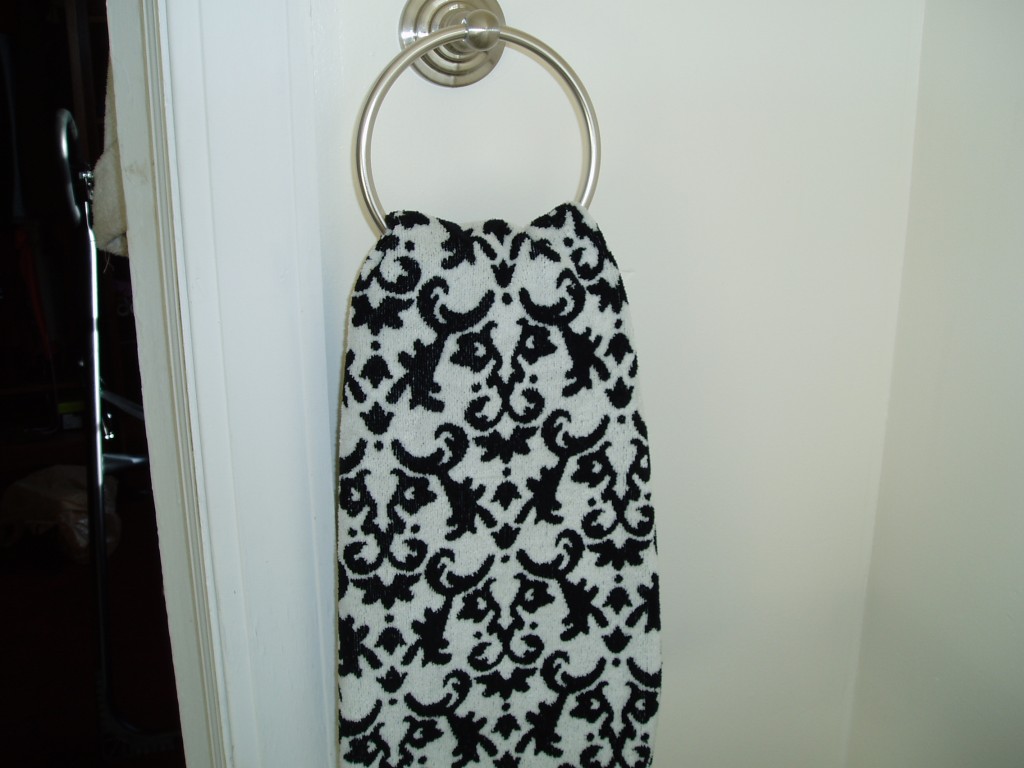 I've seen it so many times now that I can't see anything but this one thing in our towels.
I'm anxious to learn what you might see in our hand towel. If you can't see a thing but a black and white pattern, go ahead and say so. But if you see something else there, by all means tell us what it is.
I'll share what I see in the hand towel soon. But you have to promise not to tell anyone…