One day and dream at a time
I have a blessed morning at home planned, with only puttering to do today. I love looking at my calendar and seeing white space on a given day. When I think ahead to when I'm finished with this post, the thought of cleaning the kitchen, folding a load of laundry, writing out a few bills, and putting something in the crock pot for dinner, a contented sigh forms in my heart. Then, sitting down with a cup of tea and my CBS lesson, my Bible and journal in hand, seems like riches untold.
Yesterday we had some snowfall and this morning the wind is whipping our across-the-street neighbor's Norwegian flag to tatters. The sky is low and grey, and every branch and twig is outlined in white against the dark, drab colors of tree bark everywhere I look. Minnesota may be known for her lakes, but there must be ten trillion trees in our fair state as well. I can see the steely blue choppiness of Lake Superior from my bedroom window as I type, perched on my bed with Mildred the Schnauzer breathing heavily next to me.
Do any of you listen to Pandora radio online? I do now and then, especially when I'm in my office doing paperwork for our foster gals. Well, I happened upon a new Pandora station, and if you like old music, you might like to try the Pied Pipers station. Click here for a sample of the kind of music it plays. I'm not sure why, but this kind of music is absolutely transporting to me. I love it.
Now that I've finished reading Corrie ten Boom's The Hiding Place again, I've felt compelled to immerse myself in all her books. I didn't know there were so many. I bought at least eight, and they're trickling in from different used booksellers now. I've started with In My Father's House, which is all about Corrie's young life before the years of The Hiding Place began.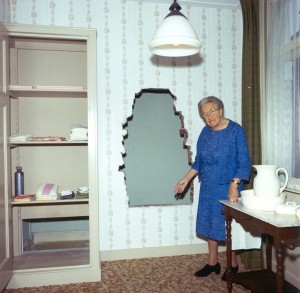 This photo is of Corrie in her old bedroom in the Beje, her home in Holland, standing in front of the tiny bricked up "room" where the ten Booms hid Jews during World War II. Her home is a small museum now and oh, how I would love to visit someday.
The family life which Corrie's loving, wise and godly parents provided for every member is absolutely inspiring. Such a rich heritage she had! It's so clear to see how she was being prepared for the extraordinary and difficult life God planned for her. The way her parents taught Corrie and her siblings to pray makes my heart wrench. They taught them to pray not by lessons, but by living lives of prayer. They talked to God in front of their children in loving, constant, lively and effortless ways, instilling in all of them how deeply loved and secure they were in God's will. I don't know what God is preparing me for, but I certainly feel as though I must, must, must soak in everything He might want to teach me through this blessed servant. I want to talk to Corrie and Betsie ten Boom in heaven someday! I want to hear their stories first hand, want to rejoice with them about the ways Jesus became more and more beautiful to them. I know these might seem like silly daydreams to some, but I even wonder if Michael has met them yet.
I've taken a leap of sorts, and enrolled in The University for Seniors, at our local University of Minnesota-Duluth campus. I know a couple of people who've attended for years, and they rave about how enjoyable it is. One must be over 50 to enroll (I'm 58), and there are many interesting and quirky classes offered, three quarters a year. Some are brainy classes, like the one this quarter about the Higgs boson particle. It only costs $140 per quarter to attend, and you can take up to ten classes each term, so that's quite a bargain I think. I signed up for two — "Great Books," which covers some of the best short stories ever written, and "Memory to Memoir," which is a writing class. I love the academic setting even though it's been years since I've been an official student, and I'm very excited to begin. I've never stopped being curious and I love to learn, so hopefully this new frontier will bring enjoyable challenges.
I'm off to putter now. God's peace to every one…