October Giveaway
It's been a long time since I've had a giveaway on the blog, and I think it's time for another one. Mainly it's time for another giveaway because it's autumn, my favorite time of year. The leaves are gorgeous and close to their color peak, and that makes me happy. Here's a photo of some leaves in our area. 
Now tell me, if you were having a horrible day and you could go outside and see this, wouldn't it lift your spirits just a little? Whenever I see a sight like this I almost always gasp, because the brilliance and beauty take my breath away.
If you had a blister on your heel because of some stiff new shoes, you could look outside your living room window and say, "Well, I have a blister on my heel, but look at those magnificent fall colors!"
If you were having trouble sleeping at night, there in the dark you could tell yourself that in just a few hours the sun will come up and you'll be able to see those neon trees again.
If you realized you were out of your favorite coffee creamer and you didn't have time to run to the store to pick some up, you could comfort yourself by going outside and breathing in the cool fall air and staring at the colors, until the coffee creamer didn't matter anymore.
If you have marital struggles, financial lack, or health issues, you could sit quietly and take in the beauty of the fall colors. What good would that do? I don't know how to explain it, but contemplating the beauty of creation while mentally placing yourself humbly before the One who did all this, helps. How it helps is up to Him. But sometimes a scene like the one above helps me to sit still, quiet myself and say, "Lord Jesus, I need you. I don't know how to do any of this life stuff very well. Here I am, Lord. Help me please. I love you. Help me to love you even more. And thank you for all this beauty."
If you don't have any fall colors to look at where you live, try looking at some online. There are leaves blazing somewhere in the world right now and even a photograph can evoke some awe.
So in a nutshell, the fall colors remind me of God, of how much He must love color and variety, how trustworthy He is, how powerful, how faithful and how near. And I also believe that He's teaching us there's beauty in death, because that's what autumn is, right? The death of leaves? And the coming of dark, cold winter.
Those of you who've read this blog for any time at all could be rolling your eyes right now and groaning, "Oh, there she goes again, always being reminded of God, always saying the same old things about trying to find meaning in every little thing. Yawn….."
If you thought that, you would be pretty close to correct. But there are a few things that don't make me think of God. I don't look at the plastic sleeve that holds a tower of saltine crackers and think of God. I can't remember ever thinking about Jesus when the carbon monoxide detector sounds its piercing, deafening alarm at 3:45 a.m. to tell me the battery is wearing out. And when the Midwest weather is really hot and unbearably humid so that it makes the carpet smell like an old dead goat, I don't recall finding a lot of spiritual meaning in that.
But the trees of autumn…..that's a different story.
Back to the giveaway.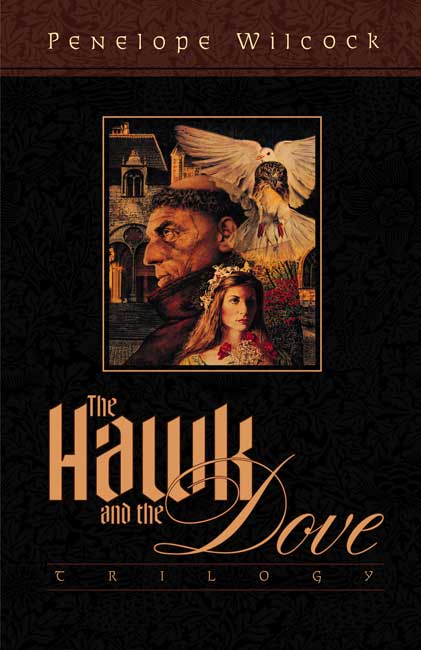 I'm giving away two books this month, both by the same author, Penelope Wilcock. I love to give away this book, because in my opinion it's one of the best works of Christian fiction out there. If you haven't read it, now is the time.
I read The Hawk and the Dove many years ago and within the first two pages was instantly entranced. Then I read it again. And again. And now I think I might make it my winter read come January.
If you're like me and several people I know, you don't love Christian books that are tidy and predictable. I've read a lot of Christian fiction that seems to follow this formula: Messed up people have big problems….then the messed up people hear about Jesus and His gift of salvation….then the messed up people say the sinner's prayer….then their messed up lives get all cleaned up. The end.
I hate those kinds of books. Because that's not real life. At least not the real life I live. I would never belittle God's gift of forgiveness and His lavish love to us through His Son. But I think we do people a disservice if we imply in any way that becoming a Christian is the end of all their struggles.
So in The Hawk and the Dove you will see how some people lived their real, painful, boring, demanding, unfair, bumbling, blessed, humble and amazing lives, in the reality of God's love and presence in the midst of them. I would never be a good book reviewer so I won't try to start now — if you'd like to see what others have said about this work by Penelope Wilcock, click here.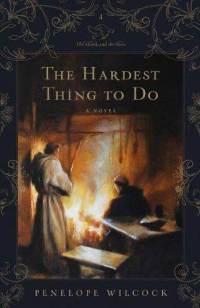 Next, I'm giving away the sequel to The Hawk and the Dove. It's called The Hardest Thing to Do, and it's actually the first of three sequels to the first book. Once again, click here to see what people more articulate than myself have to say about it.
In my opinion these are books to own, not books to just be borrowed. I have lost count of how many copies I've purchased to give as gifts over the years. If you need a wonderful gift for a person in your life who's a reader, start with The Hawk and the Dove and keep on going. Book Two of the three sequels is called The Hour Before Dawn and will be released in January, 2012.
All you have to do to enter to win these two fabulous books is leave a comment at the bottom of this post, and answer this question: What is your favorite thing about autumn? 🙂  If you have never commented on this blog before, give it a try…I don't bite!
Comments will be taken until 10:00 a.m. Saturday, October 8th, and the winner will be chosen randomly and announced later that afternoon.
I have a feeling that the winner might be able to have autographed copies of the books too. If I ask her, Penelope Wilcock might be willing to send personalized stickers, addressed to the winner and signed in her lovely hand, to put inside each book.
So come on. Don't sit around trying to find spiritual meaning in the plastic sleeve from your saltine crackers. Don't do it! Don't let your smelly goat carpets get the best of you. I am living proof that this can be done. No one ever died from having carpets that smell like a dead goat.
It's autumn. It's time to look at the leaves. It's time to hunker down with a cup of tea and a fire in the hearth, and devour a good book or two.
If you don't have a hearth or any tea to sip, I can't help you there. But I can help you get your hands on two books you will never forget….